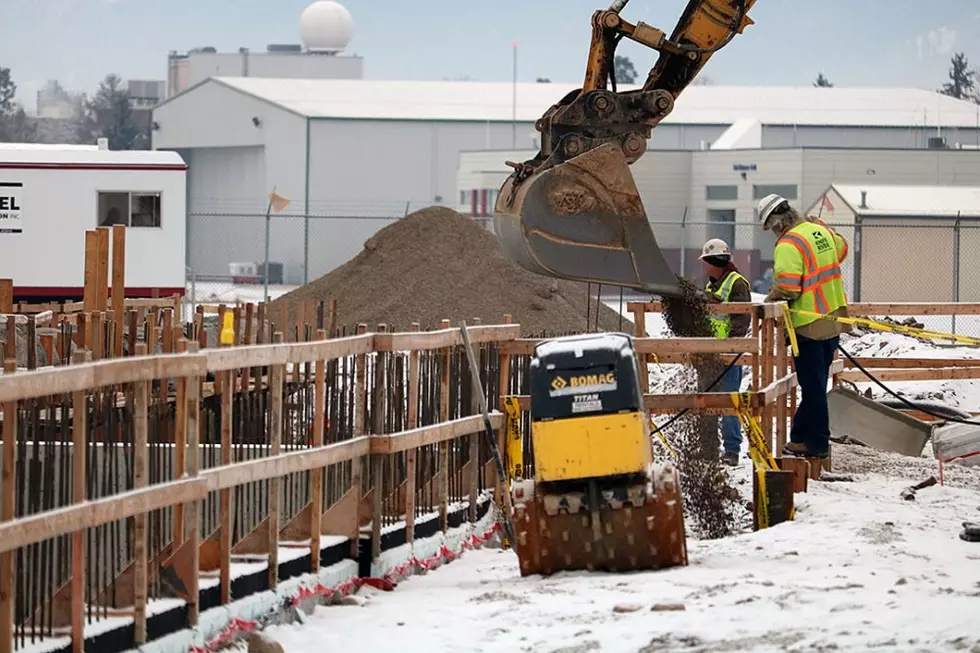 Missoula airport: $67M south concourse project on schedule, budget
Crews finish up foundation work on the new south concourse at Missoula International Airport on Tuesday, Dec. 31, 2019. Vertical construction is set to begin next month. (Martin Kidston/Missoula Current)
At its last meeting of the year, the Missoula County Airport Authority on Tuesday delayed awarding bids for the next phase of the terminal project, saying it wanted to review the awards one last time before moving forward.
The board will award the bids at a special meeting planned for early January.
"It's a very large bid and a complex package in terms of the structure, the interior and all of that," said airport director Cris Jensen. "We ended up with 67 total bids and we want to take our time to vet those bids. It won't affect the construction schedule at all. We're still on schedule and will continue to be on schedule."
After years of planning and months of groundwork, the foundation for the south concourse is now in place, and vertical construction will begin next month, giving the terminal its future stature.
The airport has budgeted $67 million for the project and has awarded roughly $21 million in bids to this point. Around $38 million in bids will be awarded next month as the project moves to the next phase.
"We want this project to be driven by budget, not a budget driven by a project," Jensen said. "We're very focused on that. We can comfortably afford around $67 million in terms of cost for this first phase of construction. We still believe that's a good number, and it's a comfortable number for us to fund."
The south concourse, scheduled to open around this time next year, will include five passenger gates with more room for travelers. It will also include new security, an observation point and a number of amenities, including a dining area for checked passengers.
When the airport initially unveiled its plans, the project carried an estimate of $84 million. Through value engineering and strategic bidding, it has reduced the cost to $67 million and has retained around $6 million in contingency costs.
"The whole team is feeling confident with where we are on the ground," said Tim Damrow, the airport's projects manager. "We have positive contingency balances in the remaining projects. We wanted to be conservative and make sure we have the unknowns accounted for."
Next month's bids will cover vertical construction, followed by mechanical, electrical and plumbing. In simple terms, the building will be relatively complete, barring a few details.
The board expects to award the last round of bids next summer, including jet bridges and baggage handling.
"Those may or may not be broken up into separate task orders," Damrow said. "We need to get jet bridges on order due to their long lead time, or vice versa with baggage handling."
The south concourse represents the first phase of the larger terminal project, but airport officials are already looking toward the construction of the east concourse, which carries an estimated cost of $26.9 million. Baggage claim will also be located in the eastern addition at a cost of around $12 million.
How soon that phase of the work begins will depend upon funding after the current phase of work is finished.
"We're able to stop construction after this phase and make sure our funding is in a good place before we move forward," Damrow said. "We're also able to operate in tandem with the old concourse until funding is able to progress into a subsequent phase. This is a natural point to assess that."
The board expects to discuss the east concourse next month. Jensen said the current project is in a position to carry roughly $700,000 into the next phase of work.
"We're hoping we'll actually carry from those existing contracts forward," he said. "We feel like we're in a pretty good place. We're within the target."