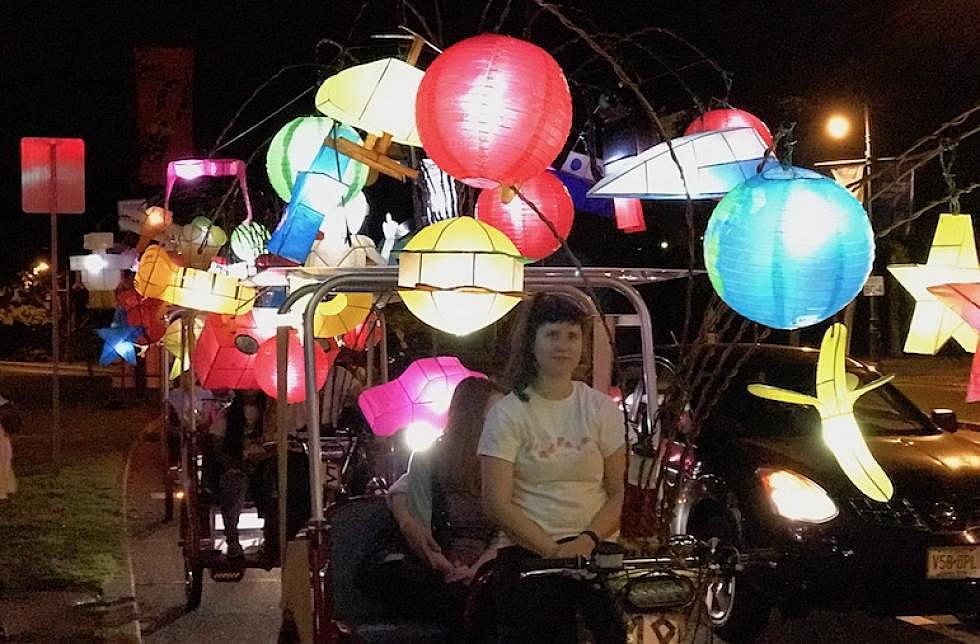 Bonner-made pedicabs centerpiece of Philly art project
A made-in-Montana pedicab decorated with Chinese lanterns waits for passengers to get aboard in Philadelphia. (Ed Kemmick/Last Best News)
PHILADELPHIA — Though it's doubtful many people here know it, key components of a major public art project in Philadelphia were made in Bonner.
The project, "Fireflies," by the Chinese artist Cai Guo-Qiang, consists of hundreds of handmade Chinese lanterns on display aboard a fleet of pedicabs that have been plying the Benjamin Franklin Parkway Parkway since mid-September.
The Bonner connection is this: All 27 pedicabs were made by Coaster Pedicab Manufacturing, just outside Missoula at the old Bonner mill site.
My wife and I have been in Philadelphia all week, visiting our oldest daughter and her family. I received a press release on Thursday from the Montana Department of Commerce, which had details on the art project and the role of Coaster Pedicab, but I put it aside, because putting things aside is what I do on vacation.
Then, Friday night, my daughter suggested, out of the blue, that we head down to Logan Square, on the Franklin Parkway, to check out the art display she'd been reading about, and which comes to an end this Sunday.
That's when I exhumed the press release and read it more closely, sharing its contents with my daughter. She happened to have been born in Missoula and thought this connection between her hometown and Philadelphia, to which she just moved a month ago, was pretty cool.
So off we went. The pedicab rides are free but you have to make reservations. By the time we got online, every ride for Friday night had already been reserved. Still, it was a fine night for a stroll, and we were treated to repeated viewings of the lantern-festooned pedicabs as they made their way from Logan Square down to the Philadelphia Museum of Art and back in a big loop.
In addition to traditional Chinese lanterns in the shape of stars and spheres, Cai Guo-Giang created a number of whimsical pieces in the shape of aliens, UFOs, pandas, emojis, dogs, doughnuts, sushi rolls and more.
My photo doesn't quite do the art project justice, so I'd suggest you check out this video from the opening night of the exhibit, when streets were closed and the pedicabs put on a choreographed show, creating what looked like a luminous, moving dragon.
As explained in the press release from the Department of Commerce, the project was commissioned by the Philadelphia Association for Public Art. The association contacted Coaster Pedicab last year "because the company's attention to detail caught Guo-Qiang's eye," the press release said. "After the company sent a custom version of its standard pedicab, the artist placed an order for 27 of them. Coaster Pedicab ramped up production to fulfill the order — its largest to date — and shipped the fleet even earlier than expected."
The manufacturing business was founded in 2005 as Boston Pedicab, where Justin Bruce, now the company's chief operating officer, "led a project to reinvent the traditional pedicab," again according to Commerce. After finding an established bicycle manufacturer to work with in Darby, Mont., he relocated the company's headquarters to Montana. A year later, Coaster Pedicab was established in an industrial park on the abandoned Bonner sawmill site.
"We feel extremely fortune to have found our home in the Big Sky and to have all of our trikes Montana-made," Bruce said, according to the press release.
Since opening in Bonner, Coaster Pedicab has expanded from making pedicabs to producing other non-motorized tricycles, including cargo-box trikes and pickup-bed trikes.