Relic Missoula slurry bombers bound for museums, airports nationwide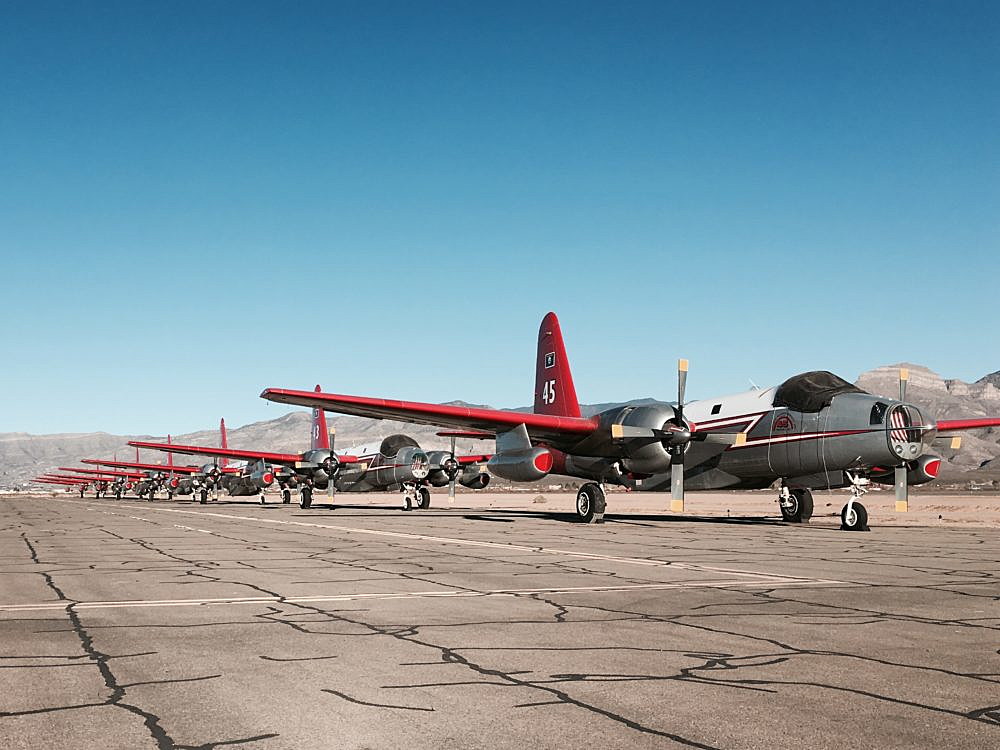 The old warhorses of Neptune Aviation's aerial firefighting fleet will emerge from retirement this year for display at museums and airports nationwide.
The Missoula-based firm retired its World War II-era P2V airtankers last fall – after 24 fire seasons – when the U.S. Forest Service said the vintage planes would no longer be contracted for firefighting missions.
Now seven of the one-time submarine chasers will be on display, the first one installed last year at the entrance to Missoula International Airport.
Six others will be moved to their new homes during the third and fourth quarter of 2018, depending on the demands of this year's wildfire season.
Selected from 14 applicants, the retirement homes for Neptune's old-school fleet include:
* Alamogordo Airport, Alamogordo, New Mexico, N203EV (former Evergreen Tanker 142)
* Estrella Warbirds Museum Paso Robles, California, http://www.ewarbirds.org, Tanker 07 (P2V-5)
* Glendive Airport, Glendive, Montana, Tanker 05 (P2V-5)
* T61 Memorial & Klamath Falls Air Base, Lakeview, Oregon, Tanker 06 (P2V-5)
* Yankee Air Museum, Belleville, Michigan, http://yankeeairmuseum.org/, Tanker 45 (P2V-7)
* San Diego Air & Space Museum, San Diego California, http://sandiegoairandspace.org/, Tanker 43 (P2V-7)
Tanker 10 went on display at Missoula International Airport in June 2017, a short one-mile ground transport from Neptune's headquarters.
In its two decades on fire duty, Tanker 10 dropped more than 11 million gallons of fire-slowing retardant, according to Neptune. For 25 years prior, it did duty as a submarine chaser and reconnaissance aircraft. One Navy photograph shows Tanker 10 patrolling the waters off the Florida coast during the Cuban Missile Crisis.
None of the airport and museum tankers will be air worthy, said Dan Snyder, Neptune Aviation's chief operating officer. But two of the vintage aircraft are remaining in the company's ownership and will eventually be featured at airshows.
"We are extremely excited for the P2Vs to be displayed at museums and airports around the country," Snyder said. "These aircraft represent a slice of aviation history – both in a military role and a firefighting role."
Lockheed initially built the P2V to carry nuclear warheads for the U.S. Navy, said Greg Jones, Neptune's vice president for product development. But the aircraft did its military service flying low over the ocean, hunting enemy submarines for 9 and 10 hours at a time.
It was the longest-produced aircraft in Navy history, rolling off the assembly line from 1954 to 1957.
Neptune's warbirds originally had two gasoline-powered reciprocating engines. As the Navy added more and heavier submarine detection equipment, the aircraft got so heavy it needed two more engines – the jet engines eventually used for takeoff and during retardant drops.
Black Hills Aviation and then Neptune Aviation retrofitted the airplanes for use in firefighting, replacing the reconnaissance gear with six compartments that held the firefighting slurry.
What distinguished the aircraft was its power and strength, crew members past and present said at the fleet's retirement last fall. It was as if Lockheed had designed the P2V for aerial firefighting.
"The performance and what this aircraft is capable of is phenomenal," said Jones, who was both a pilot and a mechanic of the P2Vs. "We are going to miss it."
Johnson Flying Service brought the first P2V to Missoula as a firefighting air tanker in 1972, the first such use of the surplus Navy reconnaissance planes.
But it was Neptune Aviation that expanded and extended the P2V's history beyond all expectations.
After starting Northstar Aviation in 1992, Missoula aviator and entrepreneur Marta Timmons bought Black Hills Aviation of Alamogordo, N.M., and brought her newly christened Neptune Aviation (in honor of its six firefighting air tankers) to Missoula.
Neptune was the largest remaining civil or military operator of the aircraft, with as many as 10 under Forest Service contracts in a single year. Its fleet was, in fact, the last in the world.
Now comes a third tour of duty for the P2Vs.
"We would like to finalize delivery of the aircraft by the end of 2018," Snyder said. "Delivery dates will be dependent on what type of fire season we are experiencing and when we can free up pilots and crews for the ferry missions."
Neptune Aviation's core services are airtanker fire suppression, aircraft maintenance, non-destructive testing, metal fabrication, charter air service and flight lessons.