Amid changes and challenges, Havre's large employers provide economic stability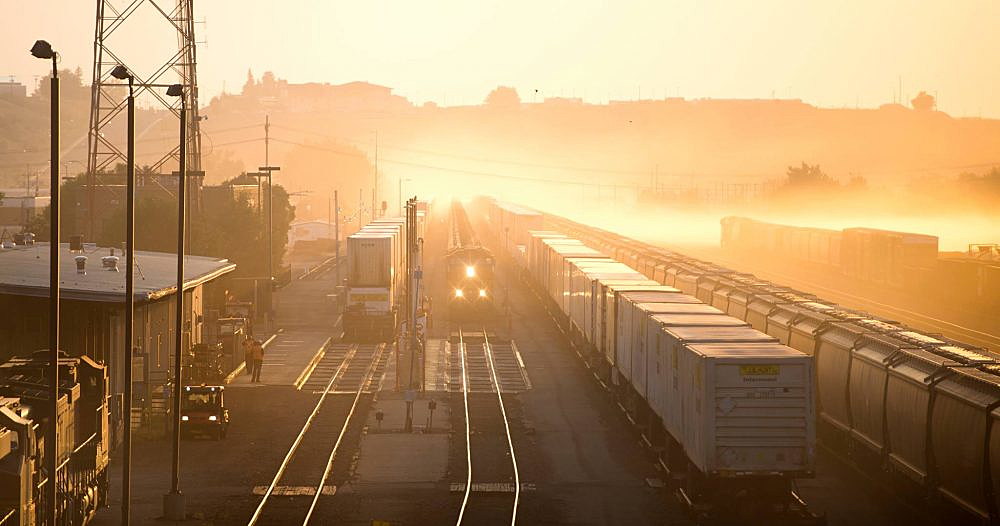 (HAVRE) Havre Herald – Havre is no one-trick pony.
Local realtor Kim Cripps believes the city's foundation of a handful of big employers make the Jewel of the Hi-Line less susceptible to economic downturns.
"We are not dependent on one entity like lumber, or tourism," she says.
Cripps has been in the local real estate business 34 years. This year she moved to a new location in downtown on Third Avenue, on the first floor of the Havre Historic Post Office Building.
In her spacious workplace, behind her desk, up on the wall, is a large safe with a thick, presumably, bullet-proof door. It's a relic left over from the building's post office days. The reason the safe was put in an elevated spot, building owner Marc Whitacre has said, was to make the act of going into the safe as conspicuous as possible. Climbing a ladder above the rest of the office would do the job.
Cripps has been in the local real estate business since before the internet became a thread in the fabric of most Americans' lives. And she's learned to roll with the times, she brags. On the day of the interview, she excitedly announced she had just shown a local home to a couple in Spokane, Washington – while they were still in Spokane. The couple was planning to move to Havre where the husband would work for the Havre U.S. Border Patrol sector.
The internet makes it possible for Cripps to give potential homebuyers virtual tours of homes.
"I'm not going to buy something I can't see," she said, laughing. "You have to go with the changes. You have to make most of the technology."
Havre's Large Employers
Havre's economy is and has been stable, Cripps believes, because of the diversity of the area's largest employers, which account for more than 10 percent of Havre's workforce.
"We are immune to many national economic trends," she says.
In the recession years after 2008, the rate of home repossessions was lower than in most other places, Cripps says she noticed. She attributes that to Havre's diverse economy.
"We're very blessed to have all these entities make up our community."
The employers she is referring to are the Havre Public Schools system, Montana State University-Northern, U.S. Border Patrol Havre sector, Northern Montana Hospital and the railroad, BNSF Railways.
Any conversation of Havre's economy would be thoroughly incomplete without mention of the railroad.
"Havre's beginning was due to the arrival of the railroad and a dream of the 'Empire Builder,' James J. Hill," according to "Grit, Guts and Gusto: A History of Hill County."
While Native Americans, fur trappers and soldiers arrived in north central Montana before the first rail tie was staked, it was James Hill's railroad that made a path to and matured what would become Havre from a one-horse frontier town to an incorporated municipality that would turn into a city hub for a hundred miles in any U.S. direction.
The Great Northern Railroad, which reached the present-day Havre region in 1887, brought hundreds of men and their families to the region. Havre was built on the railroad. From 1900 to 1916, the population of Havre increased five-fold, from 1,000 to 5,500 people.
By 1930, Havre's population of 7,500 was more than 70 percent of what it is today (the 2017 census.gov estimated Havre's population at just over 9,700 residents. The older population numbers were gathered from early Havre Area Chamber and Havre city promotional pamphlets).
The number of railroad employees has ebbed and flowed and railroad ownership has changed. In 1995, Burlington Northern Railroad and Santa Fe Railroad combined to form BNSF Railway. In 2010, Warren Buffet's Berkshire Hathaway officially acquired BNSF.
BNSF employs about 600 workers, according to company spokesperson Ross Lane. The company provides relocation packages to employees who move, "as we want to make sure that our employees and their families are taken care of," Lane adds. In 2017 BNSF recognized Havre as a BNSF Railway Heritage Community, "because of our shared past, present, and future."
Although the largest employer for a bulk of Havre history, the railroad now is in a tug-of-war for that title with Northern Montana Health Care, which is winning as of the latest count. An April 2017 count of the city's largest employers by the Havre Area Chamber of Commerce puts the hospital at the top of the list, with 646 employees. (The 2017 Chamber count is the latest version.)
The hospital was established in 1976, after Sacred Heart Hospital and Kennedy Deaconess Hospital joined to form Northern Montana Hospital. It cost $6.5 million to build.
Northern Montana Health Care employees make up departments such as the Vision Center, Sletten Cancer Center, Specialty Medical Center, Family Medical Center, a pharmacy, and the emergency center, among others. The hospital serves people from Hill, Blaine, Liberty, and Phillips counties, as well Big Sandy in Chouteau County.
The other top six Havre employers are Havre Public Schools, with about 300 employees; Montana State University-Northern with about 200 employees; Walmart, also with about 200; and the Havre sector U.S. Border Patrol, with a few under 200 employees. The local Border Patrol sector was exponentially expanded after 9/11.
At the bottom of the list of Havre's 17 largest employers of 2017 are two entities that no longer exist in Havre: Herberger's and Kmart, which employed about 100 people collectively.
Along with Sears Hometown Stores, the three national chain stores closed in Havre this year. Herberger's, which had been an anchor store in Holiday Village Mall since spring of 1979, closed after its parent company, Bon-Ton, went bankrupt and closed more than 200 of its stores. Sears Hometown Stores, which announced its closing shortly after Herberger's, left after its parent company –Sears Holdings Corp.— announced it was closing the less profitable stores. Sears Holdings also owns Kmart.
As of now, the mystery with Sears Holding is whether it will "shrink," or close down completely. In April, Sears closed its last store in Chicago, the city where it all began for the retailer.
Another question mark is Holiday Village Mall, which opened November 1978 to much anticipation and to the tune of $8 million. The mall is up for auction Jan. 8, and what happens afterward will obviously affect its future.
Is Havre Dying or Evolving?
The departure of the big three stores from Havre happened despite the stable local economy, not because of it, as far as Cripps sees it.
"We lose businesses not because of our economy," she said. "It's corporate decisions out of our hand."
When it comes to Sears and Kmart, the ones in Havre were on a list of last holdouts in the nation. The company's standing in the nation had been suffering for a long time, and stores had been closing for years before the ones in Havre finally shut down, she explains.
As for Havre's economy and its correlating overall health, Cripps sees no reason to panic. In Havre, there are clothing stores and plenty of places to eat.  Locals have options for hardware and furniture stores, Cripps optimistically adds.
And when it comes to leisure and recreation, where does one begin? Several parks are peppered throughout the town, and, of course, plenty of recreational space and options at Fresno Reservoir and the 10,000-acre county park, Beaver Creek Park. There are vocation development organizations such as Bear Paw Development, Cripps goes on.
But she wasn't finished.
In Havre, parents can sign their children up for sports at all times of the year — soccer, wrestling, baseball, football, hockey. And the Boys & Girls Club of the Hi-Line is an immense help to parents all year round, she says, making it easier to work a full day without the burdensome cost of childcare.
And there is also something about Havre that employment numbers, revenue spreadsheets, and signup sheets can't track. But it's just as valuable for building and keeping a community intact.
"We generally have very kind-hearted people," Cripps says. "People come forward and they will help." The amount of people with needs and various causes and fundraisers is a testament to the kindness and generosity of north central Montanans, Cripps believes.
So. Is Havre dying or is it evolving?
She doesn't hesitate.
Havre is evolving.
"We adapt to change. What doesn't kill you makes you stronger."