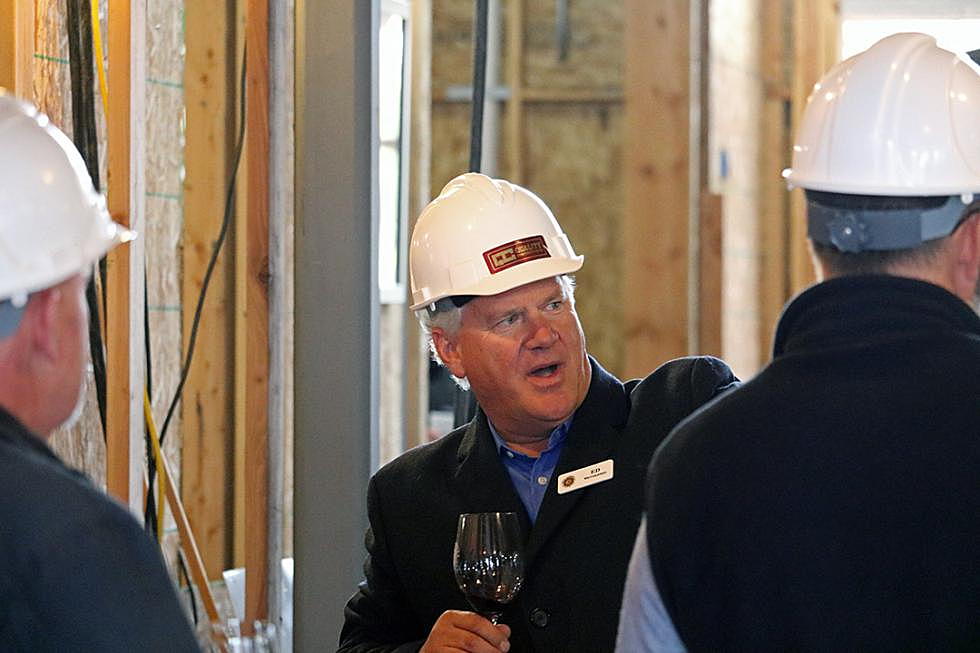 Old Sawmill District developers showcase upscale 'rent-by-choice' apartment project
Ed Wetherbee, a partner in the Old Sawmill District development taking shape near downtown Missoula, leads a tour of the new Cambium Place building currently under construction, where 69 rent-by-choice apartments will offer upscale living. (Martin Kidston/Missoula Current)
With the heaters glowing and wine flowing, Missoula's business leaders joined members of OSD Development in the Old Sawmill District on Thursday night to tour the amenities taking shape in the district's latest building.
While Cambium Place is only midway through construction and stands months from its official opening, the framework has come far enough to reveal the developers' vision for a "rent-by-choice" facility offering concierge services and a blend of business and retail offerings.
"We're offering services most people will come to love, such as laundry services, housekeeping and weekly happy-hour events," said Leslie Wetherbee, a development partner. "We really want people to feel at home within a boutique-like community."
With underground parking and four stories, Cambium Place represents the largest project to break ground in the downtown district to date. Next door, four upscale condominiums have either opened or are nearing completion. Down the street, a boutique student housing project is under construction.
Together, the projects represent what's said to be the largest urban infill project in the state, one that will offer 700 residences and 150,000 square feet of office and retail space. Three years ago, the 42-acre property was little more than a field not far removed from its history as a lumber mill.
As bankers, business executives and economic leaders gathered in Cambium Place and its future great room, the team behind OSD Development detailed its vision for the facility. The project, they believe, will redefine the city's living options in a new "rent-by-choice" facility.
"This is becoming more common in urban areas, rent by choice," said Linnea Stanhope. "People do not want to tie up their money in something they may want to sell again, but at the same time they want to maintain their usual standard of living."
Stanhope described the building's 69 residential units as upscale apartments. They'll converge on a lobby with a double-sided fireplace, a great room and a chef's kitchen, where residents can prepare food and entertain guests.
Out the back door waits a large common space which, once the project is finished, will include water and fire features, seating and a community garden. The building also includes 30,000 square feet of commercial space, half of which is dedicated to lifestyle services.
Those include what development partner Ed Wetherbee has billed the C3 Lounge – the city's first coworking business space.
"It's a fully furnished, amenity-rich open workplace designed for entrepreneurs, remote workers, solo professionals and fledgling businesses," said Wetherbee. "The proximity to downtown, the river and the trail system make living or working at Cambium Place a great location for creativity, recruitment and retention."
Since breaking ground on the development's first condominium nearly three years ago, the project has served as a boon to the city's construction industry.
Flint Olsen, president of Quality Construction, placed the number of jobs at 300 "at any given time." They range from excavators to concrete workers, carpenters, electricians and masons.
"You get different companies coming and going at different phases," said Olsen. "It's a lot of good volume of work all in one place. Millsite Development, we're part of that also, so it's been a good thing for our company."
Olsen added that Cambium Place may be the largest building ever constructed in Missoula. At 190,000 square feet, it takes up nearly an entire block and fronts Wyoming Street, where other projects are set to break ground.
Directly across the street, a three-story lifestyle center is in its final design. The ground floor is already leased while the second floor has been reserved for office space and the top floor to penthouse sweets.
Also across the street, the Sawmill Grille is set for construction next year, along with a neighborhood inn.
"Next year will also see the opening of the Sawmill Grille – our neighborhood gastropub – and the Lifestyle Building, which we're very excited about," said Leslie Wetherbee. "The tenants filling the ground floor include a hair salon, an esthetician and a personal trainer. Massage therapy will also be available. They're going to be great assets to the neighborhood."