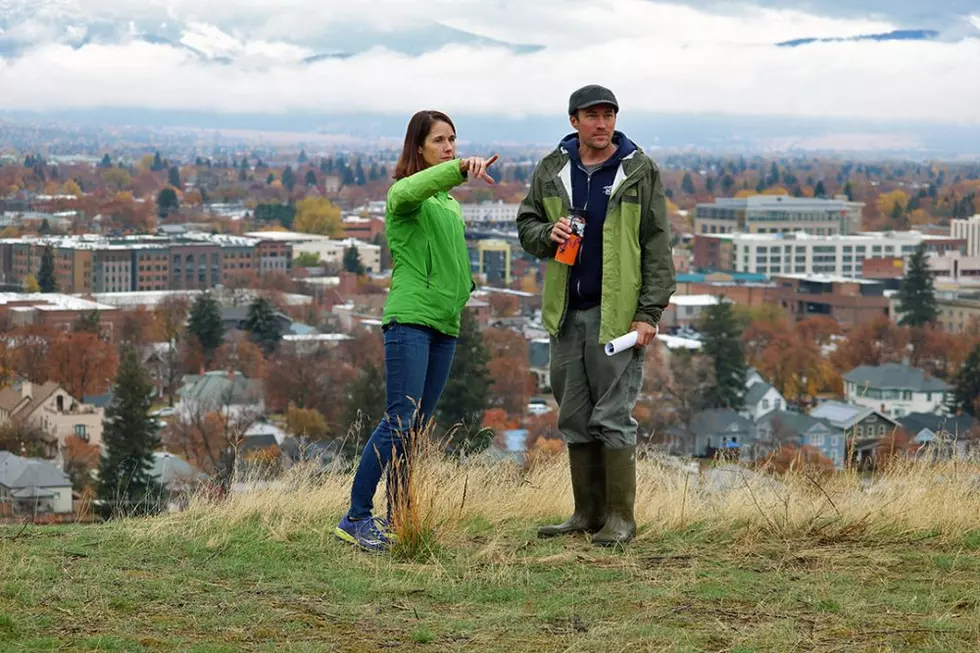 Voter-approved bond, levy to boost Missoula's conservation lands program
Morgan Valliant, right, the city's conservation lands manager, and Elizabeth Erickson, the city's open space program manager, stand on Waterworks Hill last fall. The landmark is one area that will see improvements with funding from the recently passed open space bond and conservation levy. (Martin Kidston/Missoula Current)
Passage of the open space bond and mill levy last November will help the city's conservation lands program tackle new projects and add employees to keep pace with Missoula's growing network of trails and open lands.
Work on tap includes new trails on Waterworks Hill, efforts to provide sustainable access to the Clark Fork River in the urban core, and long-sought maintenance of conservation lands.
"There's been a lot of critical thought on this," said Morgan Valliant. "We've reached out to a lot of different partners and I think we've settled on something that's pretty close to what we should do."
Valliant, manager of the city's conservation lands program, said his department's budget sits at roughly $475,000, much of which goes to personnel. The lack of additional funding has resulted in a growing backlog of work, from trail maintenance to tree planting and general stewardship.
All of that would increase with funds provided by the 4 mill conservation levy approved by voters last year. Valliant placed the infusion at around $490,000.
Among the proposals introduced on Wednesday, the conservation lands program is planning for a 68 percent increase in personnel, phased in over the next three years. It also looks to double its supply budget over two years and achieve a 160 percent increase in professional services to contract out essential work.
In a perfect scenario, Valliant added, he'd like to see the program sock away $300,000 in a capital outlay budget to handle emergency restoration and lands acquisition. The city currently manages around 4,200 acres of open space and conservation lands.
"My program is 11 years old and we've owned some of these properties for 30 years," he said. "We didn't have a management program established when we started acquiring lands. We've been in this continual catch-up. But we're now at a point where we're able to start tackling it as it should be."
Funding provided by the levy will also help move several capital improvement projects forward, including Waterworks Hill. That includes an all-abilities trail, paved public parking and historic interpretation.
The funding will also lay the groundwork for improvements to the Clark Fork River through the urban core of Missoula. A recent river survey documented more than 2,600 daily floaters at peak season, averaging roughly 59 per hour at the Madison Street footbridge.
That has destabilized portions of the riverbank, leaving it susceptible to erosion. Several problem areas have already developed, threatening vital infrastructure. Creating sustainable access sites has been years in the making.
"We have the data to really make critical decisions on where these points go," Valliant said. "We'll break ground in 2020 on sustainable access sites downtown."
Valliant said the funding provided by the bond and levy won't become available until July 1. He asked members of the City Council on Wednesday to help expedite the process.
"One thing we're proposing is actually getting these funds allocated and get that budget approved this spring, so when July 1 rolls around, we're able to actually already have staff hired to start," he said. "Otherwise, we're starting in July and we're not getting staff until the end of the season and we've missed an entire season of work."
Council members expressed general support for the proposal and the planning that went into it.
"It's clear that we're getting lapped and simply not keeping up with what we had at that time and yet, it's a huge value in Missoula," said Councilwoman Gwen Jones. "With the mill levy passing, we're closing the imbalance. We're finally starting to go forward instead of tiny, tiny snips at it. We're actually going to start doing things the right way."