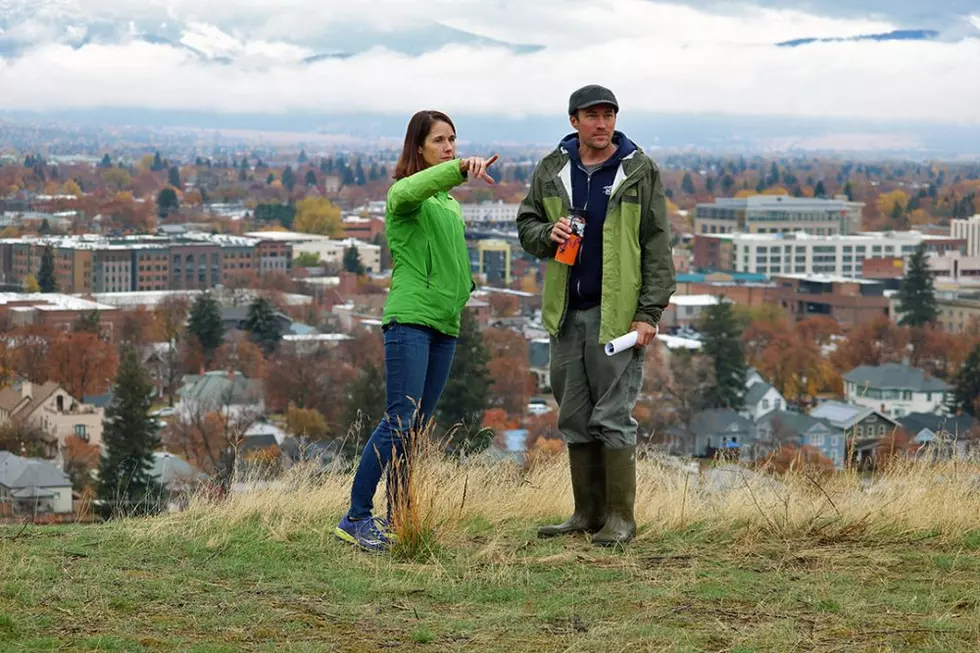 City, county reach agreement detailing project funding, reimbursement for open space
Morgan Valliant, right, the city's conservation lands manager, and Elizabeth Erickson, the city's open space program manager, recently hiked up the North Hills to consider Missoula's future as a growing city and the role a new open space bond and stewardship levy would play in guiding it. (Martin Kidston/Missoula Current)
The city of Missoula this week authorized the mayor to sign an agreement with Missoula County detailing the expense and reimbursement of funding from the 2018 Open Space Bond.
At 18 pages long, the agreement leaves nothing to doubt.
"The interlocal agreement sort of dictates the significant expenditure of taxpayer dollars," said Grant Carlton, the city's open space program manager. "That necessitated very tedious negotiations. It's been a long road and I'm really excited we're here."
Roughly 63% of Missoula County voters approved the $15 million Open Space Bond in 2018 to fund the acquisition and maintenance of open space public lands, among other things. The city and county will split the funding, each receiving $7.5 million.
Members of the City Council also gave initial approval to a resolution declaring certain areas within the city as open space, making them eligible for funding from the bond. They primarily include various parks and a popular trailhead in the North Hills.
"We have the ability to acquire properties, as well as make capital improvements on them," council member Amber Sherrill said. "If you're hiking on Mount Jumbo, any place you go in this city on open space, it has had some level of bond expenditure over the years."
In Wednesday's resolution, roughly 1.5 acres on Waterworks Hill were designated as open space. Plans for the parcel include an expanded and improved parking lot to the popular location and an all-abilities trail leading to an overlook of downtown Missoula and an interpretive site.
They also declared roughly 22 acres at McCormick Park as public open space and 1.3 acres at Sacajawea Park. Other parks included in the resolution were 44 Ranch, Anderson, Bonner, Franklin, McLeod, Skyview and Whitaker.
Declaring the parks as public open space will make them eligible to receive bond funding for reforestation and other related projects.