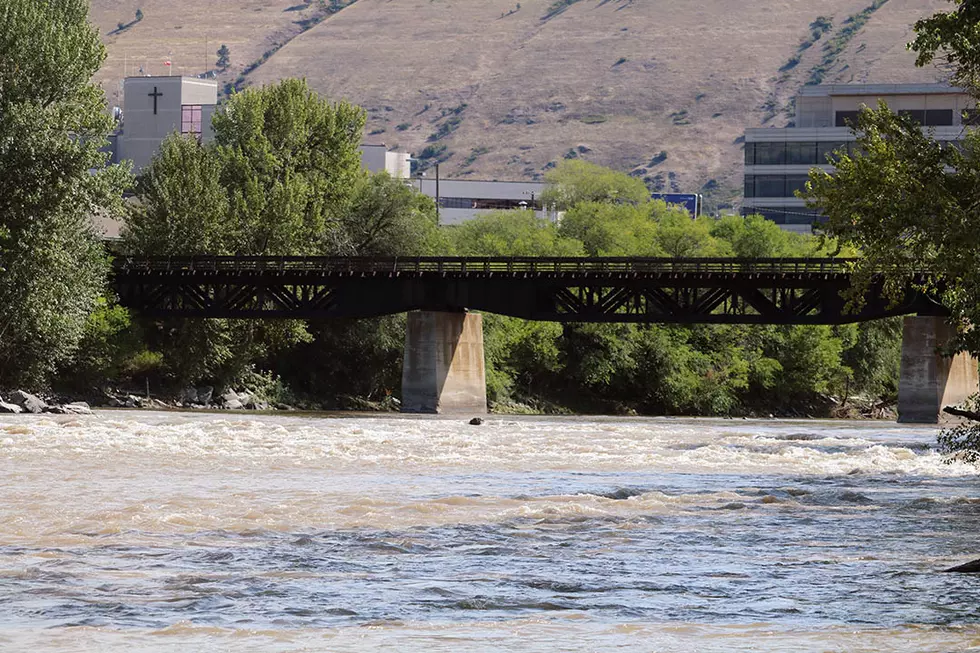 Irrigation company must remove Clark Fork River barriers to move gravel at canal intake
The Clark Fork River approaches the boat launch at Silver Park during high water. (Martin Kidston/Missoula Current file)
An irrigation company has received clearance from Missoula County to move gravel on the Clark Fork River to divert water at certain times of the year, and push the gravel back when the season passes.
In exchange, Hellgate Valley Irrigation Co. must remove what remains of several jersey barriers placed in the river years ago without proper authorization. The general location is near Broadway Island and across from Silver Park.
"From a fisheries perspective, it's better to use the natural gravels that create some turbidity," said Todd Klietz, the Missoula County floodplain administrator. "It's Fish, Wildlife & Parks' recommendation that we permit and authorize what happens here to be consistent with what happens with other irrigation diversions along the Clark Fork, with this seasonal push and push back of gravels during the irrigation season."
While the river falls under the state's jurisdiction, the Hellgate Valley diversion lies within the 1946 Missoula City limits, requiring county commissioners to approve so-called 310 permits.
The irrigation company is requesting a 10-year maintenance plan to ensure water owners downstream receive their allocation. Doing so will require the company to excavate their canal intake each season by moving gravel.
FWP recommended that excavation of any river bed material shall be placed back to the approximate location and condition – and elevations – at the end of each irrigation season. It also recommended the county condition approval to the removal of any diversion structures placed in the river at the location.
Without authorization, Klietz said the company placed jersey barriers into the stream channel in 2016. The county received a request in 2018 for additional work, and the county at that time required the company to remove the jersey barriers.
However, the company never did, as the city was proposing to build a new wave feature. Klietz said the city had agreed to remove the jersey barriers as part of its work to build the wave.
"That wave does not appear to be viable at this particular time, and Hellgate Valley has agreed this time to remove what remains of these jersey barriers," Klietz said. "At this point, only one is still visible. The rest of have been scoured out and have fallen into a hole when the irrigation season is over."