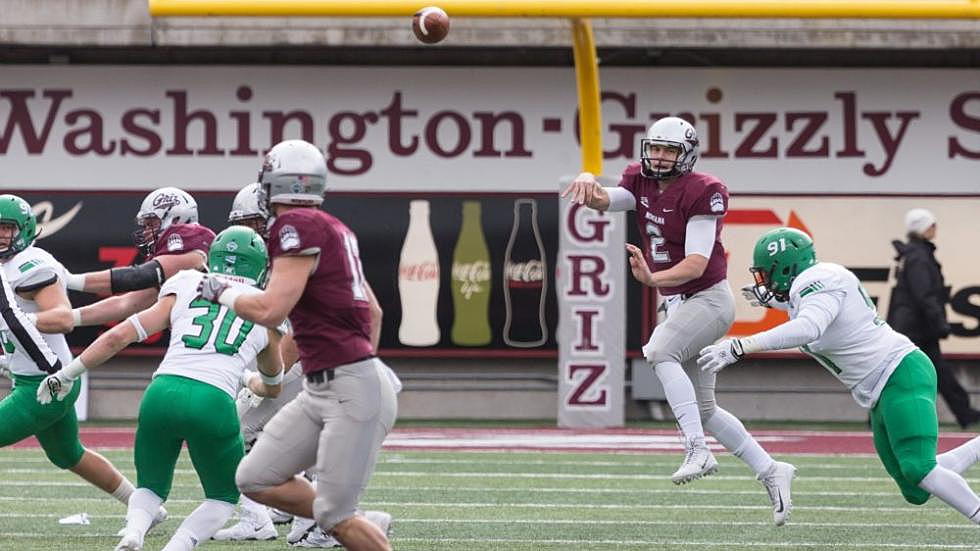 Montana football: Jensen third in Rice Award voting
Despite only starting seven games and taking the reins of Montana's offense as injury cover, quarterback Gresch Jensen put together the best season ever by a freshman Grizzly QB, and one of UM's top-25 passing seasons ever.
For his efforts, Jensen has finished third in voting for the STATS FCS Jerry Rice Award for the national freshman of the year the newsgathering service announced Tuesday.
Jensen earned 18 first-place votes and 237 total points to finish 198 points ahead of Big Sky Conference Freshman of the Year Troy Anderson of Montana State - the only other finalist from the league - who finished at No. 13.
Kennesaw State linebacker Bryson Armstrong became the first defensive player to win the Rice Award, edging Yale running back Zane Dudek by a single point in the voting (347-346) for the nation's top freshman.
As the Grizzlies' Steve Carlson Award winner for offensive MVP, Jensen threw for 2,531 yards and 20 touchdowns, averaging 253 yards per game in all 10 games. But in his seven games as a starter his average went up exponentially, averaging 332.3 yards per game.
Jensen's first real action came against Savannah State, where he filled in for injured starter Reese Phillips. In three quarters of action, the freshman threw for three TDs and 178 in a blowout 56-3 win, going 11-15-1 passing.
Against North Dakota, he set a new school record for passing yards by a freshman with 423, eclipsing the best freshman games by legends such as Dave Dickenson, Marty Mornhinweg, and Jordan Johnson.
He was given an honorable mention for the STATS FCS Freshman Player of the Week, a recognition he received four times over the course of the season.
Jensen is the second-straight Montana freshman to be a finalist for the Rice Award, with Jerry Louie-McGee finishing seventh in the voting in 2016.
A national panel of over 150 sports information and media relations directors, broadcasters, writers and other dignitaries voted on the Rice Award, which was based on regular season performances, and was conducted before the start of the FCS playoffs.
STATS FCS Jerry Rice Award Final Voting
1. Bryson Armstrong, LB, Kennesaw State: 29-32-12-12-14-347
2. Zane Dudek, RB, Yale: 19-31-26-20-9-346
3. Gresch Jensen, QB, Montana: 18-13-13-17-22-237
4. Daniel Smith, QB, Campbell: 21-11-12-4-7-200
5. Davis Cheek, QB, Elon: 16-10-15-8-12-193
6. Jabril Cox, LB, North Dakota State: 7-13-13-12-9-159
7. Caylin Newton, QB, Howard: 14-6-12-12-3-157
8. Franklin McCain III, CB, North Carolina A&T: 5-10-13-16-9-145
9. Peter Guerriero, RB, Monmouth: 5-6-9-11-13-111
10. Grant Breneman, QB, Colgate: 7-3-4-6-6-77
11. Anthony Knighton, DE, Southern Illinois: 2-1-2-7-11-45
12. Reynard Ellis, LB, Furman: 2-3-4-3-4-44
13. Troy Anderson, RB/LB, Montana State: 3-1-4-3-2-39
14. Wesley Dugger, RB, Davidson: 0-3-4-4-3-35
15. Vincent Sellers, S, Tennessee State: 0-4-3-1-1-28
16. Kierre Crossley, RB, Central Arkansas: 1-1-1-3-9-27
17. Kaelan Riley, QB, Mercer: 1-0-2-3-9-26
18. Torrance Marable, RB, Presbyterian: 1-1-1-2-3-19
19. Jaron Grayer, LB. Maine: 0-1-0-4-4-16
20. Glenn Cunningham, LB, Fordham: 0-1-1-3-1-14
A first-place vote was worth five points, a second-place vote four points, a third-place vote three points, a fourth-place vote two points and a fifth-place vote one point.