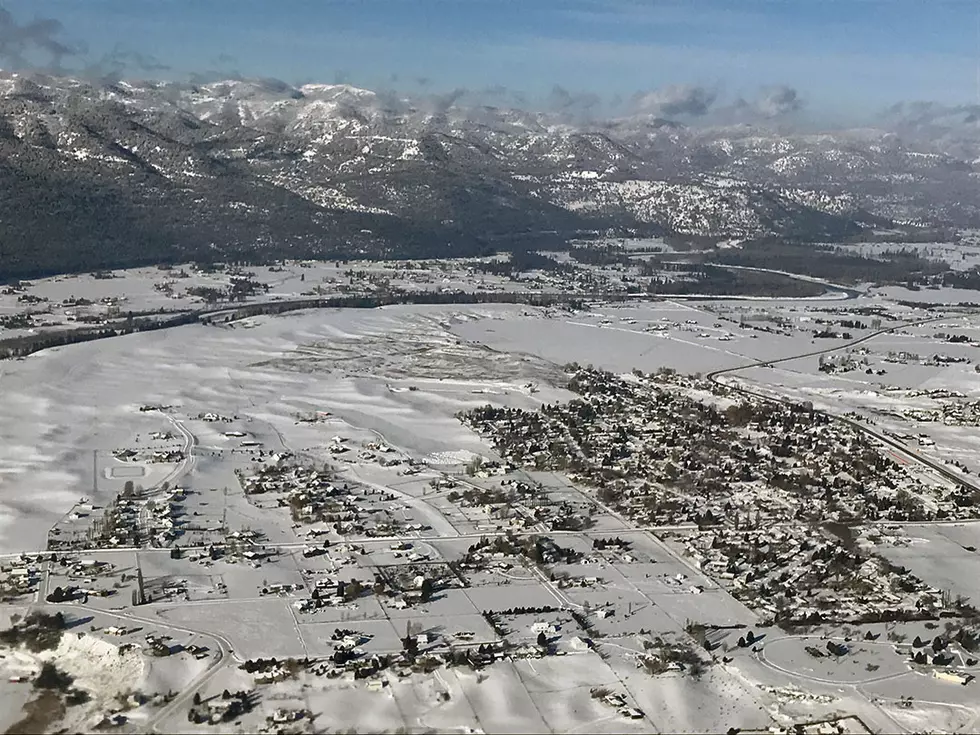 City pleased with Missoula County's new land use map, plans for growth near the "fringe"
Areas out Mullan Road west of the city boundary is one area of interest in Missoula County's new land-use map. Areas west of Reserve Street, particularly where infrastructure is in place or nearby, could be designated as a likely area for growth. (Martin Kidston/Missoula Current)
Members of the Missoula City Council on Wednesday summarized the county's draft Land Use Map as a welcome improvement over that drawn 40 years ago. County planners are calling it "The Big Idea."
Regardless of who's doing the labeling, both city and county officials are pleased with the progress and what's emerging as a new collaboration between the two governing bodies when it comes to planning for growth around Missoula's urban fringe.
Transportation, housing, infrastructure and business are all at stake. Climate change will play into the equation, or what local officials now refer to as "resiliency."
"There's a lot of opportunity to work together so there will never be an instance where someone is driving around and crosses a jurisdictional boundary and has a sense they're in a different spot," said council member John DiBari. "I don't know what the right thing is, but this is a lot closer to the right thing than where we've been."
Andrew Hagemeier, a planner with Community and Planning Services at Missoula County, said "The Big Idea" centers around a one-community approach to land use planning in the greater Missoula area.
It focuses growth around existing infrastructure and transportation needs while providing for housing across a variety of incomes. It works to protect agriculture without impacting housing or business.
"People in our area don't see our community as the city of Missoula or a county of Missoula," said Hagemeier. "When it comes to land use, they don't care or know there are two jurisdictions. They just want to have a great community. That's our vision, that there's this one community approach."
In its latest mapping effort, the county has placed greater emphasis on coordinating with the city, particularly in the urban fringe. It's also looking to preserve neighborhood character while presenting an array of housing options, from homes on "10 acres with a horse" to denser, urban-style development in line with policies at the city.
The county last updated its Land Use Map in the 1970s, rendering it obsolete. The latest effort has been two years in the making and extends from Bonner to the Wye in what's come to represent the Missoula micropolitan area.
"We're going to propose it to the county commissioners as an amendment to our growth policy," Hagemeier said. "It's not just a land use map. There's a lot more to it. It has vision. It talks about the planning strategies we're proposing. It describes the land use designations."
While some have argued that the city and county open space designations take land away from housing efforts, Hagemeier said the new land use map provides room for both.
The map represents roughly 170,00 acres, including 14,000 acres designated for multi-family housing. While that acreage may look small on the map, Hagemeier said, it provides ample room for growth.
"We could get close to 40,000 (housing) units on this land use map in the future," he said. "Affordable housing isn't single-family housing on one-acre lots. It's density, a mix of housing types for different income levels so people will have different types of housing as they move through their life cycles."
The land use designations allow for different densities depending on location, including eight units per acre and up. Greater housing density will be needed to meet future population projections, which will require 6,000 new units within the next 20 years.
"Our challenge in the county isn't the amount of land we can designate for housing, it's the lack of infrastructure we have to serve it," he said. "In areas where we have the infrastructure in place to accommodate the type of development we want, we have roughly 3,000 to 8,000 (housing) units. If we develop on the low end of density, we won't meet our goals over the long term. So we need to work on that infrastructure piece."
The map also gives new attention to transportation planning, or what Hagemeier described as "mobility and access." That hasn't always been the case, he said.
"Our land use patterns and our transportation systems are completely and directly linked," he said. "But we've had a tendency in the past to do our land use and transportation separately. We've failed to recognized that the type of roadway is going to have an impact on the land use and the form of the built environment around it. So we've started to connect that conversation between mobility and access in our land use designations."
Those designations consider the type of transportation network that's both needed and appropriate for a certain area. In areas deemed agricultural where cars reign supreme, the network's needs will be different than areas built to a higher, urban-style density.
It's there where short block lengths, sidewalks and access to the Mountain Line transportation system will come into play, he said.
"That allows us to start to incorporate those elements by putting it into our land use map, our zoning requirements and changing our subdivision regulations to ensure those facilities are built as those places develop," he said.
The county's new Land Use Map also considers clustered developer, something Hagemeier said must be incorporated "if we're serious about protecting our ag lands as we continue to urbanize." County planners will push for clustering as commissioners consider the plan for adoption.
Looking at the map, members of the council questioned the absence of community mixed use designations and neighborhood centers, such as small markets or cafes.
But Hagemeier said such uses are included in the map as it relates to some areas, including West Mullan and Miller Creek. Residents in Target Range didn't want such designations, he said.
And while the plan doesn't name a specific location for commercial uses, it does allow for them, he said.
"Trying to say this corner is going to be commercial never works," he said. "How can we be sure that a specific corner has the elements a business can be successful at? Instead of specifying the exact location, we've included it in a land use designation to hopefully allow it to happen organically."
The draft of the new Land Use Map won general praise from members of the City Council. Those behind the mapping effort at the county have also expressed optimism, calling the effort an improvement over documents composed in the past.
Hagemeier said the city and county's plans will evolve to inform the other.
"They (city) plans to look at their map and see if there are places they need to make changes to in these edge areas," he said. "In five years, we (county) will be looking at updating things again and we'll look back at the city's growth policy and its transportation plan and (climate) resiliency plan.
"Hopefully we don't make the mistake of creating a land use map and not doing anything for 40 years like we did in the past."