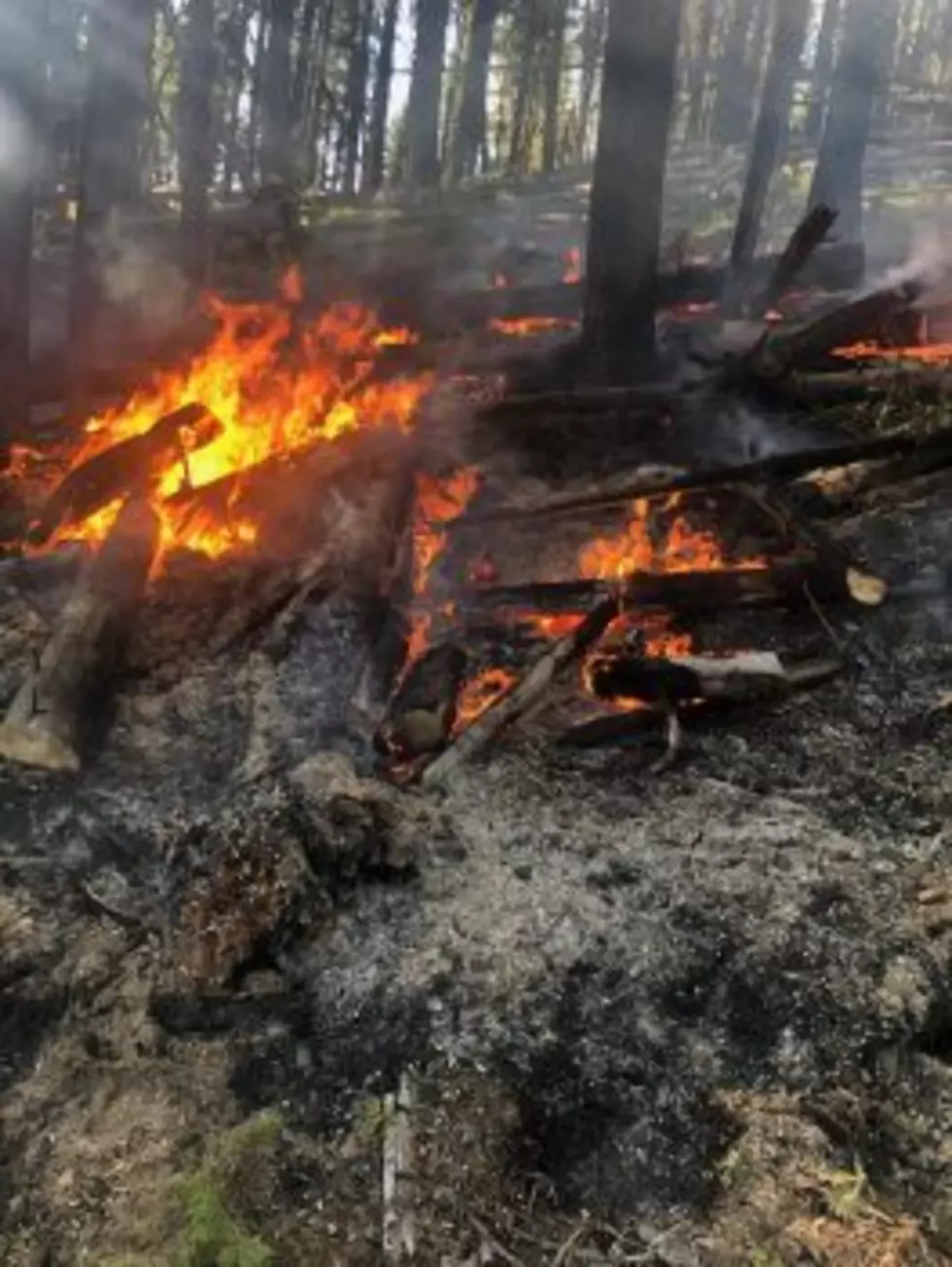 Several hundred lightning strikes spark small wildfires around Missoula, Bitterroot
Boyd Mountain fire on the Lolo National Forest. (Photo courtesy of Lolo National Forest)
After three days of heat advisories, Wednesday morning's storms helped cool things off but also sparked at least a dozen fires around Missoula.
Residents of western Montana celebrated the short bout of rain that passed through around 7 a.m., dribbling about 0.2 inches of rain at the Missoula International Airport. But such a tiny amount couldn't touch the lack of moisture and high temperatures that have persisted since the end of July.
So when Wednesday's storm was accompanied by 250 to 300 lightning strikes in the Missoula and Bitterroot valleys, according to the National Weather Service, at least a few were bound to start something.
The Lolo National Forest reported three new lightning-cause fires near Boyd Mountain about 4 miles west of St. Regis on the Superior Ranger District. Sadly, they also found one human-caused fire near Haugan.
As of noon Wednesday, the fire growth was minimal, but engines and firefighters were on-scene and one helicopter was making water drops on the fires as needed.
Fire managers remain on high alert for any delayed flare-ups from the recent lightning strikes. Crews are on patrol to detect any new smoke and potential fire starts as temperatures rise throughout the day and vegetation continues to dry out. Two aerial detection flights were scheduled for Wednesday over the east and west sides of the forest.
The east side of the Lolo National Forest, including Ninemile, Seeley Lake and Missoula Ranger districts, is in Very High fire danger. The west zone of the forest, including Superior and Plains-Thompson Falls Ranger districts, remain in High fire danger. Very High and High fire danger means there is potential for a wildfire to start and spread quickly.
Down on the Bitterroot National Forest, lightning from the morning storm caused five fires, all in the Stevensville District. Two are in the Sweathouse Creek drainage, one in Big Creek, one in Sheafman Creek and another in Cow Creek. As of noon, all were smaller than a half-acre.
The Bitterroot National Forest launched two initial attack helicopters staffed with 10 firefighters, while on the ground, nine engines, two 10-person handcrews, one water tender, and a dozer were sent to follow up.
On Tuesday, lightning started a fire near Kidney Lake on the Darby District but it remained small and burned out.
Up on the Flathead National Forest, managers have also moved the fire danger to Very High, but none of Wednesday's storms went far enough north to start anything. But the human-caused fires are still a problem.
"We've responded to multiple escaped campfires in the past two weeks," said Flathead National Forest Hungry Horse District Fire Management Officer Andy Huntsberger. "Stick close to your barbecues, make sure your campfire is dead out when you leave, and make sure to extinguish cigarettes completely. Give us a hand in the coming weeks as we reach peak fire season."
Another round of storms is possible this evening, particularly across southwest Montana, according to the National Weather Service. Storms that do form will be dry, producing lightning and outflow winds but little rain. Thursday through the weekend are predicted to be dry, but with more seasonable temperatures.