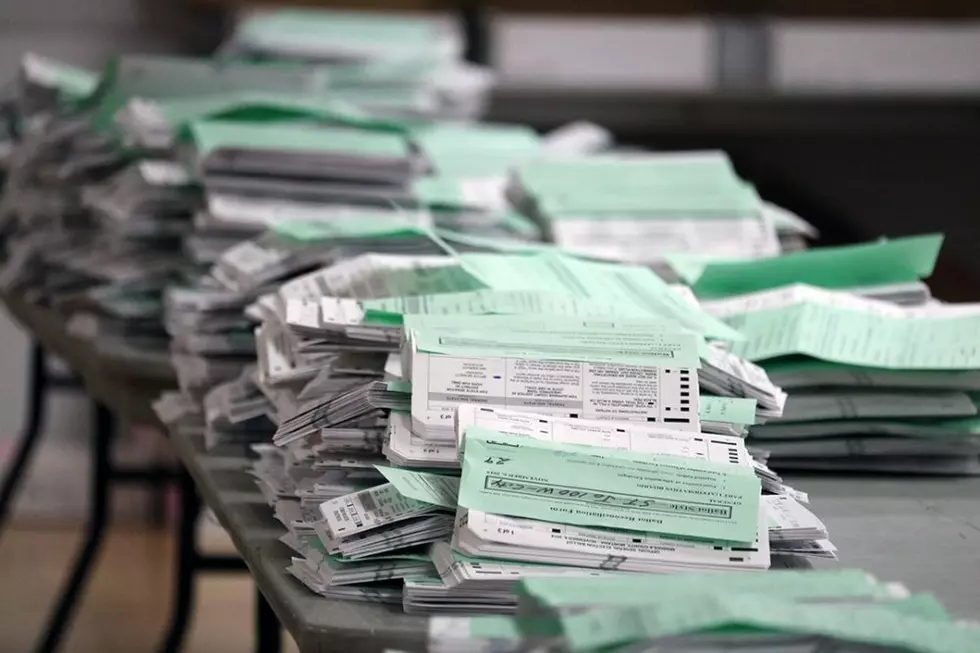 Massive midterm turnout, broken machine slowed ballot count in Missoula County
Ballots sit waiting to be counted at the Missoula County elections headquarters on Tuesday night. Elections staff were still counting ballots late on Wednesday afternoon. (Martin Kidston/Missoula Current)
Barring a few close legislative races in Missoula County, the results of this year's election were relatively clear by Wednesday afternoon, though work at the elections center continued.
The county set a midterm record this year, receiving more than 48,900 absentee ballots – an increase over 2016 when 44,000 absentee ballots were cast.
Overall voter turnout topped 69 percent, rivaling the 2016 presidential election, which saw a turnout of 74 percent.
"On Election Day, staff processed 1,300 same day registrations, with an average wait time of 45 minutes to an hour," said Dayna Causby, the county's elections administrator. "They worked hard. They didn't takes breaks and they didn't get up. They made sure every one of those voters were served."
The steady uptick in the county's number of registered voters, coupled with an increase in voter participation and a growing preference for voting absentee, presented its challenges on Tuesday.
One of the county's three ballot counting machines went down at 3 a.m. and wasn't restored until 10 a.m.
While elections staff worked to feed the two remaining machines, the loss of one counter served to slow returns from a pivitol county in a razor-tight federal race between Sen. Jon Tester and challenger Matt Rosendale.
"We kept the other two machines running at top speed," Causby said. "We have some of the best machine operators in the state and they worked to get through ballots as quickly as possible, and they're still dedicated to finishing up those ballot counts today."
The Associated Press waited to call Tester's race until roughly 11 a.m. on Wednesday. Other counties, including Gallatin, were also slow to come in.
"We all feel the pressure ourselves," Causby said. "People are anxiously awaiting us to finish our counting, along with several other key counties in Montana. I can tell you, election officials are dedicated to what we do, and they're trying their best to get through them all."
By 4 p.m. on Wednesday, Missoula, Gallatin, Park, Yellowstone and Cascade county were still tallying ballots, according to the Secretary of State.
"Missoula county voter registration has definitely increased over the past few years," Causby said. "This will be a catalyst for us to start the conversation about purchasing additional machines so we can produce results for our voters in a much more timely manner."
Causby, who began work at 5 a.m. on Tuesday and was still on the job Wednesday evening, praised her staff for the hours they put in, and their dedication to what they do.
"There's been no stop in the ballot-county process," she said."We've been running the entire cycle."