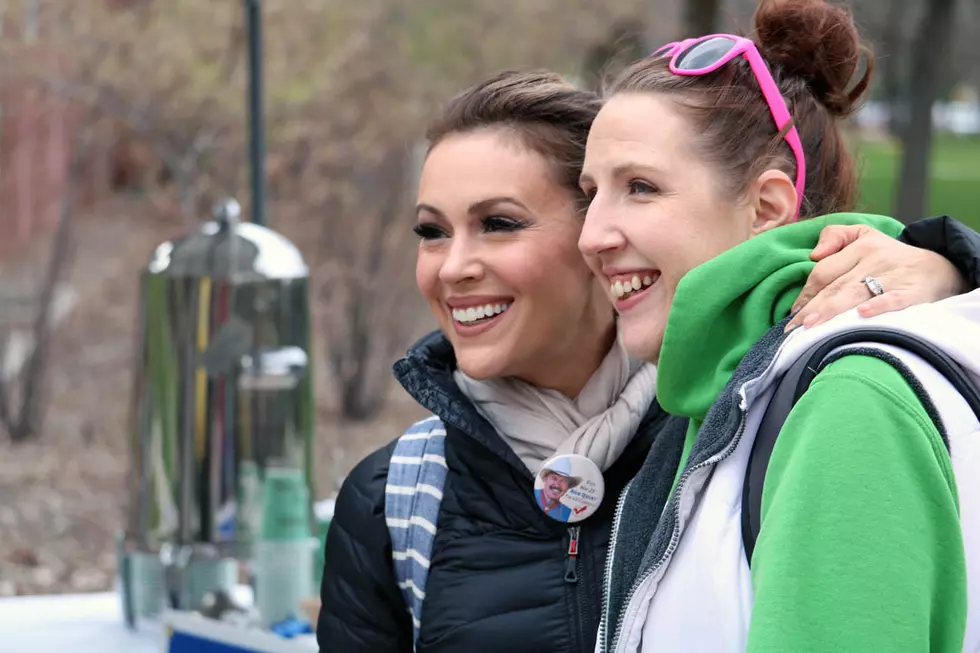 Actress Alyssa Milano stumps for Quist in Missoula
 
By Martin Kidston/Missoula Current
An actress best known for her roles on Melrose Place and Who's the Boss met an entourage of Democratic supporters on Thursday at the University of Montana, where she spent a portion of the morning stumping for U.S. House candidate Rob Quist.
With the state's special election just weeks away, both Quist and Republican rival Greg Gianforte have tapped a disparate list of celebrities to help draw attention to their campaigns.
Last week, Gianforte appeared alongside Donald Trump Jr., though on Thursday it was actress Alyssa Milano who made a brief appearance in Missoula on behalf of Quist.
"I feel every single election right now matters, especially these special elections," Milano said in an interview with the Missoula Current and Montana Public Radio. "Any seat we can gain helps balance the imbalances right now. I want to go out and get the word out, get the vote out, and do everything I can to inspire people to get more involved."
After recent battles in Georgia and Kansas, the special election spotlight has shifted to Montana, where Democrats are gunning for a needed congressional win in a state that skews toward the right side of purple.
Milano, like other Montana Democrats, believes the state's student population could swing the vote in Quist's favor. But that will require them to not only register, but also to show up at the polls or cast an absentee ballot.
"If you're upset or not happy with the way things are functioning – if you think things should be different – you have to register and you have to vote," Milano said. "You can also run. I think it's important to tell our young people, especially young women, that they can be part of this process in a legitimate way."
Milano traces her political activism back to 2000 when Al Gore narrowly lost his bid for the presidency to George W. Bush. During the next presidential election in 2004, she began campaigning for John Kerry.
In that second election, Milano toured various states and used her celebrity status to draw attention to Democratic candidates. Along the way, she drove people to the polls, helped canvass and worked the phones.
"It was a different time then because there was no social media," Milano said. "I was just doing it as a volunteer. Now, volunteering for me comes with a whole sort of other parade, but I'm happy to do it. I was raised that it's our duty to be part of the political process, for this country to function properly."
Milano, who was born in Brooklyn, New York, in 1972, made her film debut in 1984 in "Old Enough." She later auditioned as Tony Danza's daughter on "Who's the Boss," which made its television premier in 1984.
Over the years, Milano has appeared in numerous plays, movies and television shows, including a role in which she starred as Amy Fisher. She also appeared in several erotic B movies – an attempt to shake off her "nice girl" image, according to her movie vita.
Now a mother and wife, Milano has turned her focus to politics, looking to effect change. While celebrities are often criticized for engaging in politics, Milano excused the attacks as misplaced and somewhat hypocritical.
"We elected a president that was a celebrity, and that's the same people telling me to be quiet," Milano said. "I'm a mother, I'm a daughter, I'm a sister, and I'm a citizen of this country. I pay taxes. Although my opinion shouldn't mean more than anyone else's, I feel like it's my civic duty to participate in the process."
Milano said that while Quist is a political newcomer and something of an underdog, those are the traits that drew her to Montana to campaign for the former musician and congressional hopeful.
And while the Democratic Party had a tough go in the last election, she believes that will turn around as the party gets back on message, especially when playing to younger generations.
"We have to really start catering our tactics with our messaging," Milano said. "We're still phone banking with flip pones, and that's not going to reach the college campuses. We have to do more on social media, more with texting, and really speak the language of the college kids to get them motivated and inspired to get out there and make a difference."
Contact reporter Martin Kidston at info@missoulacurrent.com