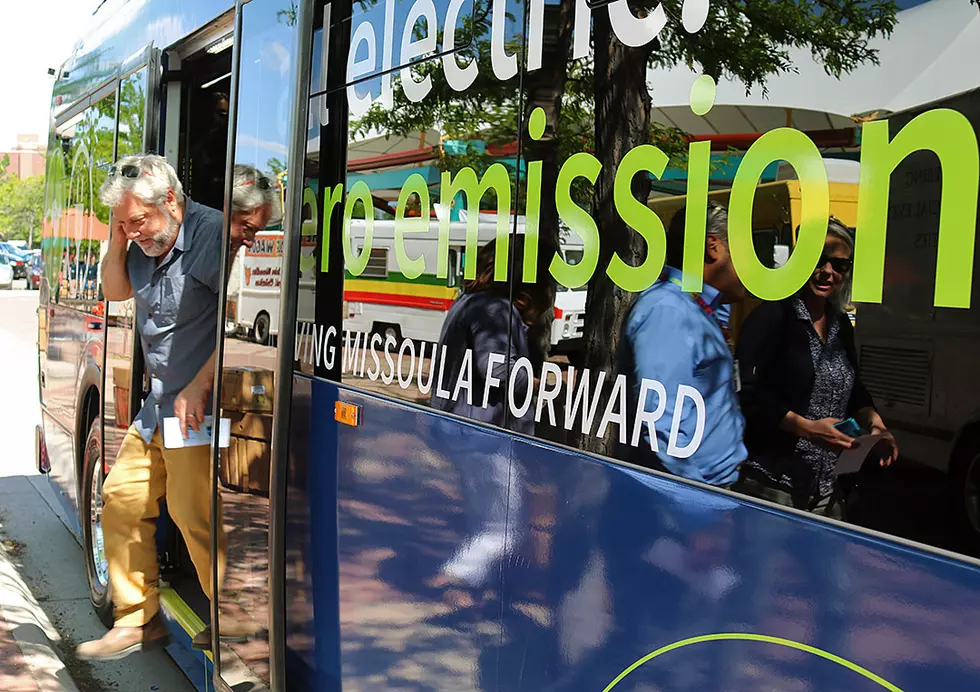 Missoula city, county oppose lawmaker's bill to prevent pursuit of clean electricity tools
City Council President Bryan von Lossberg steps off one of Mountain Line's new electric buses in 2019. (Martin Kidston/Missoula Current file photo)
The Montana Legislature's efforts to preempt the will of local voters and the mandate of their elected city and county leaders continues to draw the ire of Missoula officials, who are lining up to oppose the latest piece of legislation.
The newest preemptive bill, introduced by Sen. Jason Small, R-Busby, aims to prevent local governments from "imposing carbon penalties, fees or taxes" based upon carbon use. While the intent of the bill is unclear, Missoula officials believe it could slow their efforts around carbon neutrality and clean electricity.
"It's hard to know what the purpose is, but we've identified those concerns," said Missoula City Council President Bryan von Lossberg. "This is yet another preemption bill. It seems like a mystery solution in search of a problem."
With parallel goals of addressing the climate crisis and reducing carbon emissions, the city and county of Missoula, along with the cities of Bozeman and Helena, formally adopted a joint agreement this month to work with NorthWestern Energy in developing a green tariff.
The agreement authorized them to hire a national consultant with expertise in designing utility rates and green tariffs. The consultant will collaborate with NorthWestern in developing the tariff – a move intended to help Missoula, Bozeman and Helena move closer to their adopted goals of achieving 100% clean electricity by 2030.
But Missoula County officials believe the measure now before the Legislature could derail those efforts.
"Speaking with other communities, including Bozeman, who we have been working with to develop clean energy initiatives, by all rights, this looks like it could throw a wrench in the works as far as local governments participation in a green tariff," said Missoula County Commissioner Dave Strohmaier.
Both the city and the county of Missoula have completed an inventory of greenhouse gas emissions to set a baseline measure as they work to reduce carbon emissions.
On the city side, the study found that municipal government emitted more than 8,600 metric tons of CO2 equivalents in 2009. The county's study found that its operations emitted more than 7,500 metric tons of carbon dioxide equivalent in 2016.
The city and county together adopted their 100% clean electricity goals in April 2019. Helena and Bozeman have followed and together, the four local governments are pursuing Montana's first green tariff.
A green tariff allows customers of regulated utilities to buy power from newly developed renewable energy sources through a special rate, or tariff. Customers in Montana would have an option of signing up and paying the special rate for clean electricity.
"If participation in a green tariff would result in some increased cost that would be passed on to taxpayers, that could arguably be seen as something that would be prohibited by this law," Strohmaier said. "Our appraisal is that this a bad deal."
Montana is one of several states still lacking a green tariff and most customers receive power from NorthWestern Energy, a monopoly utility regulated by the Public Service Commission.
In 2019, the PSC directed NorthWestern to initiate a stakeholder process to explore a green tariff. That order came about as part of a settlement agreement between the power company and several other groups, including Walmart, the Montana Department of Environmental Quality, and the Montana Consumer Council.
Missoula County has said that Northwestern has been an active and willing participant in developing a green tariff. Despite the legislation, they hope the utility continues down that road while working with Missoula, Helena and Bozeman. 
"If indeed (this legislation) has intended or untended consequence of precluding local governments from participating in a green tariff - which is the whole upshot of the collaborative work we've been doing with NorthWestern - it would be a good reason for them, if not to outright oppose it, to at least amend the language to exempt any customers, including local government, from choosing to opt into the green tariff and not be subject to this law," Strohmaier said.
https://missoulacurrent.com/outdoors/2019/04/missoula-clean-electricity-2/
https://missoulacurrent.com/outdoors/2021/02/missoula-green-tariff-3/