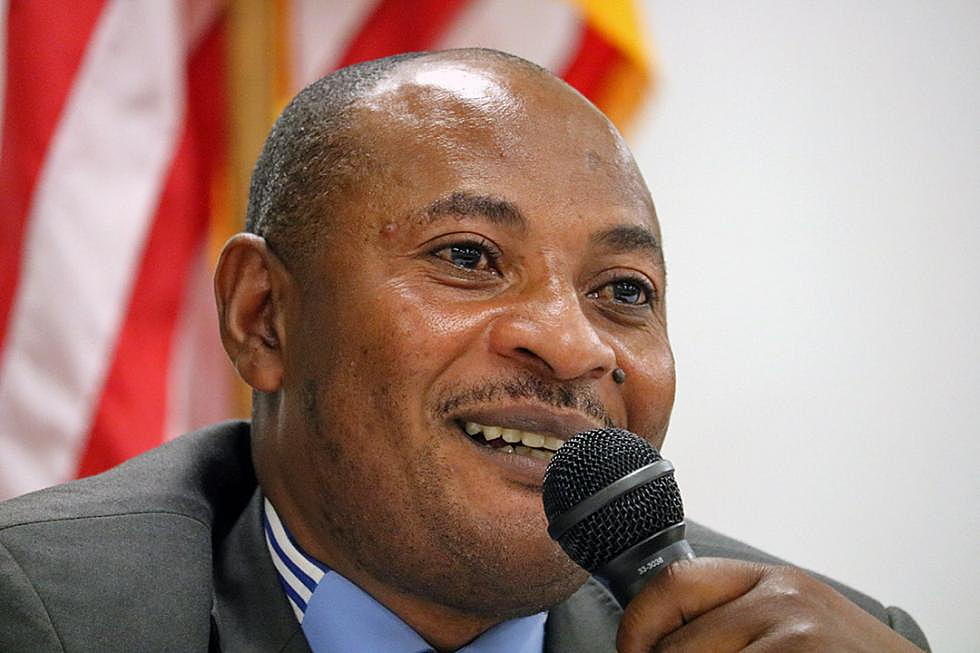 Study: Missoula immigrant, refugee population vital to state economy, local workforce
Joel Kambale fled the ward in the Democratic Republic of Congo and arrived in Missoula as a refugee. He now holds a job as an interpreter with the International Rescue Committee and, thanks to financial literacy classes at Missoula Federal Credit Union, he recently purchased his first car. (Martin Kidston/Missoula Current)
The immigrant community in a five-county region surrounding Missoula paid $7 million in state taxes in 2016 and more than $19 million in federal taxes, according to a report released Wednesday by the New American Economy and the International Rescue Committee.
While immigrants in the region number less than 5,000, or 2.3 percent of the population, they earned a combined $119 million the year of the study and represented more than $93 million in spending power after taxes.
"The immigrant community is critical to America's economic success," said Jen Barile, the resettlement director for the IRC in Missoula. "As immigrants move to communities like Missoula, neighborhoods are revitalized, small businesses are created, and cities like ours are enriched by the economic, civic and cultural contributions of new Americans."
Missoula was one of 44 communities across the country selected for the New American Economy's demographic and economic study. The report was unveiled during a midday luncheon hosted by the IRC, which featured a number of local businesses that depend upon the immigrant community for workers.
Since 2016, Missoula has received roughly 186 refugees from five nations, including the Democratic Republic of Congo, Eritrea, Iraq, Syria and Ethiopia. While the region's population increased 1.7 percent from 2010 to 2016, the immigrant population – including those from Germany, Korea and China – increased 4.3 percent.
"One of the challenges we have in our workforce in America right now is that middle-skill jobs make up 53 percent of our jobs, but we don't have enough people trained to fill those jobs," said Erica Bouris, the economic technical advisor with IRC. "Because we have an aging workforce and a need for people to fill lower-skill jobs, and a need to train people for middle-skill jobs, we have a need for immigrant and refugee workers in our economy."
Two years ago, the Missoula Job Service called the Holiday Inn Downtown asking if the hotel was interested in hiring immigrants. Bob-Be Sparks, executive director of housekeeping, said staffing such positions has been a challenge for decades, and the hotel agreed to bring the workers on despite the language barrier.
Since then, 19 immigrants have worked at the hotel representing eight different countries. Despite their help, staffing remains a challenge.
"They haven't closed the gap for us, but they have lessened the gap, because we're always looking for housekeepers," said Sparks. "Staffing has always been a challenge, at least for housekeeping. They work their hearts out, they take pride in what they do and they have a vested interest in this job."
Coupled with financial literacy classes from Missoula Federal Credit Union, which partnered with IRC several years ago, many new immigrants, including several refugees, have gone on to start their own business or buy a car.
Others, like Joel Kambale, who fled the war in the Democratic Republic of Congo, have landed jobs as interpreters. Others, including Wilmot Collins, served in the military and sent children to local schools and colleges.
Collins, a refugee who fled the war in Liberia, now serves the mayor of Helena. He said Montana's immigrants and refugees are hard working, contribute to society and want the best for their families.
"What blows me away is how educated people can see the facts and not accept them," Collins said. "It's wrong for people to continue the rhetoric and that all we're doing is consuming and soaking up the resources of hardworking Americans. We came here, and we're going to contribute, and there's statistics all over that say this."
According to the report by the New American Economy, immigrants from the Missoula region contributed $12.4 million to Social Security and $3 million to Medicare in 2016. Those contributions made up roughly 3 percent of all regional payments into the two systems.
The region's immigrant population is also more likely than American-born citizens to start their own business. Wednesday's lunch was provided by one Iraqi immigrant, who has started his own catering business serving ethnic cuisine.
"Missoula is the place it is because we recognize the value of human diversity and human potential," Missoula Mayor John Engen said. "That diversity and that potential comes in many remarkable forms. The work of IRC, Soft Landing and many of the folks in this room recognize the value of that diversity and how it strengthens us rather than harms us."