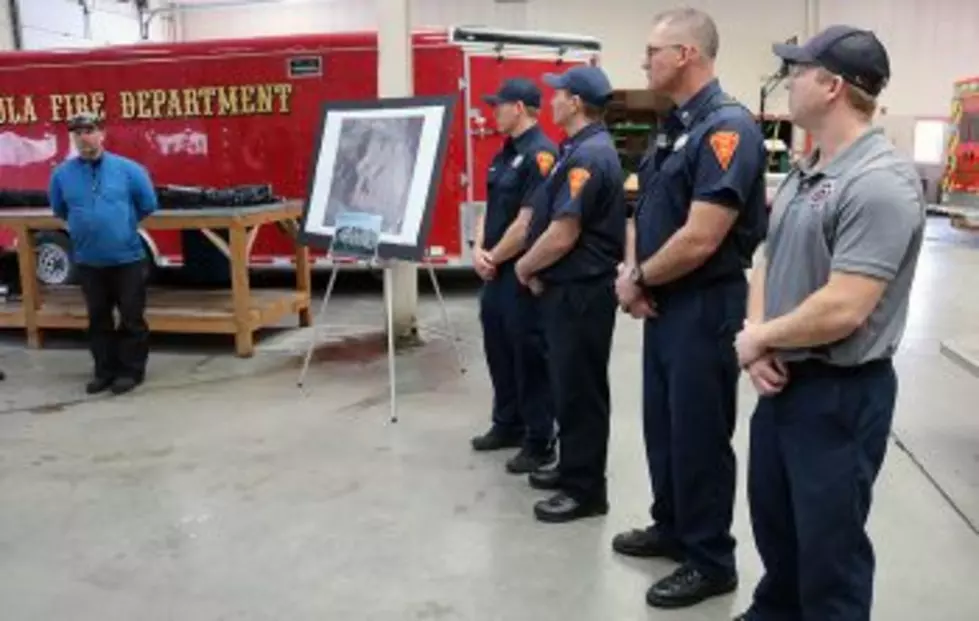 Missoula's startup Mobile Crisis Team jumps into action with positive results
Assistant Fire Chief Brad Davis said it has been a "monumental moment" in the Missoula CARES Program, which the Missoula Fire Department had roughly two months to organize. (Martin Kidston/Missoula Current file photo)
Since Monday's debut of a program designed to help with 911 calls regarding behavioral health issues, it has already saved the Missoula Police Department seven to eight hours of work, as well as saving local hospitals from potential patients.
Assistant Fire Chief Brad Davis said it has been a "monumental moment" in a program that the Missoula Fire Department had roughly two months to organize.
"I'm really proud of this department and the community for taking this approach with our mobile support team. We're changing the way we respond to emergencies, and being more cost-effective and better serving the public," Davis told Missoula City Council members on Wednesday.
In the meeting, the Missoula Fire Department and the manager of the Missoula CARES Program (formerly known as mobile crisis units) detailed some of their first calls in their opening week for the 10-month pilot program, as well as how they are likely to assist in or take during those months.
According to Randy Okon, Missoula CARES Program interim manager, their first call on Monday was related to a homeless person. After 911 was called, a police officer at the scene determined it was safe and requested a mobile support team, which consists of a fire department EMT and a trained social worker, come to the scene to handle it.
After visiting with that person, the team was able to deescalate the situation.
"We learned that the medications that the person needed to be mentally well were sitting at a pharmacy," Okon said. "And because of some problems with transportation, she wasn't able to get out to that. So we arranged the pick up of the medications.
"Yesterday, those were delivered. And through some other people that had contact with her, we found out she's in a much better state mentally and better able to manage herself."
Okon said police officers have been in contact with the person before, and would likely have reached the same conclusion as did the mobile support team. But he said the mobile support team saved officers' time.
Another call the program received on its second day in the evening also related to a medication problem. According to Okon, police, a fire engine and an ambulance responded to the scene. Paramedics determined it was not a medical emergency and handed it off to a mobile support team.
Everything was determined safe, so the fire engine and ambulance went back into service.
The police officer stayed and provided scene security, but outside of the patient's view. The mobile support team prevented a trip that would otherwise lead to the hospital, and kept the patient home, which Okon said is where they are going to be "most stable and mentally healthy."
"We were able to work with them and keep them in their home last night, and I guarantee you that would have been a trip to the hospital and there would have been no benefit. There would have been four or five hours of frustration for the patient," he said.
Currently, the pilot program operates from 10 a.m. to 8 p.m. Monday to Friday, with service planned to be expanded to seven days a week. It includes a follow-up on certain patients, as well as a system where police can recommend the program check up on someone the next working day.
Okon explained the hours as matching when behavioral health calls are most common in Missoula — late morning and the evening. This is in addition to mental health organizations and programs that the teams will collaborate with being closed later in the day, which was an issue in trying to obtain medication for their patient Tuesday evening.
"A lot of the services that they're using and that we're using to refer them to are closed down and not available to us. That gets us back to emergency rooms as a primary place to go," Okon said. "So, it's just the bang for the buck on the hours. During the day we have a lot of resources and a lot of connections to make, and at night we go back to mostly the residency room."
Councilors in the meeting said the situation leading up to the Nov. 7 police shooting of Jesse Kale Brown could have been taken up by the Missoula CARES Program. Okon said based on what he heard about the situation, while other city programs might have approached the situation, their current model doesn't have the "abilities" to "deescalate in that path."
Currently, a call to 911 can dispatch them if an officer is already familiar with the situation, or they can be requested by city or county police, the fire department or EMS once the scene is deemed appropriate.
"That's key that our people are arriving at a scene that is safe and can have the positive effect that they're able to do. We're working really closely with Missoula Police Department and appreciate their administration and their efforts so much on this."
Once a team arrives at the scene, other departments will typically clear if there is no need for their presence anymore.
"One of the key things that we're looking at to help these patients is that number of responders, Okon said. "We typically in the past, really overloaded scenes to provide all these different levels of care. That sometimes is a trigger to patients who don't use them."
The pilot program funded by grants and the city and county will continue until next fall. From there, data collected will be used to potentially shape a permanent crisis intervention program in Missoula.
"We're wanting to collect data that might help us identify another need that's not being met in the community that may cause folks to continually be in a state of acute crisis," Terry Kendrick said. "We are gathering that data, not wanting to overload folks when they're in a time of crisis with asking them too many questions, but really trying to get out that age demographic and then what's going on with them."
Okon came out of potential retirement to serve as manager until February. He joins others on the team who expressed general excitement to see the program develop.
"I've had somewhere in the neighborhood of 10,000 calls with my service at the fire department, and Monday was pretty spectacular in that list of 10,000," Okon said. "It was one of the highest points I've had at the fire department to truly serve our community differently."
https://missoulacurrent.com/business/2020/09/mobile-crisis-unit/