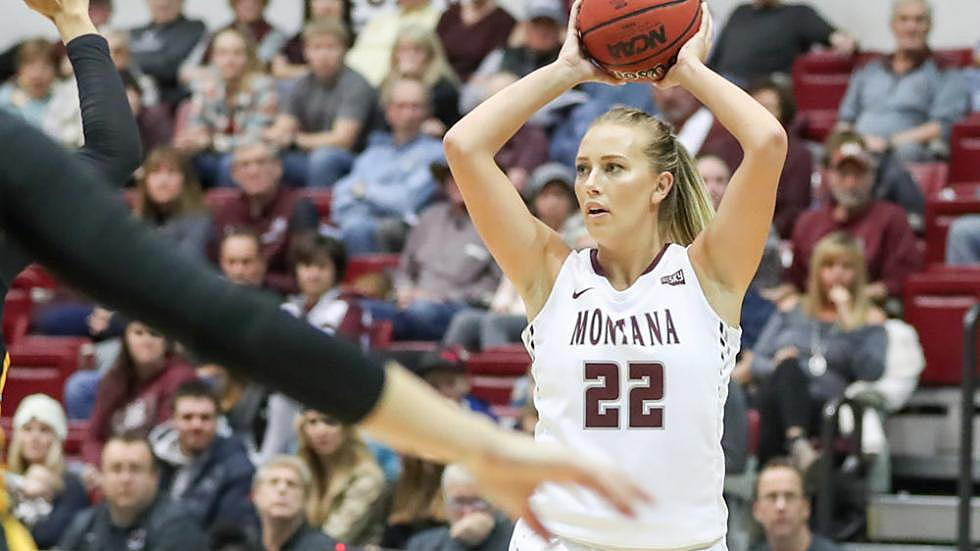 Montana at Fresno State: Lady Griz in California for Sunday matinee
The Montana women's basketball team, on a three-game winning streak, will play its only road game in the month of December on Sunday afternoon at Fresno State.
The Lady Griz and Bulldogs, both sporting 3-5 records, will tip off at 3 p.m. (MT) at the Save Mart Center.
Coverage: The game will have video coverage through the Mountain West Network and will air locally on KGVO (AM 1290, FM 98.3), with Tom Stage and Dick Slater.
Upcoming: Montana will host Seattle at noon on Wednesday and close out its nonconference schedule with a home game against Rocky Mountain on Wednesday, Dec. 20.
Opening tips (Montana):
* The Lady Griz are on a three-game winning streak, the longest for the program under second-year coach Shannon Schweyen. Montana's last four-game winning streak came in February 2016.
* Montana defeated Cal State Fullerton and Long Beach State at the Lady Griz Classic the first weekend of December, then handed Stephen F. Austin its second loss of the season on Thursday, 60-52.
* Montana had a season-high 21 turnovers against the Ladyjacks, but the Lady Griz also forced 21 turnovers and shot 43.6 percent to match a season high.
* Hailey Nicholson scored 16 points off the bench, Taylor Goligoski added 10 as Montana's reserves outscored Stephen F. Austin's bench 34-13.
* After going 0-5 in November against a demanding schedule, Montana is off to a 3-0 December.
* On Montana's three-game winning streak, Nicholson is averaging 13.3 points on 57.1 percent shooting and adding 7.7 rebounds. McKenzie Johnston is averaging 13.3 points, 6.7 rebounds and 6.3 assists.
* The Lady Griz are averaging 65.0 points on 42.1 percent shooting on their winning streak.
* Stephen F. Austin's only other loss this season came on the road at Kansas State to open the season. The Ladyjacks play at Montana State at 4:30 p.m. on Saturday.
* Taylor Goligoski had the team's best plus/minus against Stephen F. Austin. The Lady Griz outscored the Ladyjacks 39-27 with Goligoski on the court.
* The team's most effective unit against the pressing Ladyjacks was Johnston, Sophia Stiles, Goligoski, Nicholson and Jace Henderson. In their 15 minutes together, they outscored SFA 26-17.
* Montana limited Stephen F. Austin to 0.74 points per possession, the best effort by the Lady Griz defense this season.
* Montana has three players shooting better than 85 percent from the line. McKenzie Johnston has made eight in a row to up her season percentage to 86.2. Madi Schoening is 21 for 23 (.913) and Hailey Nicholson is 12 for 14 (.857). The rest of the team is shooting 44 for 79 (.557).
* Montana has lost 13 straight road games and 19 consecutive away from home when counting neutral-site games.
Opening tips (Fresno State):
* The Bulldogs are 3-5 overall and 2-2 at home this season, with wins over Eastern Washington, 81-56, and Pacific, 81-70, and losses to Arizona State, 81-49, and UC Riverside, 68-56.
* Fresno State hit 11 3-pointers in 23 attempts (.478) on Thursday night to knock off Pacific. Bree Delaney, who had six for the season through the team's first seven games, went 6 for 8 from the arc and 8 for 10 from the line to score a game-high 28 points.
* Junior guard Candice White was named to the five-player pre-season Mountain West All-Conference team. She is averaging 17.0 points and 6.1 rebounds this season and is tied for the team lead in assists.
* White was one of the nation's best free throw shooters last season, going 100 for 114. She is even better this season. She has yet to miss in 30 attempts.
* Sophomore forward Kristina Cavey, who scored 21 points in the team's season-opening win over Eastern Washington, hasn't played since the season's third game because of a broken hand.
* Fresno State went 18-15 last season and lost in the Mountain West championship game to Boise State. The Bulldogs were picked seventh out of 11 teams in this year's preseason poll.
* The Bulldogs are coached by Jaime White, who is in her fourth year. She guided Fresno State to 20-win seasons and the WNIT her first two years.
* White was previously the coach at Northern Colorado. She led the Bears to 117 wins in eight seasons as UNC advanced to the Big Sky championship game in both 2012 and '13.
Series history: Montana and Fresno State are meeting for the first time.
Five things to watch:
1. How well does Montana defend Candice White?
White has scored 10 or more points in all eight of Fresno State's games this season, with a season-high 34 coming against Cal State Northridge on 11-of-23 shooting.
She is a threat from the arc, she boards it (11 against UC Santa Barbara), she makes teams pay at the free throw line, she distributes it, and she can play 35-plus minutes if necessary.
"She is a very nice player, pretty complete," said UM coach Shannon Schweyen. "She is a guard who can do a little bit of everything. She's tough off the dribble and has the green light all the time to shoot.
"She'll certainly need to be a big focus of ours. We won't necessarily stop her, but we'll try to contain her somewhat and make it tougher for her to score."
2. Is Montana as confident as it feels like it should be?
The Lady Griz opened the season 0-5 but played well in a number of those games, which included two ranked opponents in Kentucky and Marquette.
In the team's three wins since returning home from the Cancun Challenge, Montana is averaging 65.0 points on 42.1 percent shooting while giving up 53.0 points on 35.2 percent shooting.
There is balanced scoring and the team seems to have settled into a rotation, one which allows minutes to be adjusted based on who is getting the job done.
"I'd like to think we've gained some confidence," said Schweyen. "The schedule we've had has made them realize they can compete with teams.
"And it's made them understand that in order for us to be in games like that, we have to be able to defend people. It's helped them buy into the importance of our defense."
3. Can Montana finally get it done on the road?
Montana's last road win came on March 4, 2016, when the Lady Griz won 72-66 in overtime at Northern Colorado. That was a Robin Selvig-coached team. They followed that win with a neutral-site victory over Northern Arizona in Reno at the Big Sky tournament.
But Montana hasn't picked up a win away from home since, going 0-15 last season and falling this year at Wyoming and to Indiana State and Marquette in Cancun.
Montana's next road games won't be until January, when the Lady Griz travel to North Dakota and Northern Colorado, the toughest back-to-back on the league schedule.
"Sunday is a big game for us. This team needs to go out and finally get a road win," said Schweyen. "That's something this team hasn't done and a hurdle we need to get over.
"I'm really hoping we can go in there on Sunday and check that off our list of to-dos."
4. Can Hailey Nicholson keep it rolling?
Nicholson, a sophomore, showed flashes of what she's been doing recently last season, but it would come and go. Understandable for a freshman but still frustrating, because on a team that shot 35.1 percent, she was its best shooter. It needed her to look to score more.
She wasn't a factor early this season -- can you believe, with the way she's performing now, that she played just eight minutes against Kentucky and six against Gonzaga? -- but she's come up big on the team's three-game winning streak.
Playing 25 minutes each game, she has matched Johnston in scoring at 13.3 points, and her 7.7 rebounds lead the team.
"She shot a good percentage last year, but we had to keep telling her to shoot more and encouraging her to be more aggressive," said Schweyen.
"She's finally starting to be more aggressive on her own instead of us having to be on her all the time to attack the basket. Sometimes kids start seeing themselves differently, in another light, and I think Hailey is beginning to do that."
On Montana's winning streak Nicholson is shooting 57.1 percent, which includes a sweet stroke from 12 to 15 feet, where she might be more comfortable than underneath the basket.
"In high school, that's where she scored a lot of her points," said Schweyen. "When people have been pressing us and she's been getting those easy looks over the top, those are great looks for her."
5. Can Montana keep it going at the free throw line?
It wasn't going to change the outcome of the game in Cancun, but Montana went 11 for 21 from the free throw line against Marquette. And that's just unacceptable.
The Lady Griz seem to have agreed. They went 17 for 23 (.739) against Fullerton, 17 for 22 (.773) against Long Beach and 8 for 11 (.727) on Thursday against Stephen F. Austin.
Montana has only played one game this season that has included a fourth-quarter lead change (and there was only one in that game, against Long Beach State), but free throws will play a big role as the season goes along.
"A lot of (our better percentage the last few games) goes back to the right people taking free throws for us," said Schweyen. "But I still think we should be better than we are. We have good free throw shooters who just haven't had the chance to get enough of them.
"In close games, those matter a ton, so we've got to keep those numbers climbing."
Around the Big Sky Conference:
* North Dakota saw its four-game winning streak come to an end with a 105-43 thumping at No. 8 Baylor on Tuesday night. The Fighting Hawks were outscored 59-18 over the second and third quarters and shot 26.8 percent for the game.
* On the same night Montana was defeating Stephen F. Austin, Northern Arizona was winning 84-66 at home over Arizona -- the Wildcats dropped to 2-6, the worst record of any Power 5 team -- and Weber State won 71-61 at home over a pretty good Pepperdine team. Nice night for the Big Sky.
* On Friday night, Delaney Hodgins scored 24 points on 9-of-13 shooting in 20 minutes in Eastern Washington's 88-42 home win over Multnomah, and Idaho State picked up a big road win at Hawaii, 64-62 in overtime behind 20 points from Brooke Blair. It was a long, single-game road trip for the Bengals.
* Nine league teams play on Saturday or Sunday.