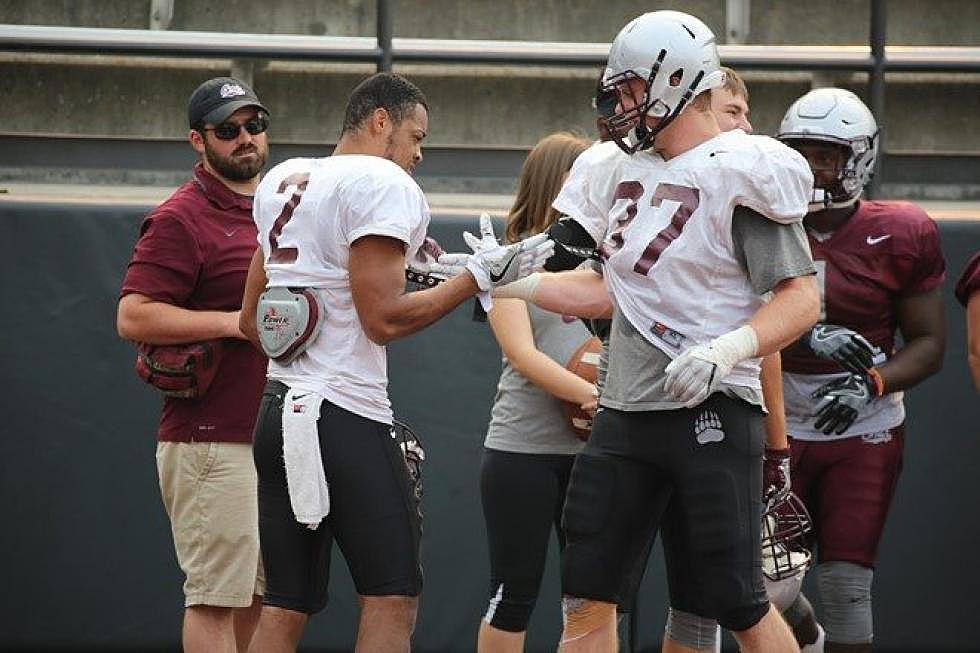 Grizzlies get in sync ahead of 1st football scrimmage
The Montana Grizzlies wrapped up an evenly balanced opening week of practice at fall camp on Saturday morning in Washington-Grizzly Stadium.
It was the Grizzlies' first day of camp in full pads, and their last day of practice before the first scrimmage of the season on Monday.
At the beginning of each practice this week, just after the players concluded their stretch, head coach Bob Stitt has gathered the team and preached "championship-level effort," "focus on doing your job," and taking the "opportunity to get better" before the start of drills.
Over the course of five practices, Stitt's players have gone out and done just that, with both the offensive and defensive units operating efficiently, making big plays, and taking opportunities to shine while going through week one install.
While the team prepares for a day off on Sunday to rest bodies, Stitt is happy with his squad's progress heading into Monday's scrimmage and chalks it up partially to improved leadership across the board.
"I think the execution is there now. We were a little lop-sided with practice, and now it's back-and-forth, and that's what you want," said Stitt.
"The thing I like about this team is that we have a ton of leaders. It's coming from our older guys, but we have a lot of young guys that are very vocal and are big time leaders, and that's good to see."
Early in the week, Montana's defense imposed its will with standouts like Josh Sandry and Josh Buss making it difficult for the offense to get into a rhythm. Sandry produced perhaps the biggest play of camp on the first day, hauling in a leaping interception and taking it 50 yards for a touchdown.
But with senior quarterback Reese Phillips leading an experienced offensive unit who became increasingly familiar with the playbook, the "O" has begun to click along at signature Stitt pace.
"(The defense) is usually very excited to get back at it, and we had to work out some kinks and had some new plays, but about day three, day four, it started getting really even, and that's what you want," said Phillips. "We're making plays, then they're making plays, then we're making plays back and forth, and that's very encouraging."
Senior Tucker Schye has been another leader on a deep defensive group that has been putting pressure on Montana's three rotating quarterbacks and army of receivers during the offensive install.
"I think it's been great, honestly, for both sides," said Shye. "Both sides are battling, we're competing against each other, and we're both getting better. It's not about who won the day or this and that. It's as long as we're both getting better as a team."
Example number one of the healthy competition so far at Griz fall camp has been the battle between veteran receiver Keenan Curran and senior cornerback Ryan McKinley.
On Friday, Curran got the best of McKinley during a goal line period at the end of practice, hauling in a leaping touchdown grab on a pass from Phillips over McKinley's head in the corner of the end zone.
As Saturday's practice commenced, the team was once again running through goal line scenarios, and once again Phillips rolled out, looking for Curran in the right corner.
It was McKinley who got the better of Curran this time, however, reaching back in mid-air and hauling in a spectacular one-handed interception to close practice on a high note for the defense.
Next up: Montana's upcoming scrimmage will be the first unscripted look at how far the Grizzly offensive and defensive units have progressed during fall camp.
For Schye, the scrimmage presents an opportunity to shake the final bits of rust off from summer in a game-like situation.
"I think first of all we're just trying to have high effort, which will never be a question. But cleaning up our missed assignments and errors and stuff like that, really getting sharpened up," said Shye of his team's goals.
Monday's scrimmage starts at 4 p.m. on Aug. 14 inside Washington-Grizzly Stadium, with the team reporting to the field for warm-ups just after 3 p.m. The Griz will run through a short special teams period prior to kickoff as well.
The scrimmage is free and open to the public.
Montana opens the season in 21 days on September 2, at home against Valparaiso.