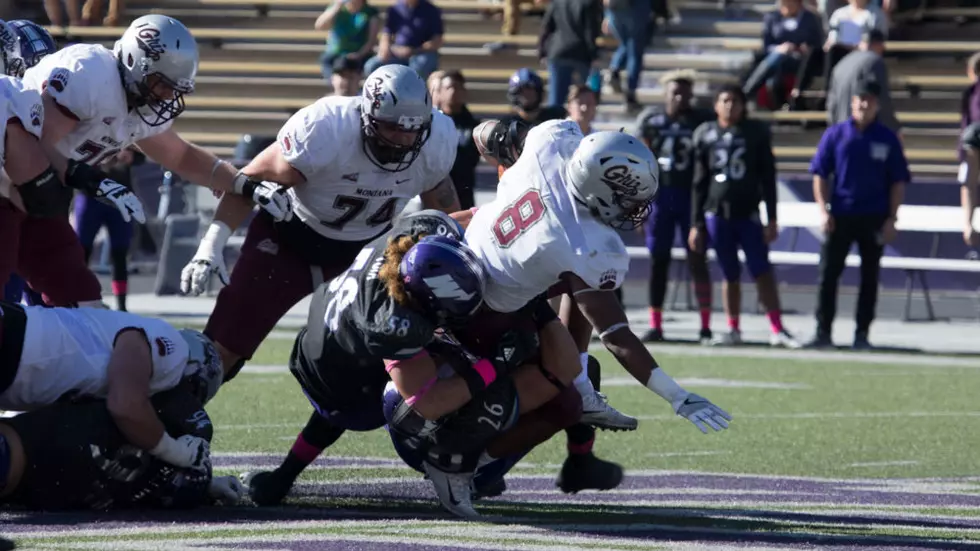 Montana can't overcome 1st-half deficit, falls 41-27 to Weber State
OGDEN, Utah – Montana put up 500 yards of offense and out-scored Weber State 21-7 in the second half, but the Grizzlies also turned the football over five times overall and couldn't overcome a poor first half, falling to the Wildcats, 41-27, on Saturday afternoon.
The 503 total yards of offense were the most the Wildcats have allowed all season, and the 27 points were the second-most they've allowed to an FCS team. The Griz defense limited Weber State to just 298 yards, but it was more than enough for the home team, who jumped out to a 31-0 advantage.
Everything that could go wrong did go wrong in the first half. The Wildcats scored on all six of their first-half possessions to stake out to a 34-6 halftime lead.
Several of the points were self-inflicted, with Montana turning the ball over three times – resulting in 14 points for the Wildcats. Additionally, two defensive starters, Korey Alexander and Tucker Schye, were ejected within minutes of each other after being called for targeting.
"We dealt with, possibly, the worst first half of football we could ever possibly experience," head coach Bob Stitt said.
While the first half was disastrous, Montana did show fight when it would have been easier to fold. The Griz out-scored the Wildcats 21-7 through the final 30 minutes, with Weber State's only seven points coming off a pick-six.
Montana out-gained Weber State 316-63 in the second half, allowing just 1.9 yards per play. And this was without three starting defenders.
In fact, the defense graded out well overall, despite the points allowed. Of Weber State's seven scoring drives, all but one started in Montana territory. The Wildcats needed an average of just 36.9 yards per scoring drive.
"Our special teams really hurt us today," Stitt said. "We couldn't flip the field and we had a fumble on a kickoff return.
"Still, everyone stuck together and fought together, and we had so many situations that, a thing here or there goes different and we're in great shape."
The Grizzlies' veteran linebacking corps came up huge. Connor Strahm and James Banks led all players with 10 tackles apiece, while Josh Buss had nine, including 4.0 tackles for loss.
"I couldn't say enough about them," Stitt said. "Those guys were grinding. We were short-handed on defense, we were short three starters, and those guys didn't even blink. They went out there and gave their teammates a chance."
Despite the early deficit and five turnovers, Montana still had opportunities to get back into the game. The Grizzlies cut the score to a two-possession game just minutes into the fourth quarter when quarterback Gresch Jensen hit Samori Toure for an 81-yard score. The defense forced a quick punt to give the offense the ball again. However, on the third play, Jensen was intercepted and Weber State returned it 23 yards for a score.
Once again, though, it was a two-score game after Jensen hit Jerry Louis-McGee for 38 yards, and even after Jensen went down with an injury, backup quarterback Caleb Hill led the Griz into the red zone with under two minutes to play and holding an outside chance of fighting back.
"We asked them to play great football in the second half, and they did," Stitt said. "We were right there at the end."
Jensen finished the game 21-of-42 for 347 yards. He had three touchdown passes and rushed for another, but also had three interceptions. Keenan Curran was the Grizzlies' leading receiver with five catches for 97 yards, including a 55-yarder that set up Montana's first score. Louie-McGee (6 receptions for 79 yards), Toure (2-93) and Justin Calhoun (4-27) each had touchdown receptions.
"Our offense moved it, we just didn't always execute the way we wanted," Stitt said.
The Grizzlies, so good all year in the red zone, left points on the board by going just 2-of-5 in the red zone. In the first quarter, Jensen threw an interception in the end zone and in the third quarter, Montana fumbled at the 9-yard line.
"I'm disappointed, I hurt for our team, because they deserve better on the scoreboard, but I'm proud of them," Stitt said. "I love what this team is all about. These guys stick together and keep fighting."
The loss snaps Montana's three-game win streak dating back to September. The Grizzlies will close the regular season with three games in the state of Montana, hosting league-leading Northern Arizona on Saturday, followed by a home date with Northern Colorado on Nov. 11 and the Griz/Cat game in Bozeman on Nov. 18.