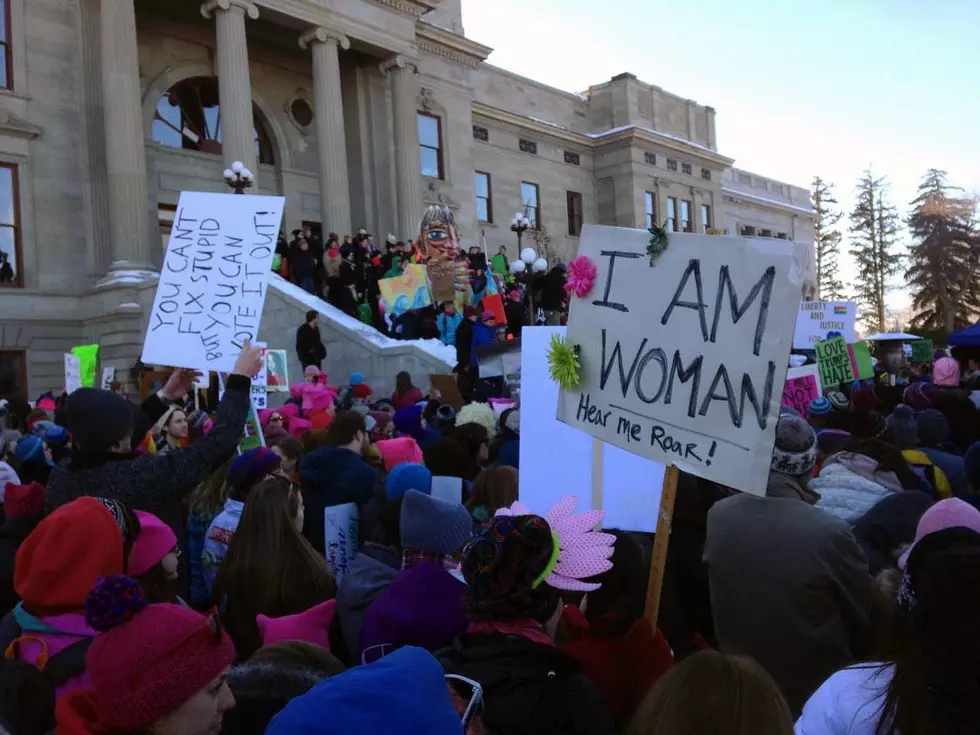 10,000 join Montana Women's March, proclaim equality of all
The crowd was so thick and the snow so difficult to maneuver, it was tough finding a vantage point to see the dozen or so speakers. (Renata Birkenbuel/Missoula Current)
By Renata Birkenbuel/for Missoula Current
HELENA - Two Hellgate High School sophomores had their boots firmly planted on the snow-covered state Capitol lawn at Saturday's Women's March in Helena.
Holding a sign proclaiming "Love Not Hate Makes America Great," a counterpoint to President Donald Trump's trademark slogan, Zinnia Collins and Elise Barrett-Catton were steadfast and articulate in their purpose for joining Montana's rendition of the global march.
Earlier, they made signs at Elise's grandparents' home in Helena, then walked over to join the march, which drew an estimated 10,000 from across the state – with contingents from as far away as Miles City and Billings.
Why would two teenagers take their day off from school to join adults, families, seniors and children at a women's rights rally?
"It just seems like the thing you do," said Barrett-Catton. "If it's women's rights, you just do it."
"This is our first year learning about politics," said Collins.
Both credited their families and Hellgate High modern world history teacher Patricia Hixson with raising their awareness of the issues that drew millions of women to march worldwide on Saturday: women's rights, including reproductive rights and safety from sexual harassment, health-care coverage, civil rights, basic human rights like clean water and a protected environment, LGBT rights and global social justice.
Women's marches across the United States, Canada and overseas reported unexpectedly large crowds: 500,000 in the nation's capital, 100,000 in Denver, and hundreds of thousands more in Los Angeles, Philadelphia, New York City, Boston, Chicago, San Francisco, Atlanta and Minneapolis. Women's marches filled the streets in Paris, Oslo, London, Sydney, Amsterdam, Athens and Barcelona, too. And there was even a five-person march in Glendive, recorded in solidarity on Facebook.
Every issue that prompted Saturday's demonstrations was ably represented at Montana's march, but Collins and Barrett-Catton stood out because of the sheer size of their sign. Brian and Shelley Barrett-Catton stood to the side, beaming with pride.
The young women and their parents marched with the masses who peacefully, joyfully took about an hour to circle the state Capitol, stopping finally in front of the building.
A pair of Missoulians with several more years of activism under their belts were Kira Canny and Krystal Wolf, co-founders of "Those Montana Women," a social justice organization that will hold a fundraiser for Planned Parenthood on May 5.
They skirted the side of the eight-person wide, heel-to-heel, slow-stepping crowd making its way around the building.
"I've never seen this many people in Montana gathered," said Wolf, a preschool teacher at Clark Fork School.
"We've been attending organizing marches for a long time," added Canny. "This march is what has been getting me through the week."
Their sign read "Stand up! Fight back!" – timely, perhaps, on the day after the new president's staff took down content on a number of White House webpages, including those dealing with LGBT, civil rights, disabilities and climate change.
All told, Missoula sent seven buses to Helena for the march, part-protest, part-solidarity and part-expression of relief after Trump's inauguration Friday and what some called a stressful time since the election in the face of divisions among voters.
The Montana Women's Chorus alone filled one bus. The chorus sang boldly "Amazing Grace" with lyrics befitting the day of sisterhood, brotherhood and familyhood. Many young children, including tightly bundled babies to deter the 8-degree temperature, joined older women holding signs like "I am a new grandma and I can't believe I still have to protest this (expletive) (expletive)" and an 80-year-old man holding a sign that read "Medicaid for All."
One three-generation family from Kalispell was an all-male contingent: a grandfather, a son and a grandson.
Carol Lemieux of Missoula, participating with daughter Jen Roberts, said she was impressed by "just the diversity that's here – the ages, the young people, children – and so many varieties of people and causes."
Another Missoula resident and marcher, Carol Z. Evanger, said, "It was incredible to feel the enormity of people's intentions and concerns, along with the feelings of solidarity and hope."
Montana First Lady Lisa Bullock, one of at least 13 speakers following the slow but energizing march, choked up when she told the crowd, "It's an absolute honor to be here today – we stand in solidarity for our families and children."
Diversity, said Bullock, is "the strength of our country."
But SK Rossi, Montana ACLU advocacy and public policy director, told the crowd that being there wasn't enough. "You can't go home and do nothing and turn on Netflix," said Rossi.
Keep the activism and momentum going, she said, by joining the ACLU and getting involved in organizations like the Montana Human Rights Network or Montana Women Vote.
"Something happens when we go beyond simple Facebook likes and we take action," speaker and Missoula organizer Rebecca Weston told the crowd.
"For me, I want to use the march as a catalyst to keep me moving forward to stay engaged and make my voice heard," added Evanger after the event wrapped up in late afternoon.
Among the slew of colorful homemade signs was perhaps the most humorous of all in a crowd where boos were absent and friendliness enveloped the marchers and speakers.
It said simply: "We Shall Overcomb."