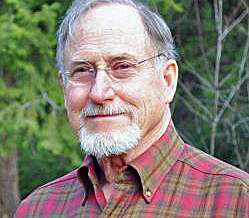 Eddie Mulick was the first person I met when I moved to Trout Creek, and that was largely because he owned, what his matchbooks proclaimed was, "The Wayside Bar – finest bar in Trout Creek". It was also the only bar.
Those days I did custom haying in the summer and I had been working George Casteel's field right across the river. George was a story in himself, an old single-jack gold miner whose cabin floor was liberally littered with rocks of ore and cases of dynamite. if you asked George how it was going, he would tell you, "Showin' a little color, showin' a little color," meaning he thought he was just about to hit the jackpot.
I quit haying when the dew was beginning to saturate the windrows, around 10 at night, and drove my pickup over the bridge to the Wayside for a shot. The Wayside was crowded. Maybe it was a Friday night, I never knew what day it was, anyway, but I edged into a place at the bar and when Eddie saw me, he brought me my shot.
As I drank the whiskey a voice behind me said, "I killed a man 'cause he needed killin'". I looked around to see a man I had never seen before. He was a big man with a big hat, and he repeated it. There must have been a change of subject after that, some small talk, I don't remember, but I definitely did not want to continue on that topic.
I motioned to Eddie for another shot and he came down the bar with a bottle and an "Old Fashioned" glass, used for a drink of the same name. He tipped the bottle over the glass and said, "Here's the shot you're buying. Here's the shot I'm buying you. And since there's not much left in the bottle, you might as well have it, too." And he poured what we used to call the "heel tap" into the glass.
The guy behind me must have made some noise because Eddie looked up at him—Eddie was a short man—and said, "What are you giving me that look for?" And then, before Killer could answer, Eddie said, "I know what's bothering you, it's because I kicked you out at closing time last night." The man must have made some gesture, because Eddie said, "I know, you're going to tell me that you weren't the last to leave, and you weren't. The guy who left last didn't have any legs and we had to carry him out."
His point made, Eddie walked back down the bar.
Normally, Eddie was a man of few words. When you asked him how he was his response was always, without fail, " 'Bout the same". The only time that changed was when his wife, who I understood was a challenge to live with, died. Then when you asked him how he was he said, "Bad." After a couple of years it went back to, " 'Bout the same," which left some question as to whether it was still bad, or referenced some earlier time.
Eddie Mulick was from Perma, a wide spot on Highway 200 that used to be have a railroad station, of which Eddie was stationmaster. The Perma Mercantile, (Hungry? Thirsty? Gotta go? Perma Merc, one mile!) which he owned, also housed the Post Office, so Eddie was the postmaster, and it had a bar which, when Eddie was working the Wayside, was tended by a woman known as Perma Red.
My first couple months in Trout Creek I pulled jury duty and was in the Courthouse chatting with a couple of fellows from Dixon, just past Perma. When I told them I was from Trout Creek one said, "Oh, you must know Eddie Mulick." At which point they forgot me and talked about Eddie. "I always thought he would marry Perma Red", said one. There was some speculation about that after which the one of them shook his head sorrowfully and said, "Eddie used to go on some terrible benders." "Yeah," said the other, "but when he did he took the whole damn town with him."
Besides those things, what I remember about Eddie was that he almost always bought every other drink and he always gave change in silver dollars because he figured that nobody would want to carry them around in his pocket and would buy a drink just to get rid of them. I also remember that we always left our change on the bar where we had been sitting when we left to go to the bathroom or to visit someone at one of the tables. Or, for that matter went next door to Miller's Market, and when we came back to the place where we had been sitting, as long as it was still the same day, the money—all of it—was still there.
Those days are long gone, and so is Eddie. He was a good man, and I wish, like the money we left on the bar, that he was still there.