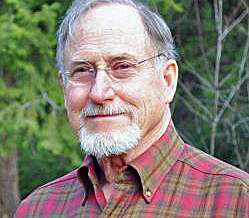 Remember the recount of the presidential ballots in Maricopa County, Arizona? Well apparently, they're going to finish it in Montana at a mystery location near Bigfork. I'd like to think that it's because in Montana, we don't need to take off our boots to count past 10, but I can't say for sure.
Anyway, the recount was initiated by the Arizona Senate—the Republican part—and they used $150,000 of their taxpayers' money to hire a firm out of Florida named Cyber Ninjas. I must say they do spread their taxpayers' money around the country.
Anyhow, they said the recount would take two weeks but so far it has been almost two months that they have taken to inspect the 2.1 million ballots in the county. Georgia did a hand recount of the entire 5 million statewide ballots in six days. I guess they can leave their boots on down in Georgia, too.
What they're doing in Arizona is looking for mischief that the state elections people didn't find, maybe because there wasn't any. At least that's what Republican governor Doug Ducey said. That's also what the Republican Maricopa County Commissioners said, and so did the Secretary of State, but she's a Democrat so at least you'd expect that of her.
Well, what the ballots are doing in Bigfork is beyond me, but then Bigfork is a ways from Trout Creek. Of course, we don't know for sure why they had to truck them to Bigfork, or even if they did. Just have to take their word for it. I mean, they've never lied to me before, but then I've never met them, either.
The whole thing seems to be a lot of fuss and feathers. It won't change the election outcome, they know that, but it might make some more people doubt the truth, which is primarily what it seems they want, anyway. It seems strange that you wouldn't believe the 3000 state and county election administrators nationwide.
I know a lot of them are Republicans, so you can scratch your head about that. The idea seems to be catching on, though. Pennsylvania's getting on board with a recount, too, and it looks like Georgia will as well, which is strange given that both Governor Kemp and Secretary of State Raffensperger staunchly defended the accuracy of the Georgia elections, as well as the first and second recounts. They're Republicans, too.
In Arizona they're calling it an "audit." except they don't have any auditors working on it. Somebody told me once that an auditor is someone who doesn't have the personality to become an accountant, but that seems pretty harsh. I know that the party I stumbled into at an auditors' convention was pretty lively. Well, they can call it an audit if they want, but then my mother used to call margarine "butter," so it would taste better, I suppose. It didn't, at least to me.
Well, if it won't change the election results, even if these are all states where Biden won with not a lot of votes, I don't know why bother. It seems like an awful lot of money just to confuse people, unless that's worth a lot more than I would hope it is. Of course, I don't really know just how much money it's costing because there doesn't seem to be much of any record of how much is being donated or by who. Maybe they should be auditing that, instead.
I can understand the concern though, I haven't always trusted the government, either, but then the former U. S. Attorney General Bob Barr said that neither the Justice Department nor the Homeland Security folks found anything suspicious that would change the election in Trump's favor. That was just before the door hit him in the rear end on his way out.
Well, I guess anything can happen. Now some folks are saying that space rays from an Italian satellite changed the pencil marks on the ballots from Trump to Biden. I know the Italians are pretty competent, but still …
Jim Elliott served sixteen years in the Montana Legislature as a state representative and state senator. He lives on his ranch in Trout Creek.