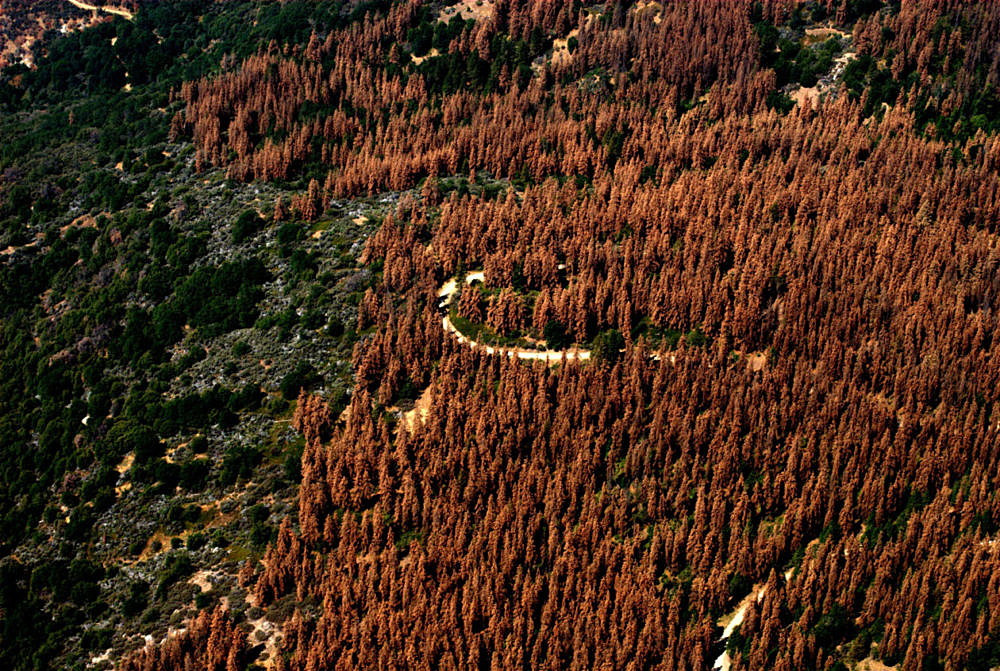 A Ravalli County commissioner told a U.S. House committee last week that increasing timber harvests and mechanical thinning while limiting "frivolous lawsuits" would go far in improving the health of Western forests and reducing the threat of large-scale wildfires.
In his testimony, Commissioner Greg Chilcott told the House Natural Resources subcommittee on oversight and investigations that reducing fuel loads on Western forests would both reestablish a healthy ecosystem and improve the local economy.
"We certainly want to have Washington, D.C., hear the local voice on the impacts of the lack of federal management, or the lack of management on federal ground, and how those impacts affect our citizens," Chilcott told the Missoula Current on Monday. "I believe we can do better."
Chilcott, a Republican, chairs the Montana Coalition of Forest Counties and has served as a commissioner since 2003. He was invited to testify by committee Chairman Bruce Westerman, R-Arkansas.
Like many counties in western Montana, Ravalli County is surrounded by large tracts of federally owned forest land. Nearly 75 percent of Chilcott's county falls under federal management and is exempt from local taxation.
While Ravalli County benefits from the tourism its location provides, Chilcott said, tourism alone won't help the economy grow. For that, he's asking Congress to partner with the local sector and provide more access to timber.
"Partnering with private-sector commercial foresters to more efficiently provide vegetation management and commercial thinning is a win-win proposition for taxpayers," Chilcott testified. "Not only do commercial projects fulfill vegetation management objectives and priorities, they generate revenue for federal agencies and local governments, while providing good-paying jobs in predominantly rural parts of the country."
Chilcott's testimony mirrors the perspective offered earlier this year by Rep. Greg Gianforte, R-Montana. During a tour of the Lolo Peak fire with Interior Secretary Ryan Zinke and Secretary of Agriculture Sonny Perdue, Gianforte said better forest management would lead to healthier forests, send timber to local mills and reduce forest fires.
"And yet, we're tied up in knots with extensive and ridiculous permitting processes and frivolous lawsuits from environmental extremists," Gianforte said at the time.
Chilcott also pushed that issue, suggesting that "chronic litigation" has hindered professionals seeking to manage federal lands. He asked the committee to reform federal laws to ensure they aren't exploited by special interest groups.
Those laws include the Equal Access to Justice Act and the National Environmental Policy Act.
"Streamlining the process for projects with strong local support, collaborative support and support of local land management professionals should be categorically excluded from litigation," Chilcott said in his testimony. "We need to allow our professional land management agencies to get back to managing the land rather than managing litigation."
Chilcott said he disagrees with groups that sue to stop vegetation management projects.
"We have a divide between the let-everything-burn policy or actively managing our resources and utilizing our resources," he said. "We can utilize the resource in a more efficient and effective manner that lowers the impact to our environment than the let-it-burn policy."
Chilcott also said the Forest Service is spending too much on fighting wildfires and not enough on managing forests. Perdue and Zinke expressed similar points during the summer, saying the agency has reached a "tipping point" that is blowing holes in both federal and state budgets.
In his testimony, Chilcott acknowledged that the fire season has grown longer. He suggested it was as many as 78 days longer than it was 40 years ago.
"Irrespective of the cause of the climate's change, we have to adapt and change our management techniques," he said Monday when asked about the statement.
While not invited to testify, Missoula County commissioners plan to weigh in on the debate later this year. They're currently set to meet with federal agencies next month, including the U.S. Forest Service's Fire Sciences Laboratory.
Commissioner Cola Rowley called the issue a complex one that requires a review of all perspectives and scientific data. The Missoula County Board of Commissioners will issue their own perspective at that point, Rowley said.