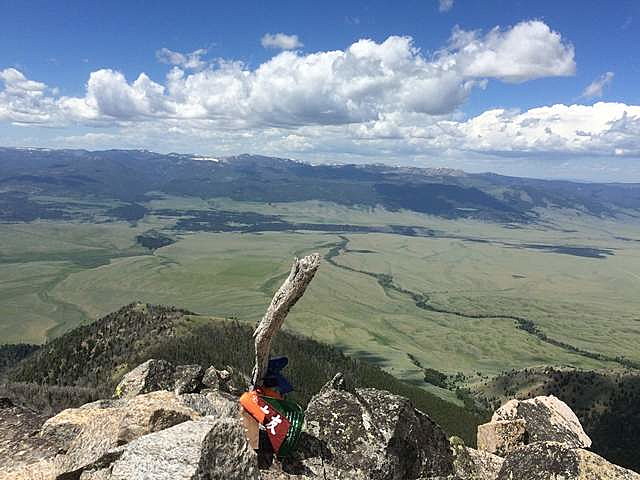 To applause by politicians and advocates of all persuasions, President Donald Trump on Wednesday signed into law legislation designating Alex Diekmann Peak on the edge of Montana's Lee Metcalf Wilderness.
The 9,765-foot peak in the Madison Range was previously unnamed. It now honors the life and collaborative work of Diekmann, who was a senior project manager for The Trust for Public Land in Bozeman.
U.S. senators Steve Daines and Jon Tester and Rep. Greg Gianforte joined in sponsoring the bill.
"Alex Diekmann Peak will now forever remind Montanans and visitors of the lasting impact Alex had on local communities and protecting Montana's public lands," said Daines after Wednesday's action by the president.  "I look forward to visiting and climbing Alex Diekmann Peak in Alex's honor with his family to commemorate his life."
"Alex Diekmann was a champion for Montana's public lands," said Tester. "Getting this bill signed into law ensures that his spirit will live on and his contributions to conservation and outdoor recreation will be remembered for generations to come."
"Naming the peak after Alex Diekmann is a tribute to a man who united people to protect our public lands. Alex embodied the spirit of working together that defines our state," Gianforte said. "I look forward to hiking Alex Diekmann Peak with my family to honor him, his work, and his memory."
During 16 years with the Trust for Public Land, Diekmann worked on more than 55 projects, helping to conserve 100,000-plus acres. His efforts led to protections for the Taylor Fork in the Greater Yellowstone Ecosystem, river access at Glacier National Park, and wildlife corridors in the Cabinet-Yaak Ecosystem.
His work also took in the Haskill Basin near Whitefish, the Whitefish Lake Conservation Project, Three Dollar Bridge, and restoration of O'Dell Creek in the Madison Valley.
Diekmann completed work to protect 23,000 acres of forestland around Whitefish, including the Haskill Basin conservation easement, even as he struggled against his cancer's aggressive spread.
Whitefish Mayor John Muhlfeld counted Diekmann as a friend.
"His passion for conservation was relentless, but more importantly, Alex was an incredible friend, father, brother and husband, and we will forever be reminded of his legacy when we go out and experience the lands in northwest Montana that Alex helped protect in perpetuity," Muhlfeld said in a statement.
Added Glenn Marx, executive director of the Montana Association of Land Trusts: "The entire Montana land trust community joins in the celebration of this tremendous recognition of Alex Diekmann's legacy and lasting impact on Montana's landscape. We gratefully applaud the efforts of the Montana Congressional Delegation and everyone who made this impressive tribute possible."
Also among the bill's supporters was Chuck Roady, vice president & general manager of F. H. Stoltze Land & Lumber Company in Columbia Falls.
"I will always have tremendous respect for Alex because he worked with me with the same passion and intensity regardless of which of the myriad of the hats I wore as a forester, a manager of a wood products company, a sportsman, and as a wildlife conservationist," Roady said Wednesday. "There could be no greater way in which to honor my friend Alex Diekmann than by naming a mountain peak in his name, and I thank Senators Daines, Tester, and Rep. Gianforte for coming together to make this happen."
"Alex was a great friend, an exceptional colleague, and an admired conservationist," said Dick Dolan, Northern Rockies director of The Trust for Public Land. "It is only fitting that a sentinel peak in an area that he did so much to protect now bears his name. The efforts of Senators Tester and Daines and Congressman Gianforte to make Alex Diekmann Peak a reality are greatly appreciated by all who were lucky enough to know and work with Alex to protect our public lands and natural heritage."