Editor's note: This is Part 2 of a two-day package of stories marking the 40th anniversary of the Absaroka-Beartooth Wilderness. Yesterday, we looked at how the wilderness came into being.
For Montanans, there's not much question about the importance of Lee Metcalf's legacy.
Thanks to his work in the U.S. House and Senate over 25 years, Metcalf had a direct hand in setting aside millions of acres in Montana as wilderness and national wildlife refuges, and many miles of wild and scenic rivers.
But even Montanans who are aware of Metcalf's pioneering work as a conservationist and protector of wild lands might not appreciate how large a role he played on the national stage, pushing for virtually every cause close to the heart of the traditional progressive movement.
"The thing that attracted me to the labor movement was that it seemed like the best way to bring about needed social change for America, and Lee Metcalf was always a national leader for social change," former Montana AFL-CIO Director Jim Murry said. "There weren't any of those issues he wasn't involved in."
Metcalf drafted the original food-stamp legislation, wrote the Family Farm Act, sponsored the Clean Water Act and became known as "Mr. Education" for sponsoring a bill to provide federal aid to education.
In 1957, fed up with the outsize control wielded by conservative, mostly segregationist Southern Democrats in Congress, Metcalf joined fellow Reps. Eugene McCarthy of Minnesota and Frank Thompson of New Jersey in publishing the "Liberal Manifesto," calling on government to lead the fight for civil rights, health care, affordable housing and educational access.
Their efforts led to the election of a new crop of young Democrats, and when Congress convened in 1959, Metcalf helped found the Democratic Study Group. The DSG lobbied for reforms that changed the power balance in Congress, and it provided research for members and the press at a time when there were no large staffs to do such work.
American Prospect magazine quoted political scientist James Sundquist as saying that the Democratic Study Group was "the most elaborately organized 'party within a party' in the history of the House of Representatives."
Metcalf also played a critical role in the passage of the Civil Rights Act of 1964. When the Senate's president pro tempore became ill in 1963, Montana's senior senator, Senate Majority Leader Mike Mansfield, appointed Metcalf permanent acting president pro tempore of the Senate, a position Metcalf held until his death in 1978.
As presiding officer of the Senate in the absence of the vice president, it was Metcalf's job to use his detailed knowledge of parliamentary procedure to block attempts by Southern senators to stop passage of the bill. That he did, beating back every maneuver and counterattack, and presiding over the longest debate in the history of the Senate.
When it was over and the Civil Rights Act was law, Sen. James Eastland of Mississippi, a segregationist Democrat, gave Metcalf grudging credit, calling him "the civil rights bill's secret weapon."
Metcalf was born in Stevensville in 1911 and attended Montana State University (now the University of Montana) and Stanford University in California, playing football for both schools. He earned a bachelor's degree in history and economics from Stanford, and then a law degree from UM.
In 1936, he was elected to the Montana House, where he introduced a bill to establish a minimum wage (30 cents an hour) and another requiring mining companies — this was aimed at the Anaconda Copper Mining Co. — to pay miners for time spent underground after their shifts.
He was an assistant state attorney general from 1937 to 1941 and served as an Army officer during World War II, participating in the invasion of Normandy and the Battle of the Bulge. After the war, he was elected to the Montana Supreme Court and served one six-year term before deciding to run for the U.S. House in 1952, when Mansfield made his first run for the Senate.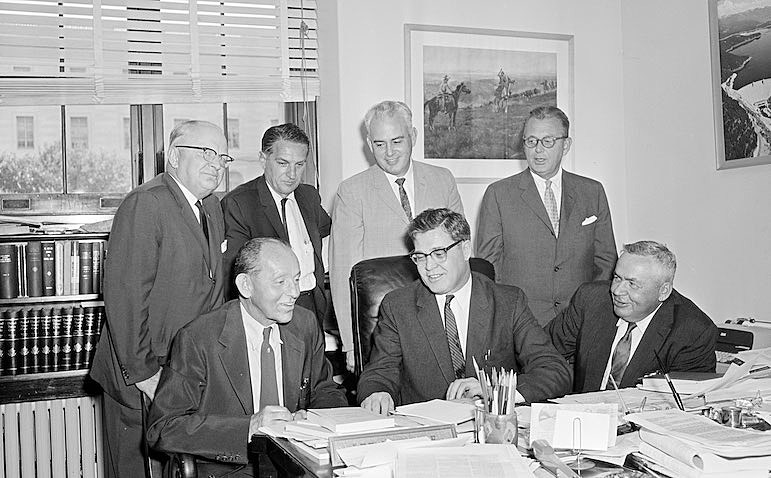 He won that year and would win three more two-year terms in the House, where he was known as a hardworking, whip-smart progressive. He was always a friend of labor, and in his early years in the House he was a supporter of damming rivers and heavily logging federal lands — activities that produced jobs and powered the economy.
But in relatively short order he became a committed conservationist, seeing great value, economic and otherwise, in untouched wilderness and wild rivers. In 1954, five of the nation's major conservation groups gave him an award for "distinguished service to conservation." In 1956, he introduced an outdoor recreation bill. He also introduced the first-ever bill to study the effects of pesticides and insecticides on wildlife, which passed in 1958, and the Save Our Streams bill in 1962, when he was in his first year in the Senate.
And as Matthew M. Peek, a photo archivist with the Montana Historical Society, wrote in 2014, Metcalf "had a hand in the classification, eventual creation of, or passage of every acre of wilderness in Montana by the time of his death in January 1978."
Teddy Roe, of Billings, who was an assistant to Mansfield for 10 years before becoming Metcalf's legislative director in 1972, said that what made Mansfield and Metcalf so great was that neither of them "went around Washington with their fingers up, testing the breeze from Montana."
In supporting the Civil Rights Act, Metcalf explicitly tied it to the protection of the rights of Native Americans, not just African-Americans, at a time when such a stance was deeply unpopular in Montana. And as Roe said, "Metcalf did battle, literally, over Montana's environment almost daily. And almost daily he was called practically a destroyer of civilization."
Metcalf's response, Roe said, was to say, "Give me 50 percent plus one vote and I will go to Washington and vote my conscience."
Murry, the retired labor leader, said that was the essence of Metcalf — his commitment to what he thought was right and damn the consequences. Other politicians measured their success by their margin of victory at the polls, Murry said, while Metcalf's only yardstick was what he was able to accomplish in Washington and in Montana.
"He was almost like a silent giant," said Evan Barrett, a former congressional staff member and former head of the Montana Democratic Party. "He went about his work and got stuff done."
Bill Cunningham, who has been involved in wilderness advocacy since the 1960s, saw the same traits in Metcalf, calling him an unassuming man "who was not out for personal glory."
"He had a long-range view that went beyond the next election cycle," Cunningham said. "That in itself was exceptional."
Many politicians trim their sails and strive to reach consensus, but if you limit yourself that way, Cunningham said, "you're not going to get a whole lot accomplished." He said Metcalf was pragmatic but principled, with a knowledge of people and procedures that told him exactly how far he could push to further his aims.
He was also known for his ferocious regard for the truth. Roe said he didn't just believe in telling the truth himself. He was appalled whenever he learned that another politician had lied to him. He just couldn't believe that anyone would stoop that low.
"Lee had a really strong character quotient," Roe said.
And for all his brilliance, he had a way of talking to regular people that put them at ease.
"Lee was such a down-to-earth guy," Murry said. "He'd get together with a bunch of farmers, farmer leaders, and labor leaders, and he was one of us. He was part of the family."
Murry said he and his wife were personal friends with Metcalf and his wife, Donna, "but they were personal friends with just about everybody involved in the progressive movement at the time. … He really was our hero because he was the glue that kept the progressive political movement of Montana together."
At the same time, Metcalf, who was 6-foot-1 and weighed 190 pounds when he enlisted in the Army, "was a tough guy physically," Murry said, "and when he lost his temper, you knew he was displeased."
Barrett remembered one campaign in which Metcalf's opponent showed up for a televised debate with a three-inch-thick briefing book. Metcalf walked on stage with only a paper plate in his hands, which he placed on his lectern. Barrett knew Metcalf carried a wealth of detailed knowledge in his head, but he wondered what was on the plate.
He found out afterward that a staffer, not wanting Metcalf to blow up on camera, had drawn a smiley face on the plate, under which was this message: "Don't let the son of a bitch get you mad."
Murry said Metcalf could be blunt, to put it mildly, in responding to letters from constituents and others. Sometimes he would write "Wrong" or "Stupid" at the bottom of a letter and mail it back to the sender. If the letter was particularly egregious, he would ink up his rubber "Bullshit" stamp — yes, he really had one — pound it down on the letter and send it back.
But tough and independent as he was, Metcalf was only human. For all his self-effacing modesty, he had regrets about lost opportunities, and about what it had cost him to serve under the shadow of Mansfield, a beloved figure who held the position of Senate majority leader longer than anyone in history.
The New York Times, in a story about Metcalf's death, said, "He was widely regarded among his colleagues as an outstanding constitutional lawyer who never quite lived up to his potential."
Murry said Metcalf used to express misgivings about having run for the Senate and often said he should have stayed in the House, where he was thought to have been in line for the House majority leader position. Part of the problem, Murry said, was that Metcalf couldn't bring himself to care about courting the press — he never had a press secretary — or endearing himself to voters.
His reputation even suffered by the unfortunate timing of his death. He died on Jan. 12, 1978, one day before the death of Sen. Hubert H. Humphrey of Minnesota, a better known progressive and one-time presidential candidate.
The attention of the nation's press instantly shifted to Humphrey, Roe said, and while "Humphrey was buried amid national pomp and ceremony, Lee's private funeral service in Helena was attended by his wife, son and niece."
Roe, having worked closely with both men, continues to think of Mansfield as Montana's best statesman and Metcalf as Montana's best senator.
Mansfield himself ranked Metcalf as our best senator. That was in 2002, when he was talking to Marc C. Johnson, former chief of staff to Idaho Gov. Cecil Andrus, for an article published in Montana Magazine. Johnson had asked Mansfield to rank the Montanans who had served in the Senate.
"I'd rank Lee Metcalf number one," Mansfield said. "He was a good partner of mine. He had to operate in my shadow when I was majority leader, but he did a lot for Montana and he didn't always get the credit. He was the best."
Mansfield ranked Tom Walsh second and said Burton K. Wheeler and James Murray were tied for third place. He ranked Joseph Dixon fourth and put himself at No. 5. Johnson said he suggested to Mansfield that most people would rank him higher than that.
At that, Johnson wrote, Mansfield "bristled just a bit, straightened himself, and responded politely, 'You asked for my ranking. That's my ranking.'"
Bonus material: Here's a documentary Evan Barrett made in 1996 about the life and legacy of Metcalf. You can also watch it on YouTube.
Ed Kemmick has been a newspaper reporter, editor and columnist since 1980. Except for four years in his home state of Minnesota, he has spent his entire journalism career in Montana, working in Missoula, Anaconda, Butte and Billings. "The Big Sky, By and By," a collection of some of his newspaper stories and columns, plus a few essays and one short story, was published in 2011.