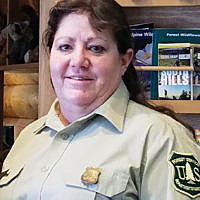 The current deputy forest supervisor of the Helena-Lewis and Clark National Forest has been named acting forest supervisor on the Lolo National Forest.
Sara Mayben will hold the position while Lolo Forest Supervisor Tim Garcia completes a four-month Forest Service assignment in California, where he'll serve as a deputy regional forester in the Region Five office in Vallejo.
Prior to her current position on the Helena-Lewis and Clark, Mayben served as both a district ranger and the natural resources staff officer for the Pike and San Isabel National Forest, and the Cimarron and Comanche National Grasslands in Colorado.
Mayben, from Boulder, Colorado, will begin work in her temporary position on the Lolo National Forest the week of April 9.