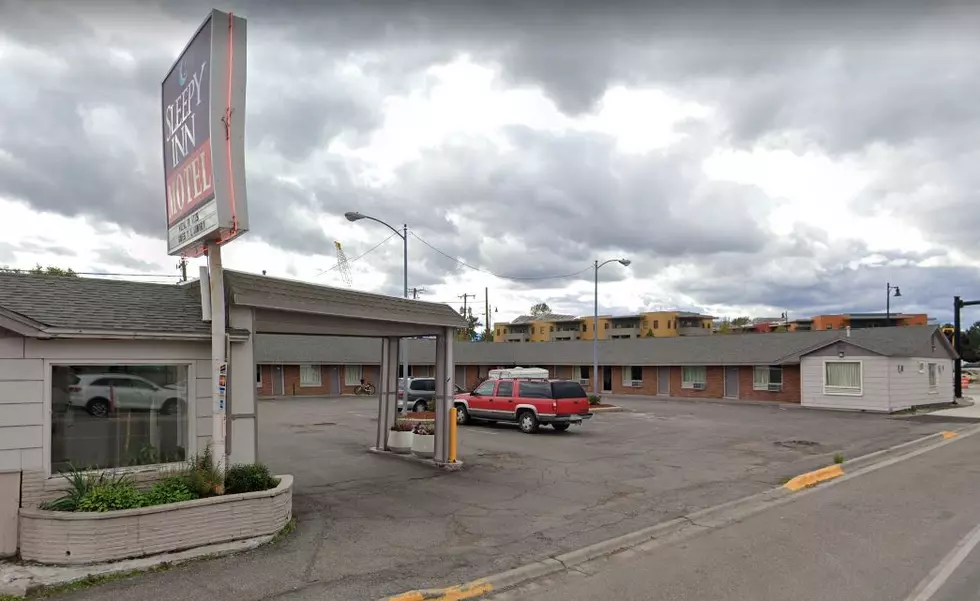 "The need is now:" City Council approves motel purchase as quarantine shelter
Calling it a vital tool in fighting the COVID-19 pandemic, the Missoula City Council on Monday approved the purchase of a dated motel for immediate use as a quarantine shelter.
The $1.1 million purchase of the Sleepy Inn and its half-acre lot on West Broadway also reserves a key piece of property for future redevelopment as affordable housing near the downtown core, checking another box in the community's broader goals.
Four hours into the hearing, council member Stacie Anderson moved to postpone a vote until next week, though the motion failed on a 7-5 vote. The subsequent motion to complete the purchase passed on a 9-3 vote at midnight.
"This is a very reasonable approach. It has benefits to those beyond the homeless," said council member Jordan Hess. "I think some opponents have attempted to discredit the process, and I don't think that's appropriate. There's a lot of good minds working on this issue. It's the right thing to do and it's the smart thing to do."
Council member Jesse Ramos led the opposition by disputing the recommendations of trained health officials, saying the shelter wasn't necessary, was too expensive and the pandemic would soon pass. At the end of the night, he tipped his hat to his opponents and said history would decide who was right.
"They're doing what they think is best for this community," Ramos said of his opponents. "I just simply think it's a policy issue and policy difference. Those ideas might be better and they might not be. I think it's an amazing test of democracy that we can have these debates and still be friends."
While redevelopment stands as a distant goal, protecting public health during the COVID-19 pandemic made the property's purchase a pressing goal for health officials. With approval granted, the city will close on the parcel next week and prepare it for occupancy.
Missoula County Commissioners are expected to adopt a memorandum of understanding on Tuesday regarding the hotel's operation as a non-congregant shelter. Roughly 75% of those operating costs will be reimbursed by FEMA while the state will cover the remaining 25%, city and county leaders have said.
"My worry right now if we don't have a non-congregant shelter and we're trying to reopen to keep our economy alive, and we don't have options for people who can't self isolate, not only does that impact them individually, but it impacts everyone in Missoula," said council member Gwen Jones, who supported the measure. "This helps all of us by giving us the right tools to manage this virus."
Missoula County has reported more than 40 cases of the virus thus far, along with one death. Local health officials are currently monitoring 185 other individuals in quarantine who have been in close contact with a confirmed case of the virus.
Several such individuals have tested "epidemiologically positive" with the disease over the past week, causing concern among health officials that it may be more widespread than reported. Of the city's estimated 370 homeless individuals, 100 of them are unsheltered, with some camps doubling in size in recent weeks.
"Coronavirus is very well seated in our community," said City-County Health Officer Ellen Leahy. "We are continuing to see more cases right here in Missoula, even in a completely shutdown situation. We need it now. We needed it a month ago."
Members of the health department also said the facility's need has been understated and misunderstood. Leahy has authority under state law to control the spread of communicable diseases and has fully backed the proposal of using the motel as a quarantine shelter.
"I recognize we're all in the difficult position and this is an unusual request," said Leahy. "What we've been trying to do is to quarantine and isolate people who don't have a suitable location, and that has been extremely difficult and not reliable. Theoretically, we're all 100% percent susceptible to this virus."
Other members of the health department on Monday suggested that opponents have misstated a number of truths around the purchase of the shelter and its need. That includes their focus on the property's deficiencies, which health officials said can be mitigated.
"Using that message as a reason not to use this facility is a misrepresentation of the intent, and it fails to recognize that to protect the health of our community, we need a safe place to isolate and quarantine people, and that's what this facility would be used for," said Cindy Farr, who is leading the local pandemic response.
Three members of the City Council opposed the purchase, including Ramos, Sandra Vasecka and John Contos. Ramos led the opposition by saying the city is paying too much for property, suggesting its value stands no higher than $750,000.
"I've talked to a lot of real estate agents who think this is not fair. There's a lot of people on both ends of the spectrum," said Ramos. "If we would have backed up, got this (appraisal) ordered and talked to some appraisers and said this was an emergency, I guarantee they would have gotten this done. At the end of the day, we just don't know, and that's one of the most concerning things for me."
Several local real estate agents have described the $1.1 million offer as a fair deal, saying "the purchase price is not out of line" given the property's location and recent improvements to the Broadway corridor.
The cost breaks down to roughly $32,000 a room. The last hotel sold in Missoula was the Courtyard, which sold last year for $143,400 a room, according to one local agent. The only other hotel on the market is the La Quinta on North Reserve, which is listed for $144,3000 a room, or $11 million.
Real estate agent Julie Gardner, who supported the city's purchase, said the property represents an investment opportunity given its prime location. More pressing, however, she said it offers the city a way to address the health of the local population during a critical time.
"The city faces the very real need for shelter that will provide quarantine for citizens recovering from COVID or awaiting test results," Gardner wrote in her letter of support. "Without the ability to separate these citizens from the rest of the community, increased infection throughout the population is a substantial danger, the cost of which could be many times the price of the property."
Several callers agreed while praising health officials for working to protect public health, along with the city for considering affordable housing in their redevelopment plans. They urged city officials to heed the advice of healthcare experts.
"It's a proactive move in order to address a potential crisis in our city," said Peter Walker Keleher. "I appreciate the proactive measures by the city to do so. As a city taxpayer, I believe it would be an excellent return on the city's investment."
Other callers disagreed, saying it wasn't the city's job "to help everyone." Several said "they didn't see a need for this," or suggested the city should pursue an appraisal before making a purchase.
"It really isn't an emergency situation that can be handled by the motel you have chosen for this," said Elizabeth Weber. "This place is not suitable for anybody that's sick. It's not suitable for anybody that's healthy. It needs to be taken down. It needs to be demolished. It needs to be burned from the ground up."
Eran Pehan, director of the city's office of Housing and Community Development, said other cities, including Seattle, have taken similar steps to address public health. She also said that investing in the property provides a chance for the city to further pursue its housing goals.
"The Sleepy Inn acquisition meets an emergent need today," said Pehan. "It also supports the creation of more affordable housing in the future. We know that land banking is a key strategy used by cities across the nation to ensure, in this frenzied development environment, that the needs of our everyday citizens aren't left behind."
Council member Heather Harp agreed.
"We have focused so much on the value of the property, we've neglected the value of a human life," she said. "I hope we don't need to use this facility, but hope isn't a good goal in a pandemic."