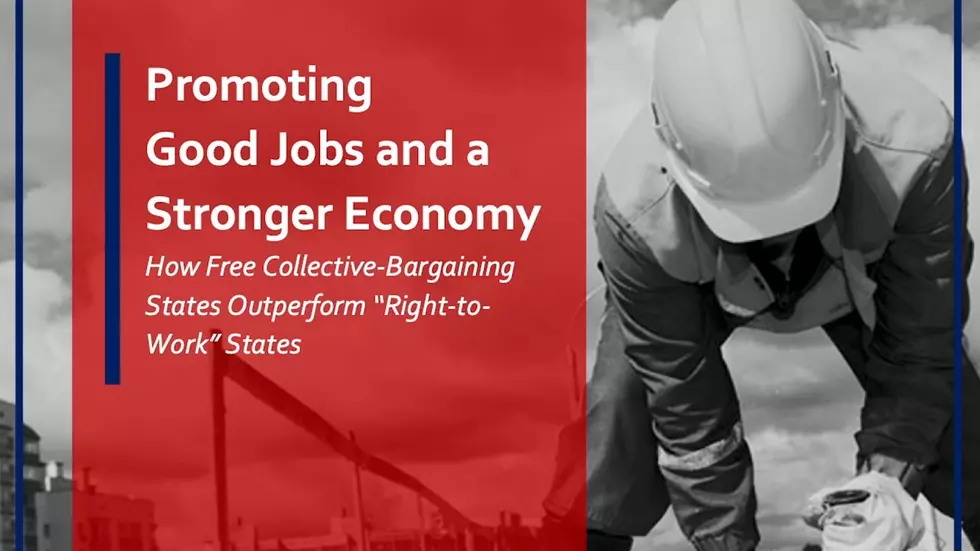 Study: Right-to-work states underperform on many social, economic metrics
(KPAX) States that have adopted "right to work" laws, which prohibit union contracts from requiring non-member workers to share in the cost of bargaining efforts on their behalf, lag behind other states in a broad range of social and economic indicators, a study released this week says.
The study from the Illinois Economic Policy Institute, a left-leaning research group, examined 20 different factors over an eight-year period, from every state in the country.
In almost every instance, states that have not adopted right-to-work laws – including Montana – fared better than the 27 states with right-to-work laws, the study said.
"We're not looking at just one metric here; we're looking at 20 different economic and social metrics, and free collective-bargaining states do better on all of them," said Frank Manzo, the Institute's policy director and co-author of the study. "And that's not a coincidence."
The Institute provided MTN News with an early copy of the study, which is sure to be a debating point in the upcoming battle at the 2021 Montana Legislature over right-to-work laws.
A bill that would make Montana a right-to-work state is scheduled for a hearing next week, and lawmakers are considering several other bills that make it harder for labor unions to collect dues or fees, from member and non-members alike.
Rep. Caleb Hinkle, R-Belgrade, sponsor of the right-to-work bill, said he'll be presenting plenty of his own data and studies that show right-to-work states have higher wages and more business and personal-income growth than those without it.
"All of the studies that I've read, over months now – the average (income) for workers in those states is $10,000 more per year," he told MTN News.
Hinkle said many states that have adopted right-to-work laws in the past decade have seen substantial job growth, particularly in manufacturing, such as Indian, Michigan, Wisconsin and Kentucky.
Robert Bruno, a professor of labor and employment relations at the University of Illinois Urbana-Champaign and a co-author of the Illinois study, said it sought to take a broader look at "quality of life" standards and statistics in every state, and compare states with or without right-to-work laws.
"There's been a growing movement to do more of this kind of work," he told MTN News. "It's unlike any other right-to-work study."
The study said non-right-to-work states, collectively, out-performed right-to-work states on all 20 metrics, and Montana did the same on 15 of the 20 metrics.
The 20 metrics included average hourly wages, health-care coverage, wage growth, apprenticeships, on-the-job fatalities, household poverty, life expectancy, voter participation and consumer-loan delinquency rates.
According to the study, Montana had a higher score than right-to-work states on all but the following categories: average hourly wages, life expectancy, workers with a bachelor's degree or more, on-the-job fatalities and gross domestic product per worker.
Manzo also said the study showed that workers important during the Covid-19 pandemic, such as nurses, firefighters and other frontline responders, are particularly affected by right-to-work laws.
These workers in right-to-work states make much less than their counterparts in non-right-to-work states, he said.
"So, unless the lawmakers in Montana think that teachers, police officers, firefighters and nurses are overpaid, we should be seeking out ways to support these frontline workers, while the evidence suggests that right-to-work laws have the opposite effect," Manzo said.
https://missoulacurrent.com/government/2021/02/right-to-work-2/