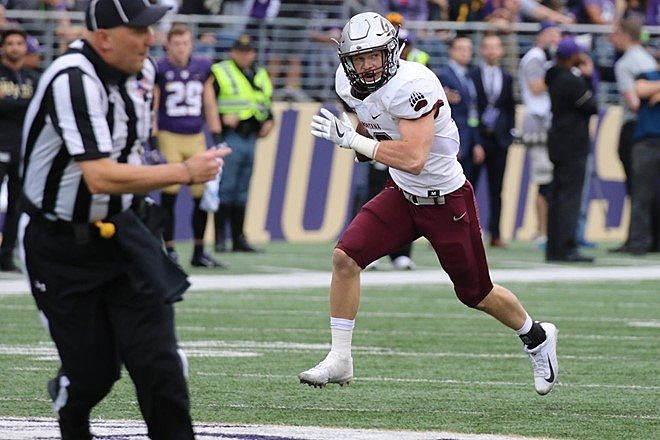 "Learn from it, flush it, and move on," is the message from the coaching staff this week for the Montana Grizzlies as they rebound from a tough but fruitful nonconference game against the No. 6 Washington Huskies in Seattle.
The Griz get back in the saddle on Saturday against an FCS opponent, hosting the Savannah State Tigers from Georgia. It will be the first-ever meeting between the schools, the first time Montana has faced a team from the Mid-Eastern Athletic Conference (MEAC), and one of the few times Montana has hosted a team from East of the Mississippi River at Washington-Grizzly Stadium.
Starting in the second quarter of the season-opener against Valparaiso, the Griz offensive machine found top gear, scoring four unanswered touchdowns and moving into mid-season form. Then Montana ran into a purple buzz saw in Seattle, and the Griz have now turned their attention to finding that mid-season form again against an athletic Tigers outfit.
"Their quarterback, everything they do on offense is wrapped around him. He's a very athletic guy, and they're going to run read-option, triple-option. It'll be similar to Northern Iowa last year and the Cats last year," said head coach Bob Stitt.
"We've just got to get ready for their scheme and get ready to play very, very good football. We need to go and get after it early, and we've got to start picking up some momentum," Stitt added. "This third game needs to be more like our second game where we really clean it up and start getting some big-time confidence and really be able to attack on both sides of the ball."
GOOD NEWS: Savannah State University announced via Facebook on Tuesday that evacuation orders for Chatham County have been lifted after the passing of Hurricane Irma, and that power has been restored to campus with minor damage. Classes are scheduled to resume at SSU on Thursday, and the Tiger football team is scheduled to depart for Montana on Friday.
The thoughts and best wishes from the Montana Department of Athletics go out to all those in Savannah and around the South affected by Irma.
THE GAME: The Griz (1-1) welcome Savannah State (0-1) – one of America's Historically Black Colleges and Universities (HBCU) and the oldest public HBCU in the state of Georgia (established in 1890) – with an enrollment of 4,280.
The Tigers come to Montana for just its second game of the season with a 0-1 record. SSU fell to former FCS program Appalachian State last week 54-7. Savannah State scored its only touchdown on defense, with lineman Stephen Dorsey returning a fumble 45 yards for the score in the fourth quarter. App State quarterback Taylor Lamb tied a school record with five passing touchdowns in the Mountaineer win.
This week's game marks only the third time in Montana history the Griz have faced an HBCU school, with all three meetings occurring in Missoula. The last time was in 2016 when the Griz defeated Mississippi Valley State. The first was against Jackson State in 1989, also a win for the Griz.
Kickoff between the Griz and Tigers is set for 1 p.m. on Saturday. Limited tickets are still available for the "Pride and Tradition" game (maroon and silver), and are available at GrizTix.com or the Adams Center Box Office. Saturday's game is presented by NorthWestern Energy.
WATCH: This week's game can be seen statewide on FOX Montana stations, as well as SWX Montana in the Billings/Miles City market.
If you live outside the state, the game will be available on in select markets on the Altitude Sports Network, or you can watch worldwide via web stream at GoGriz.com. To find out if you have the necessary channel to watch, visit the "Where to Watch" page on GoGriz.com for complete details. Check your local listings for specific channel details.
Chris Byers will lead the broadcast play-by-play, with former Griz head coach Mick Delaney and former UM quarterback Grady Bennett providing color commentary and analysis. Shaun Rainey will cover the sidelines.
LISTEN: "Voice of the Griz" Riley Corcoran will have the call of Saturday's game, supported by long-time color commentator Greg Sundberg in the booth. Fans can tune-in statewide to hear the call on the Montana Grizzly Sports Network, or visit gogriz.com to listen to the audio-only web stream worldwide.
SERIES HISTORY: Not only does Saturday's game mark the first meeting between UM and SSU and the inaugural meeting with a team from the MEAC, it also offers fans the rare opportunity to see a team from east of the Mississippi River play in Montana.
Montana has played only 35 teams from "Back East" in the 222-game, 31-year history of Washington-Grizzly Stadium, with the bulk of those games (19) occurring in the D1-AA/FCS playoffs. The Griz have been largely successful as well, holding a 29-7 record in Missoula against teams from that side of "The Big Muddy."
Savannah State, which announced its intentions to drop from FCS to D-II last April, was picked to finish at No. 10 in the MEAC preseason poll after finishing 3-7 in 2016 and 3-5 in MEAC play.
In 2015, the MEAC gave up its automatic postseason bid to the FCS playoffs, opting instead to hold an annual championship game against the SWAC champion in the Celebration Bowl in Atlanta – the de facto HBCU National Championship.
In 2016, North Carolina Central fell to Grambling State in the Celebration Bowl, and the Eagles are picked to win the MEAC again in 2017. North Carolina A&T is currently the only MEAC team ranked in the STATS FCS Top-25 at No. 25 this week.
Howard University was picked to finish just above Savannah State in the preseason MEAC poll at No. 9 but caused waves around the nation in week one when the Bison pulled off the biggest upset against the spread in college football history, defeating UNLV 43-40 in Las Vegas (appropriately), as 45-point road underdogs.
FIRST AND TEN WITH THE GRIZ
A DREAM COME TRUE: The Grizzlies squeezed in some time to make a little boy's dream come true ahead of last week's game against Washington.
Coach Stitt, Reese Phillips, Makena Simis, Cooper Sprunk, director of football operations Colin Bonnicksen and Great Falls native Josh Horner paid a visit to Troy Ross, a three-year-old Griz fan from Great Falls on Friday night while the rest of the team toured Husky Stadium.
Ross, who was in the stands at the Sept. 2 home opener against Valparaiso, was rushed to Seattle Children's Hospital early last week with a respiratory condition.
"This little guy is a huge, huge, Griz fan," said Stitt. "It was good for us to be there because as a parent, it's really tough to see a three-year-old in the state Troy was."
"We wish him the best, and our prayers go out to him and his family, and we can't wait to see him at the next Griz game," Stitt added.
"It's just awesome to know that we have fans, that even when they're in a tough situation, we can do something to lighten the situation up for them," added Horner.
SANDRY'S STEALS: With a pick-six to his name at Washington and another INT against Valparaiso, sophomore Josh Sandry has proved he has a nose for the ball. Sandry sits tied for third in FCS football with one-per-game and is one of only six players in the nation to return an INT for a touchdown.
The last time a Grizzly returned an interception for a touchdown was in 2016, when Justin Strongtook a Sacramento State QB to the house for 78 yards.
Sandry's pick-six at UW landed him in some pretty elite company. Only one other player has ever scored a touchdown off an interception thrown by Heisman candidate Jake Browning. Alabama's Ryan Anderson picked off a Browning pass for a 26-yard TD in last year's national semifinal. Anderson ended up being drafted by the Redskins in the second round of the 2017 NFL Draft as the 49th overall pick and remains on their 53-man roster.
Reese Phillips sits just outside of the nation's 10-best pass completion percentages at No. 12 in FCS football, completing 66.7 percent of his 66 attempts so far this year.
FRESH STARTS FOR THE GRIZ: Redshirt freshman Lewis Cowans made his first start at cornerback last week against Washington over junior CB Markell Sanders. Sanders graded out well after the UW game as the one responsible for the tipped pass that led to the Sandry touchdown, and will once again get the start against Savannah State.
Josh Horner also got his first start of the year at Washington in the H receiver spot and proceeded to lead the Griz with five catches for 34 yards.
Connor Strahm returns to action this week at middle linebacker following his two-game suspension, set to make his 37th-career appearance.
Freshman Samori Toure got his first start as a kick returner against Washington, leading all players in the game with 143 total all-purpose yards.
RECORD SETTING OPPONENT: Washington speedster Dante Pettis set a new Pac-12 conference for most punt returns for touchdowns last week against the Griz with a 67-yard return, the seventh of his career.
Returning a punt for a TD against the Griz is a rare occurrence. The last time it happened to UM was in 2014 when, now, NFL receiver Cooper Kupp took it 67 yards as well for Eastern Washington.
Montana's loss at Washington is now tied for the fifth-worst in program history by point margin. The last time the Griz gave up a 56-point score line was in 1963 against Utah State. The last team to hang 60 on the Griz was Minnesota in 1985. The worst loss in program history dates back to 1931 when the Griz lost 69-0 at USC.
GRIZ IN THE POLLS: Montana's loss at Washington did the Griz no favors in the weekly polls unsurprisingly. UM remains just out of the top-25 with 53 votes in the STATS FCS media poll and eight votes in the NCAA coaches poll.
Weber State entered the coaches' poll at No 21 while sitting just out of the media poll. The only other two Big Sky teams listed above Weber in this week's polls are Eastern Washington (12) and North Dakota (10).
GRIZ QUICK HITS: Slot wide receiver Jerry Louie-McGee was held to a career low one catch for 4 yards against UW. Washington smothered Louie-McGee all day with NFL prospect cornerback Jordan Miller, one of the top returners from a defensive secondary that sent three players to the NFL as second-round draft picks.
Freshman receiver Samuel Akem posted a career-high day, however, in just his second game. Akem caught two passes for 32 points, one of which was a team-long 19 yards.
Senior defensive end Tucker Schye made his 40th career appearance at UW, and surprisingly only the second start of his career. 40 appearances mean he has played in every game since his redshirt freshman year.
Using his massive 6-5 frame to his advantage, junior D-tackle David Shaw blocked a UW field goal attempt last week, the first of his career at UM. The last time a Grizzly blocked a field goal? Caleb Kidder in 2016 against Sacramento State.
FOUR DOWNS WITH THE TIGERS: Similar to the home opener against Valparaiso, the Tigers are a program on the rise under second-year head coach Erik Raeburn. After a rough start to the 2016 year, SSU rattled off three-straight wins in midseason to finish at 3-7, including a home win over Bethune-Cookman, the first for SSU since 1992 and a win over Howard, who upset UNLV to open 2017.
SSU returns eight offensive starters from last year's squad, led by sophomore dual-threat quarterback T.J. Bell, who led his team in passing and was third on the team in rushing against Appalachian State and threw for 762 yards last season.
Defensively, SSU returns eight starters as well, with two preseason All-MEAC third team performers in junior D-lineman Stefen Banks and senior linebacker Mulik Simmons. Simmons led the team with 73 tackles last season, the seventh-most in the MEAC. Banks produced an eye-popping 17.5 TFLs last year, the second-most in the league behind graduated SSU D-lineman Marquis Smith.
The Tigers held on to the ball in 2016, producing a top-20 FCS ranking in turnover margin at 60 percent. SSU was also the No 34 ranked team in the country in red zone defense, allowing opponents in just 77 percent of the time.
AROUND THE SKY: Nonconference action continues around the Big Sky this week for the most part, with only UC Davis at Portland State and Weber State at Sacramento State on the league table.
Idaho State and Northern Colorado will both play up this week against FBS opponents. The Bengals travel to Reno to take on former Big Sky member Nevada, while Northern Colorado travels down I-25 for a Front Range showdown with the defending Pac-12 South champion Colorado Buffaloes.
Tenth-ranked North Dakota also travels south for a spicy FCS top-25 matchup against No. 23 South Dakota. The Coyotes made waves last week around the FCS by defeating FBS Bowling Green on the road 35-27.
Eastern Washington (0-2) faces another difficult task this week, traveling to New York City to face Fordham in the Bronx. The Rams boast one of the nation's best running backs in senior Chase Edmonds, a three-time All-American who led the FCS in rushing yards-per-game last year with 163.5. The Eagle's next opponent? Montana in Missoula. Griz fans will want to keep an eye on this one.
UP NEXT: See above. Rival Eastern Washington is set to come to Missoula to face the Griz on Sept. 23 looking to improve on a two-loss start to the season where they've been outscored 96-23. There might be nothing more dangerous than an Eagle scorned, and for both teams, the game is shaping up to be a must-win.