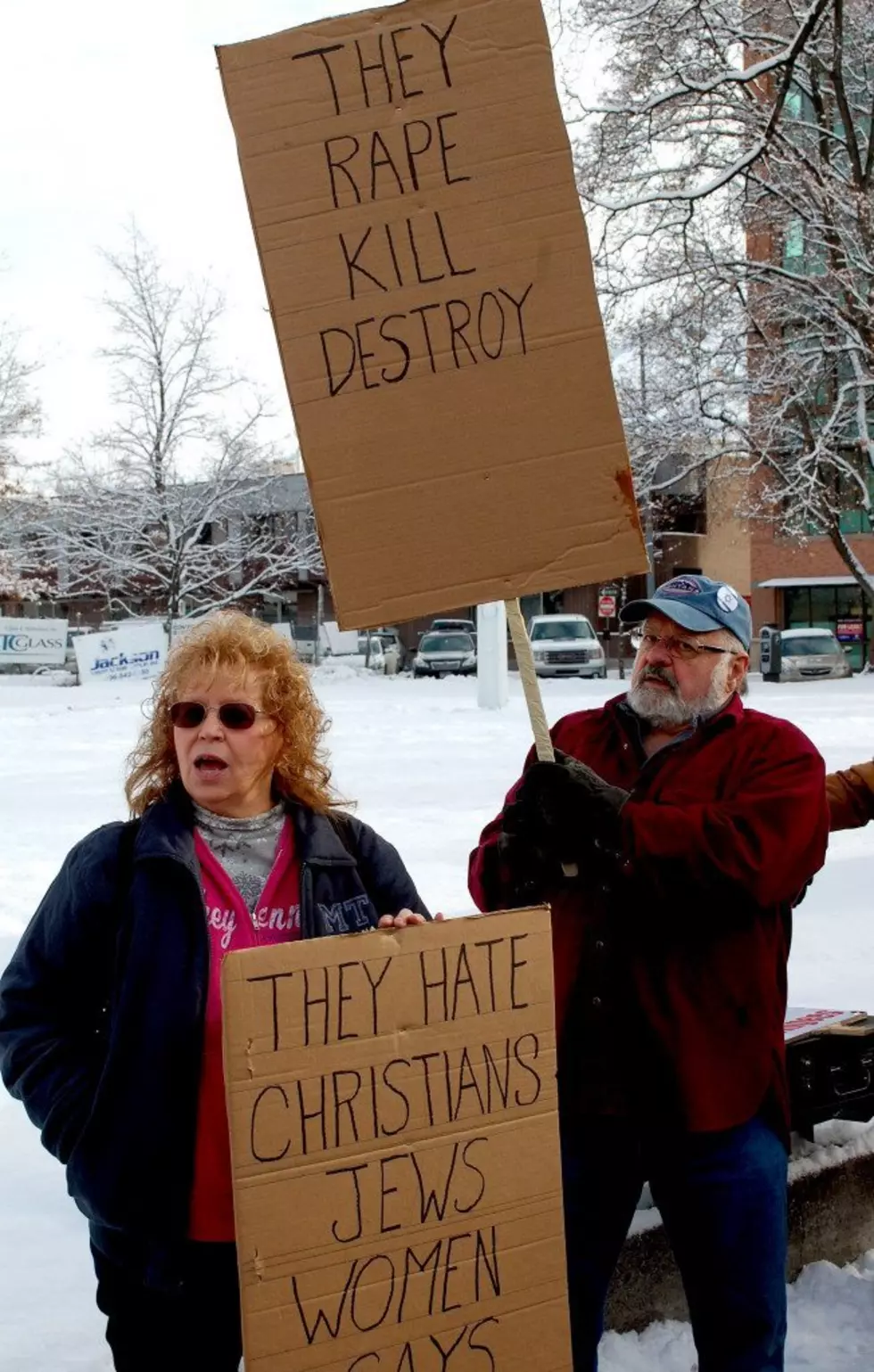 Anti-refugee rhetoric concerns Human Rights Network
Protesters at an anti-refugee rally in Missoula earlier this year classified Muslims as rapists and terrorists out to destroy America. (File photo by Martin Kidston)
By Martin Kidston
The Montana Human Rights Network believes the misleading and often hateful sentiments directed largely at Muslim refugees are slipping into mainstream discussions, thanks in part to the strong rhetoric cast by political candidates seeking office at both the state and federal level.
That has given at least one state chapter under Act for America the political leverage it needs to gain new followers.
Rachel Caroll Rivas, a researcher with the Montana Human Rights Network, said she also believes that a series of anonymous letters aimed at refugees – sent recently to elected leaders in Missoula – likely stem from a single individual in Helena who has made a habit attacking anything he perceives to have a liberal bend.
"Lock your daughters up when these refugees are brought to Missoula," the most recent letter stated. "They will be raped."
On Friday, Rivas described the individual behind the letter as a white male in his late 40s who often pens anonymous notes using a black Sharpie pen. As it turns out, she said, he inadvertently left his name on one recent envelope sent to Helena city officials.
"I think it's one of those fringe folks who isn't affiliated with anything else," said Rivas. "The interesting piece is, he's grabbing on to this issue because it's being used by the far right nationally and in communities in Montana as a tool to promote fear and general resentment against a variety of people, but particularly Muslims and refugees."
Rivas, who researches right-wing movements across the state, said anti-refugee and anti-Muslim sentiments have emerged as the leading concern for the Montana Human Rights Network over the past year.
The state chapter under Act for America has proliferated over that time, busing its members to anti-refugee rallies in Missoula while attracting several hundred people at its own events in the Flathead.
The group formed just before the last legislative session, during which state Sen. Janna Taylor, a Republican from Dayton, sponsored the group's anti-sharia law measure.
"The group also did an action setting a time for prayer for Muslim students in the Flathead," said Rivas. "It wasn't an issue. They brought it up to promote fear."
Rivas doesn't consider members in the group to be dangerous, though she does believe the group's rhetoric could lead to violence directed at certain minority groups.
"They're spreading misinformation that's not based on fact," she said. "They're riling up fear of immigrants and refugees that can result in people perpetrating violence against those folks."
It was community concern over such radical right-wing groups (white supremacists, militias and neo-Nazis) that prompted the formation of the Montana Human Rights Network in 1990.
As it stands, Rivas believes right-wing activity in the state is in a lull, a fact she attributes to the presidential campaign of Donald Trump. The candidate has given a voice to those on the fringe of society who felt neglected and overlooked by mainstream politics.
"The formation of local groups is not quite as prolific right now, because they're hanging on to the presidential campaign for Trump," said Rivas. "They don't have to form an independent local group. They have a candidate now. Where that energy goes post November will be interesting."
Last September, after images of a Syrian boy drowned on a Turkish beach played across the world, a group of Missoula residents took action by forming Soft Landing.
In doing so, they won the support of Missoula city and county leaders before renewing the city's partnership with the International Rescue Committee, which now looks to resettle up to 100 vetted refugees in Missoula over the next year.
While the effort has won broad support from the Missoula community, it also has prompted Act for America to bus dozens of its own members down from the Flathead to protest. Missoula's elected officials began receiving anonymous threats as well, prompting one City Council member to ask those making threats to take a good look in the mirror.
While free speech is the cornerstone of democracy, Rivas said, threats go beyond speech. She said her organization and local law enforcement are aware of the treats.
"I have chatted with some local officials and we're keeping tabs on that," said Rivas. "It's not only immigrants who feel threatened, it's intimidating to those who want to stand up to support the refugee cause. In some ways, it's a playbook out of the white supremacist movement."
The tactics used by Act for America and others making threats bear similarities to those used in the past by white supremacists, she Rivas. That includes targeting what white supremacists view as "race traitors," or those who stand up for non-Christians and minorities.
Rivas also believes the groups have been emboldened by Trump, who this week announced his plans cut legal immigration and close the country to refugees. That, according to the Los Angeles Times, is a sharp break from Republican Party positions on immigration and represents "the most openly nativist platform of any major party presidential candidate" in decades.
Several Montana political candidates have also picked up on the theme. Rivas noted the flier sent out last week by Greg Gianforte, the state's Republican candidate for governor, who accused Gov. Steve Bullock of supporting Syrian refugees in Montana.
The flier included the image of an alleged Syrian soldier armed with a rifle.
"When we see a gubernatorial candidate vilifying immigrants and refugees with false information, it's an indication these marginalized ideas are becoming mainstream," Rivas said. "They're tying refugees to images of violence with weapons and guns, and stating that this could be the problem our communities face by helping refugees. It's purposeful in spreading that fear and using it as a political tool."
The flier was released the same week that a family of six Congolese refugees arrived in Missoula for resettlement. A spokesman for the Gianforte campaign called the timing of Gianforte's political flier a "sheer coincidence."
As for the anonymous letters sent recently to Missoula County commissioners, Rivas said the individual behind them is latching on to the anti-refugee cause, though he appears to lack an affiliation with any known hate group.
"The refugee issue has gotten national attention," Rivas said. "He draws onto things with a national issue and a local tie and, right now, Missoula is central to the refugee discussion."
Contact reporter Martin Kidston at info@missoulacurrent.com