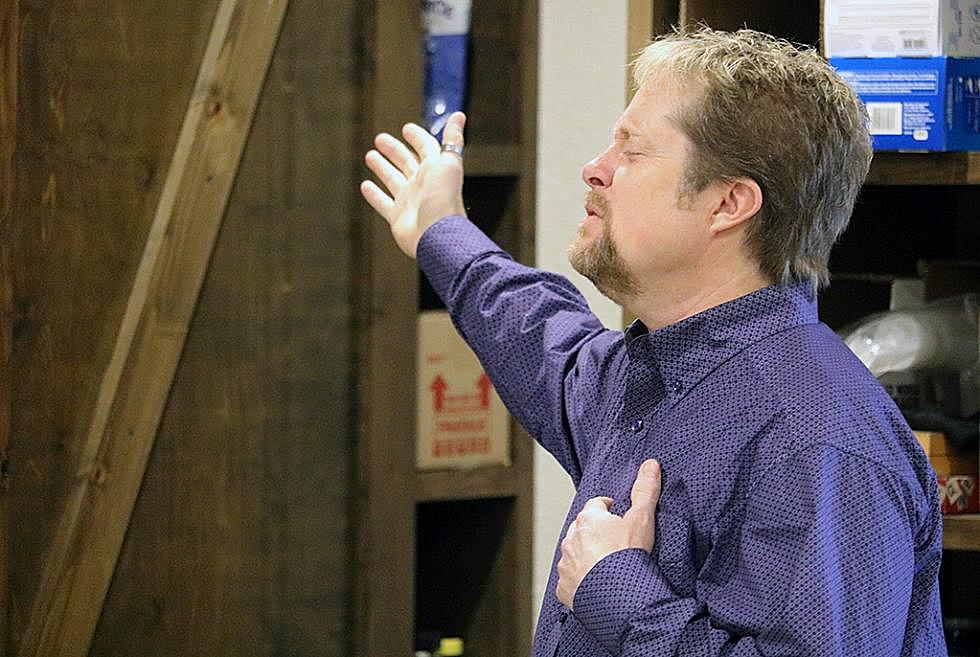 With a prayer, Union Gospel Mission fills in for Pov during winter overcrowding
Don Evans, executive director of the Union Gospel Mission in Missoula, leads a small gathering of homeless residents in prayer on a recent weekday morning. (Martin Kidston/Missoula Current)
It was early on a weekday morning when Don Evans stood at a makeshift altar in the Union Gospel Mission's old warming house to warn those gathered for his sermon about the perils of temptation and the road to redemption.
Some listened intently while others came off the street seeking little more than a warm place to sit and a hot cup of coffee. Just a few blocks away, the Poverello Center was filled beyond capacity.
"Our goal isn't enabling, but empowering," Evans said. "We know the homeless community. We need a reformation when thinking about our homeless. We need to know them as Mike or Sally. That's our goal, to help them find dignity and bring them back into a productive life."
While Jesus and redemption lie at the heart of Evans' work, the Union Gospel Mission found itself playing a more prominent and secular role in serving the city's homeless population this winter – forming new partnerships along the way.
That effort began back in February when Missoula was clutched in a deep winter freeze, one that brought the city's homeless population off the streets in droves, leaving the Poverello overcrowded. The shelter slept 205 residents for several consecutive days and forced managers to begin turning people away for the first time in its 40-year history.
The Union Gospel Mission stepped in to help in numbers it hadn't dealt with before.
"The Pov had already approached the Salvation Army about using overflow in their location," said Evans. "There had been some prep work with the Salvation Army and so it was easy for us to come in and work with them. They were great in getting things repurposed for us."
With the arrangements in place, the Union Gospel Mission moved its operations from its Toole Avenue warming house to the Salvation Army so it could house more people. The warming house can sleep a handful of residents per night in tight confines, while the Mission slept 30 at the Salvation Army.
The Pov capped its capacity at 190, and with this winter serving as a test, the Union Gospel Mission is already looking to next winter, ready to help if the numbers swell again.
"I could see us doing that again, but I haven't asked for permission," Evans said. "We'd think, logically, it could be done again. We want to help address the homeless issue all the way down to the epidemic of camping and sleeping in your own vehicle. We want to help the city save money with police being used to serve and protect and not have to spend time knocking on car windows."
Amy Allison-Thompson, executive director of the Pov, attributed the shelter's crunch this winter to a number of factors, including a growing city population, the cost of housing and underemployment.
The city's housing market is also tight, with a 3 percent vacancy rate.
"If we had more housing, we wouldn't see the high numbers we're seeing in the shelter," she said. "A lot of times, people are facing underemployment in Missoula, so they may have great skills, but if they're in a position that's paying minimum wage, they may not be able to afford market rent. There's a wide variety of issues we're seeing that's leading to these high numbers."
But a smaller percent of the city's homeless population also struggles with addiction, and the Poverello has strict rules about intoxication or consumption. Evans said the Union Gospel Mission remains open for those who've been drinking.
As the city explores a new Housing First model, Evans said the mission would like to play a role, one that could open the door to so-called "wet housing" for intoxicated homeless.
"We would entertain helping in that area," he said. "We have experience with people who are intoxicated – people who don't need to spend a night in jail but need to be kept safe, accepted and handled appropriately. That's a need in our city."