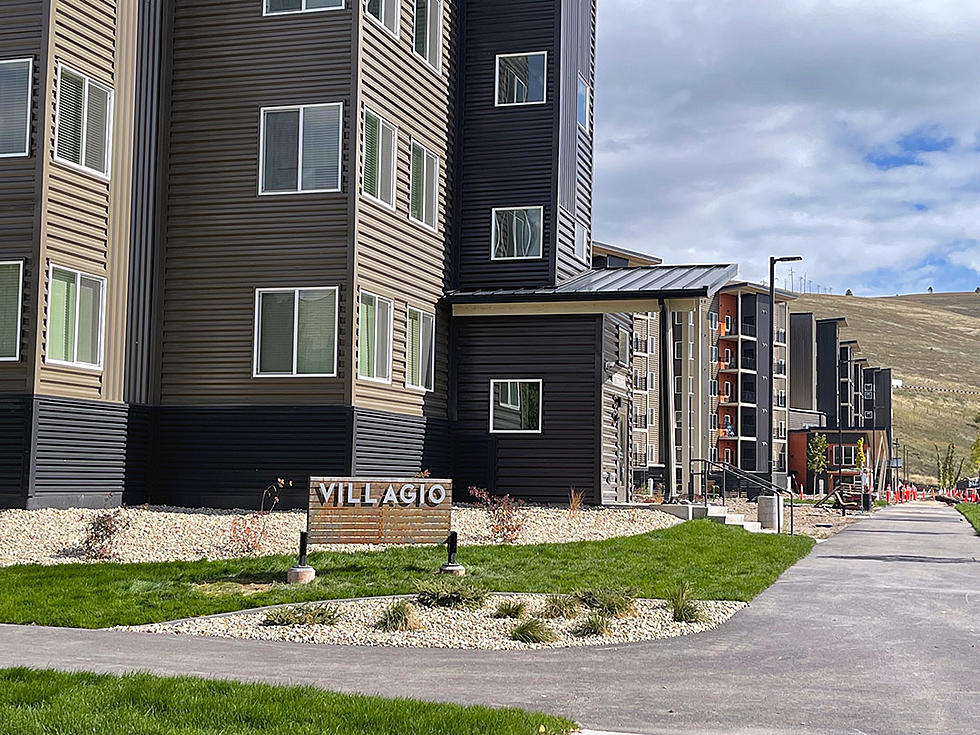 Demand high for affordable apartments in Missoula
An apartment project in Missoula. (Missoula Current)
Keila Szpaller
(Daily Montanan) People who used to be homeless are moving into the Villagio.
"We've had quite a few who had been living in their cars," said Mary Melton, with the Missoula Housing Authority.
Tenants fleeing rental increases of $500 to $700 a month are finding homes in the new apartment complex in Missoula.
Families looking to double up — two families in one bigger unit — are signing leases, too.
Some parents and children are moving out of temporary shelter.
In Montana, the housing market has been in the throes of a crisis in some communities even before the pandemic, and this year, two affordable housing complexes opened in Missoula.
If the list of people who expressed interest in the Villagio is any indication, the new homes will make a dent, but they won't meet all the need.
An estimated 1,000 people signed the interest list for the 200 apartments, or five households for every single unit, according to the Missoula Housing Authority, managing the building.
NeighborWorks Montana Executive Director Kaia Peterson said a couple of different tax credits help keep affordable housing projects such as the Villagio in the construction pipeline in Montana.
For example, she said two major projects are currently in the works in Bozeman.
However, Peterson also said the homes don't get built overnight, and the rising cost of housing is affecting affordable projects in Montana.
Homes in demand
In Missoula, roughly a decade's worth of units is opening this year, said Sara Stout, with the Missoula Housing Authority. They're two complexes on three different sites for a total of 402 new homes.
They were a decade in the making, she said, and they're filling up as quickly as applications can be processed. In the past, 20 or 30 units have opened in one year.
"We've never done anything of this magnitude before," she said.
One, the Trinity Apartments, opened on two separate locations roughly four months ago with 202 units, Stout said: "Those sites are almost completely full."
The other, the Villagio, has 115 residents of all ages in 43 units so far, and more approved to move in, said Melton, asset manager with the Missoula Housing Authority.
"Some of them have been homeless for more than two years, and they are finally moving into an apartment, which is great news," Melton said.
She said some people have lived in their cars or slept on the couches of friends and family members. Others are members of the international community, "newer neighbors," Melton said.
Missoula is home to people seeking refuge from war-torn countries.
Affordable homes are in high demand, especially in Montana's larger cities. Stout said affordability means people are paying 30% or less of their income toward housing.
"If you're paying 45% of your income toward housing, housing is no longer affordable," she said. "And in Missoula, that's a huge issue for most people."
Trinity serves people who earn up to 70% of the area median income, or AMI. Stout said workforce housing can be for teachers and police officers, and the Missoula Housing Authority is seeing "a big need" for homes at that higher AMI level.
"We're trying to alleviate that cost burden for people who need that housing," Stout said.
The Villagio serves people who make up to 60% AMI. It also has 32 vouchers that help people from zero income to up to 50% of the area median income.
For a family of four, the 60% threshold would be an income limit of $51,840 at the Villagio. A three-bedroom costs $1,220 there for that income level.
By comparison, the median cost of a three-bedroom unit in Missoula is 33% more, at $1,628, according to data from the Missoula Organization of Realtors.
"In Missoula, rental prices in the last year went up almost 12%. So that's a significant amount," Stout said.
Building affordable homes, supporting different people
The key factor in building the Trinity and Villagio was "free land," Stout said.
Melton said the city and county both donated land. Other parties, such as Homeward, which is focused on affordable homes, and the Missoula Redevelopment Agency, also played roles.
"It's all about partnerships," Stout said.
Peterson, with NeighborWorks, said two low-income housing tax credits support projects such as the ones opening in Missoula. One, a 9% credit, is a significant help, she said.
"The 9% is very, very competitive, brings a lot of equity and support to a project, and drives a really deep level of affordability," Peterson said.
At the same time, she said the rising cost of housing means fewer homes can be financed.
A limited bond funds the 4% program, and Peterson said Montana has not exhausted that bond cap, but it's close.
"That is not a competitive program at this point," Peterson said. "We are very close to the tipping point where that will become a competitive program."
But she said it's "a really great resource," and regulatory changes have made the program more viable in Montana. The state administers both of the federal tax credit programs.
In 2023, Montana awarded tax credits to preserve or build affordable homes on the Crow Agency and in Great Falls, Libby, Missoula and Butte, according to a Board of Housing update on the Montana Department of Commerce website.
Moving in
Last Thursday, workers were still on site at the Villagio, and a playground was going up. Already, though, people were making the units — two- to four-bedrooms — into homes, with Halloween decorations and outdoor furniture on the balconies.
All of the units there have decks, storage, washer-dryers, and two bathrooms. The property is pet friendly, and it has bike storage, and an underground garage holds parking for 60.
Stout said one resident in a wheelchair said in her old place, she'd have trouble getting out the door if snow removal didn't happen in a timely fashion, and that problem has disappeared for her at the Villagio.
"This is really great because we offer underground parking," Stout said.
Many families are moving into the new units, but Stout said the need for affordability comes in many different shapes.
For example, one husband and wife need an extra bedroom because the wife has so much medical equipment, it fills its own room.
"It was floor to ceiling, just to house her medical equipment," Stout said. "Affordable housing is touching different lives that you wouldn't normally think about."
Meeting needs of people, businesses
The Villagio is expected to be full by the end of December. Melton said BlueLine Development, which is working on leases, is actively processing 79 applications, and it has more it hasn't been able to work on yet.
She said she anticipates going into 2024, the Missoula Housing Authority will have a better idea of how much the new units have alleviated the financial pressure of housing.
The pressure hits families as well as companies, she said. Companies and organizations that are hiring have to tell people to look at the housing market before accepting a job.
"That's such a deterrent for people," Stout said.