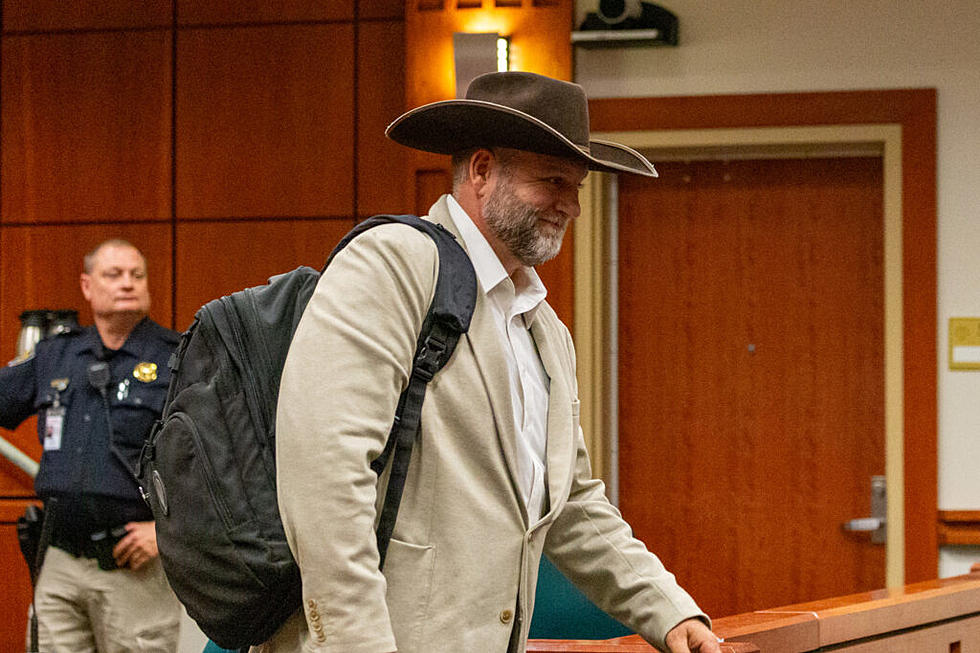 Ammon Bundy's contempt trial scheduled in Idaho for October
Former Idaho gubernatorial candidate Ammon Bundy walks out of an Ada County courtroom in Boise on Aug. 23, 2023. (Kyle Pfannenstiel/Idaho Capital Sun)
Kyle Pfannenstiel
(Idaho Capital Sun) Ammon Bundy is scheduled for a new trial — without a jury — starting Oct. 2 on contempt of court stemming from a lawsuit from St. Luke's Health System.
Bundy appeared in an Ada County courtroom Tuesday morning to be arraigned on the contempt charge.
If convicted, he could face no more than up to six months in jail, Judge Nancy Baskin ordered. Bundy did not accept or deny the charges against him and questioned how many he faced. Baskin entered a denial for Bundy.
Bundy and his associate Diego Rodriguez did not attend the two-week long jury trial in Ada County for the lawsuit, where a jury ordered the two and groups linked to them to pay $52.5 million in damages to St. Luke's Health System and three employees they defamed, or made false, damaging statements about in connection with their care for an infant related to Rodriguez.
Bundy is being charged with civil and criminal contempt for allegedly violating court orders issued by a previous judge in the case that required him to remove defamatory statements from the internet and to not intimidate witnesses in the lawsuit.
It wasn't clear how many counts of contempt Bundy faces. The judge, after Bundy requested, ordered St. Luke's attorneys to clarify that within a week. The maximum penalty for each civil contempt penalty is $5,000 and five days in jail.
Bundy, who appeared on Tuesday without an attorney, said he was not acting in court as an agent of the People's Rights Network. Bundy did not say if he'll represent himself or hire an attorney for the trial.
Bundy was arrested on a contempt warrant the night of Aug. 11, and he posted a $10,000 bond less than two days later.
Baskin said if Bundy failed to appear at the trial, she could issue a new warrant and would likely increase the bond amount.
Judge orders removal of defamatory statements 
Baskin on Friday issued a permanent injunction in the lawsuit ordering Bundy, Rodriguez and groups linked to them to remove defamatory statements from their website about St. Luke's Health System and three employees — including ones referring to them as "criminals" or alleging abuse and kidnapping.
The original lawsuit against Bundy, Rodriguez and groups linked to them revolved around their in-person protests and online messages targeting medical professionals and others after a primary care provider unaffiliated with the hospital contacted the state health department about the infant related to Rodriguez.
That resulted in the infant being placed under temporary protective care. Bundy has argued that the baby was healthy, but several doctors testified in court during the lawsuit trial last month that the baby showed signs of being malnourished, the Idaho Capital Sun previously reported.
A second lawsuit, in Gem County, alleges that Bundy has made fraudulent property transfers to evade collection of $26 million in damages awarded to the hospital system in its initial lawsuit against him, People's Rights Network and his campaign for governor. Bundy did not appear at a hearing Monday on that case.
A judge extended a temporary financial block on Bundy and groups linked to him while the judge considers issuing a more lasting order, the Idaho Capital Sun previously reported.