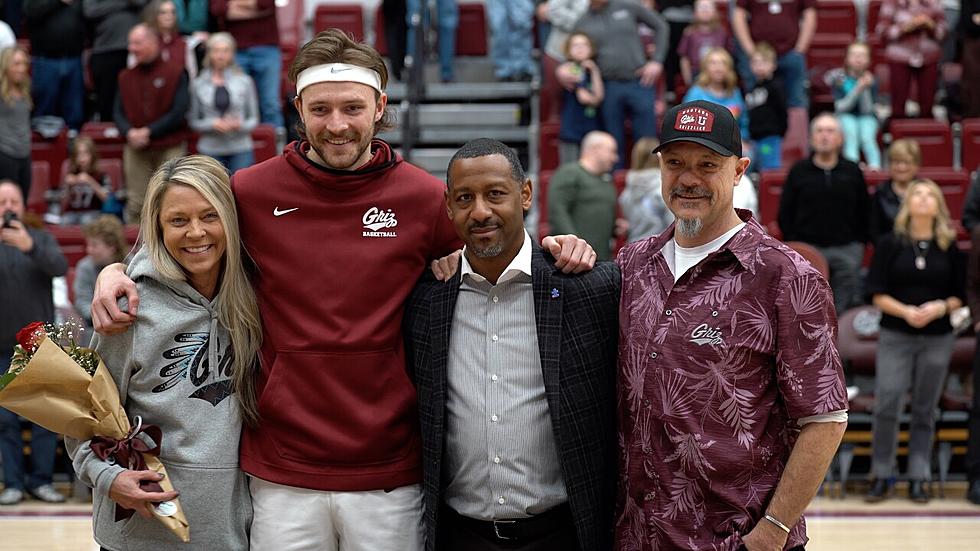 'Everything I could've asked for': Mack Anderson relishing final season with Montana Grizzlies
Mack Anderson, second from left, celebrated Senior Night with the Montana Grizzlies on Saturday, Feb. 25, 2023.
Kyle Anderson
(KPAX) Mack Anderson knew the minute he could remain a Montana Grizzly, he was going to do just that.
Because of the COVID-19 waiver allowed to college athletes for extended eligibility, Anderson took it, and returned to UM for a fifth season this year.
"It wasn't much of a decision for me," Anderson said. "I kind of knew I was going to do it once we found out we could get that fifth year. But just super grateful that I had the opportunity to come back for one more."
It was a fitting result for a player who saw the court sooner than expected.
When the Bozeman native arrived at UM in 2018, the plan was for Anderson to redshirt. Instead, because of injuries on the team at the time, he was thrown into the fire as the Griz played in a tournament in The Bahamas early in the season.
In doing so, he became the first Montana native to play for the Griz as a true freshman since Mike Chavez in 2002-03.
"So many different roles that I've been in over the last couple of years, but I remember that," Anderson said of his first minutes back on Nov. 16, 2018. "We were at shoot-around and (head coach Travis DeCuire) kind of made the decision to go for it, and I was all about it, so I got to play."
Since, he's become a program staple.
"Definitely it is full circle. Lot of ups and downs," Anderson said. "I think I kind of experienced everything you could in a college basketball program I guess you could say, just as far as different roles, different teams, just everything that went on over the last five years. It's been great and super grateful for it."
Over time, Anderson has developed into a hustle player and energy guy for the Grizzlies who anchors Montana's defense, who throws down the occasional, thunderous slam.
After seeing the Griz make the tournament as a freshman, by his third year, Anderson was the longest-tenured player within the program at Montana, and in that pandemic-afflicted season, he grew into a leader that the Griz needed to help guide them through the most difficult season any team had ever seen.
"I think it's helped being able to play for the University of Montana and play for a staff that I care a lot about, so it's always been not necessarily something to get discouraged about, like I think a lot of people do, but just be appreciative of the opportunity to play for your home state and just be in the community," Anderson said. "Like, I feel like I kind of made a life here after my second or third year and it felt like home. And at that point it was really just trying to do whatever I could to help us win.
"I think I grew as a leader, as a player, and as a person. Just a lot over the past five years. It's a big five years of your life, and to be able to spend all of them here has been great."
Minutes over his career have fluctuated, but it's Anderson's constant presence that have left an impact at Montana. Against Idaho to wrap up the regular season on Monday, he played in his 132nd career game, just two behind Bobby Moorehead's program record of 134.
"I play with a lot of passion," Anderson said. "I love the game of basketball, I love Montana, so it's always kind of been easy for me come in and play like that, play with energy and I think it's contagious too so it's something that I enjoy doing, and just day in and day out, just makes all of the days easier."
There's been plenty of highs and lows, as Anderson has seen the Grizzlies reach the mountaintop among many other successes, but over the last two years he has also dealt with injuries that have forced him to miss time.
While last year he was injured in the final seven games of the season, this year, he's been able to get back on the court after missing a string of games in late January and early February.
"The main thing has just been putting stuff into perspective. Like at the end of the day, it is just basketball, regardless of how much of your life it takes up," Anderson said. "You do pour a lot into it, but at the end of the day, it's just one little part of everything, and I've had a great relationship with the coaches here, and just been able to talk to them, because there have been some great times and a lot of hard times too, so I think the relationship with them has played a huge part in that in being able to go through all of that."
On top of basketball, Anderson has a job lined up after school is done as he has used the COVID extension to complete his MBA at Montana, which he'll do this spring. He'll work in sales for a sports apparel company called gearUP, which is based in Portland, Oregon, which provides uniforms and gear to youth and high school sports teams.
So until then, he's soaking up every moment on, and off the court.
"It's been incredible and everything I could've asked for from a college experience, honestly," Anderson said. "Just great relationships with teammates, coaches, the community here and just being able to be put in positions that I don't know if I would have been in elsewhere."