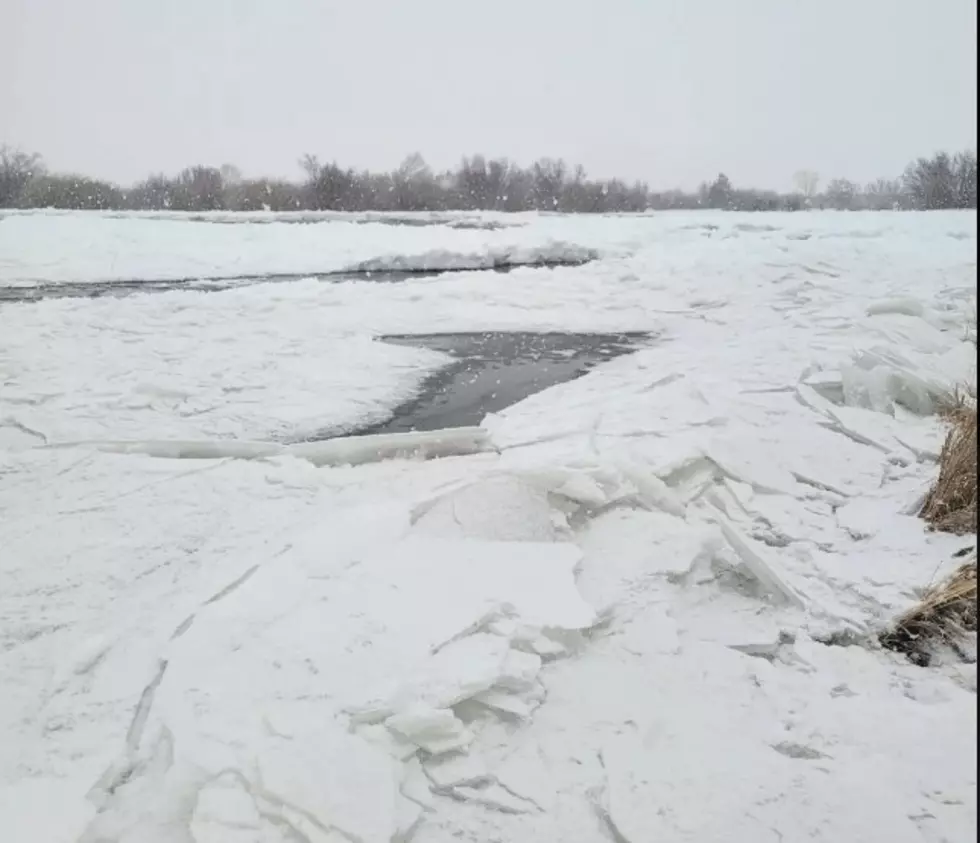 Arctic air breaks cold weather records across Montana
Ice jams form on a Montana river.
Blair Miller
(Daily Montanan) The Arctic air mass that moved into Montana late Tuesday night has broken decades-old records in parts of the state and will threaten record low maximum temperatures on Thursday, according to forecasters. 
Temperatures in central and western Montana reached the -30s and -40s early Thursday morning and are only expected to warm to the -10 to -20 range through the day Thursday, with wind chills between -30 and -60, according to the National Weather Service in Great Falls.  
In eastern Montana, temperatures were in the -15 to -35 range to start the day because of cloud cover overnight, but wind chills were also in the -40 to -60 range. 
It was so cold across Montana and Wyoming Thursday morning that the National Oceanic and Atmospheric Administration's GOES satellite picked up the cold air. 
The coldest temperatures reported as of Thursday morning included -50 in Elk Park, between Butte and Helena; -49 in Lincoln, northwest of Helena; -44 in Red Rock, south of Dillon; and -41 in St. Mary, on the east side of Glacier National Park. The Bozeman airport fell to -38, and a sensor in the Helena Valley measured -36 degrees Thursday morning. 
The NWS in Great Falls said the Elk Park sensor stopped reporting at -50 degrees — "likely at its minimum operating value," the agency said. The sensor also recorded a wind chill of -74 degrees between 3 and 4 a.m. Thursday. 
Great Falls International Airport set a new record low for Dec. 22 at -33 degrees, breaking the previous record of -27 set in 1892. The Bozeman airport set a record low of -44 degrees for Dec. 22, as did Lincoln, at -49. The NWS said Bozeman was just two degrees off its all-time record low of -46 degrees, set on Christmas Eve 1983. 
Multiple locations also set record low maximum temperatures on Wednesday for Dec. 21: 
Cut Bank –20 (Previous record –15, set in 1990)

 

Great Falls –19 (Previous record –17, set in 1990)

 

Lewistown –19 (Previous record –14, set in 1983)

 

Choteau –18 (Previous record –9, set in 1989)

 

Stanford –17 (Previous record –15, set in 1990)

 
More of those records could fall on Thursday, according to the NWS in Great Falls. 
Helena Public Schools and Billings Public Schools canceled classes and other activities because of the Arctic cold, with Billings Public Schools declaring an "unforeseen emergency" in order to not have to make up for the missed day. 
The frigid temperatures will remain in place through Thursday and overnight into Friday, and wind chill warnings remain in effect into Friday morning for much of Montana. But temperatures will warm into the teens in many areas of the state Friday, accompanied by some light snow, then into the 30s during the weekend for the holiday. 
The NWS warned that some ice jams could build following the hard freeze and thawing out this weekend.