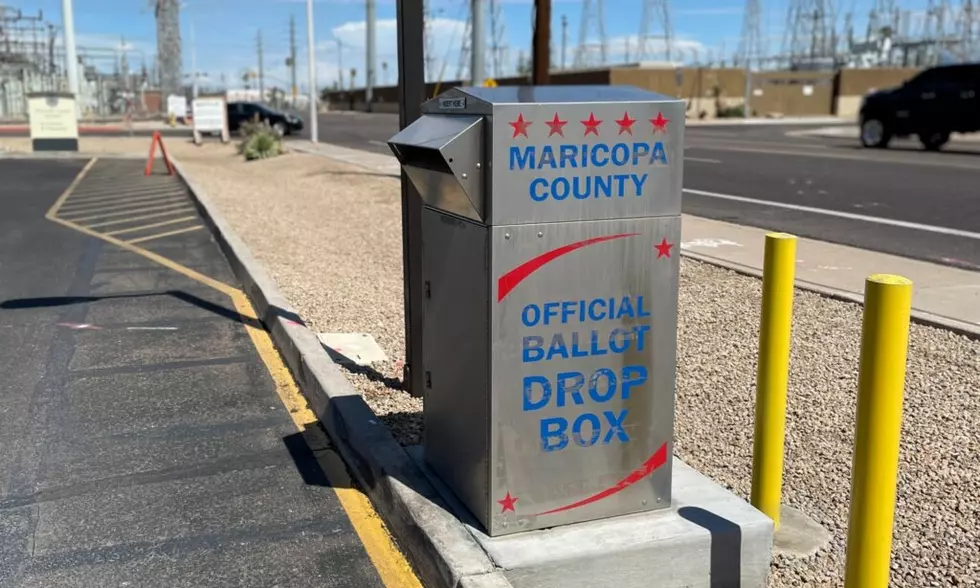 Arizona election investigation: Ballots too long, paper too heavy for printers
(States Newsroom photo)
Caitlin Sievers
(Arizona Mirror) Ballots that were too long and paper that was too heavy for some of Maricopa County ballot printers caused the majority of Election Day tabulation problems on Nov. 8, 2022, according to a report by a team of independent investigators the county hired to get to the bottom of the Election Day chaos.
The ballot-printing problems, which caused tabulators to reject some ballots, led to frustration and long lines at some voting centers on Election Day. The printer malfunctions, which occurred at around 70 of Maricopa County's 229 voting centers open that day, also fueled conspiracy theories from people like Republican Kari Lake, who lost her bid for governor to Democrat Katie Hobbs by around 17,000 votes.
Lake claimed in her election challenge lawsuit that someone had intentionally tampered with the printers in an effort to disenfranchise in-person Election Day voters, who swung heavily Republican. But the trial, appellate and Arizona Supreme courts did not find Lake's claims to be valid.
Likewise, the independent investigation team found no evidence of tampering.
The Maricopa County Board of Supervisors in January approved the independent investigation of the printer issues and hired former Arizona Supreme Court Chief Justice Ruth McGregor to lead the effort.
"I pushed for an outside investigation as soon as this happened, and I appreciate Justice McGregor and her team's thorough, professional, and independent review," Board of Supervisors Chairman Clint Hickman said in a written statement on Monday. "We don't grade our own homework and now that we have a better idea of the factors involved, we'll make changes to best serve voters, starting with replacing some equipment."
"Although separating related causes is always difficult, in my judgment, the primary cause of the election day failures was equipment failure," McGregor wrote in her report, released late Monday morning.
She added that, even though the manufacturer assured the county that its Oki B432 printers would be able to handle the job, some of them were ultimately "not capable of reliably printing 20-inch ballots on 100-pound paper under election-day conditions."
During its investigation, the team printed and tabulated 9,100 ballots on randomly selected printers and tabulators that were used in the November 2022 election.
The team also interviewed elections workers from Maricopa County and its contractor, Runbeck Elections Systems, consulted with elections experts and reviewed thousands of pages of documents.
The team included Lynn Constabile, former elections director for Yavapai County, and Neal Kelley, the former registrar of voters in Orange County, California.
Changes in the paper weight and length of the Maricopa County ballots in 2022 both contributed to the printer issues, according to the report.
For the 2022 general election, for the first time Maricopa County increased the length of its ballots to 20 inches, up from 19, because all of the contests and instructions would not fit on a 19-inch ballot.
Ahead of the August primary election, the county also upped its ballot paper weight from 80-pound to 100-pound, in part because of an uproar over ink from Sharpies bleeding through ballots during a previous election, even though the bleed-through didn't impact tabulating or results.
The county tested the 20-inch ballots using 100-pound paper ahead of the November 2022 election, and found that tabulators were able to read those ballots. However, the test ballots were printed sequentially, which is not how the process happens on Election Day, when ballots are printed on-demand for each individual voter, with breaks in between each printing.
During these breaks, the investigation concluded, the printer fusers cooled and did not sufficiently reheat in time to properly fuse toner to the paper for some of the ballots. When the toner doesn't properly adhere to the paper, it can flake off and cause speckling, both of which can affect the tabulator's ability to read the ballot.
McGregor noted that two-thirds of general election voters did not have issues with misprinted ballots and that 94% of Election Day ballots were not faulty. However, because of a centralized printing queue, Maricopa County said it could not determine which specific printers created the unreadable ballots, though some printers that the investigation team tested caused significantly more issues than others.
When the county began receiving reports of tabulators rejecting ballots early on Election Day, they sent out techs to attempt to fix the problems. Those employees increased the media weight and media type for the printers, fixing some of the issues with ballots being rejected, but not all of them.
"In some cases, the change in settings actually resulted in an increase in faulty ballots," McGregor wrote in her report.
In the report, McGregor wrote that her team could not determine how some ballots ended up being re-sized through a "fit-to-page" printer setting. An expert for Lake testified in court in December that someone had intentionally re-sized the ballots, but the judge dismissed that claim, saying that such a change would result in all the ballots being re-sized instead of the 1,300 that were.
"During our testing, four printers randomly printed one or a few 'fit to page' ballots in the middle of printing a batch of ballots," McGregor wrote. "None of the technical people with whom we spoke could explain how or why that error occurred."
The investigation team supplied several possible solutions to prevent the same problems that happened in the November 2022 election from occurring again.
One would be to return to using 80-pound paper for ballots. Another is to stop using on-site tabulators, and to transport all ballots to Maricopa County Tabulation Election Center to be counted on the more powerful tabulators that were ultimately able to read the misprinted Election Day ballots.
Another would be to replace the Oki B432 printers, which were the main source of printer problems, with Lexmark printers, which had no problems handling the 20-inch ballots on 100-pound paper. The county already uses some Lexmark printers for ballot printing.
If the county keeps its Oki B432 printers, McGregor recommended more robust stress testing ahead of elections, including using intervals between printing to more accurately Election Day ballot printing.
"Given the substantial variation among printers, such testing would have to be conducted on a large scale to achieve confidence that faulty printers are detected," McGregor wrote.
"This report is exactly what we needed. An unbiased analysis of what happened and a range of recommendations for what to do next," Jack Sellers, vice chairman of the Maricopa County Board, said in a statement. "Whether it's replacing printers, using different paper, or changing the way we test equipment before an election, you can be sure our Board will take any steps necessary to ensure in-person voters have the experience they deserve in 2024."