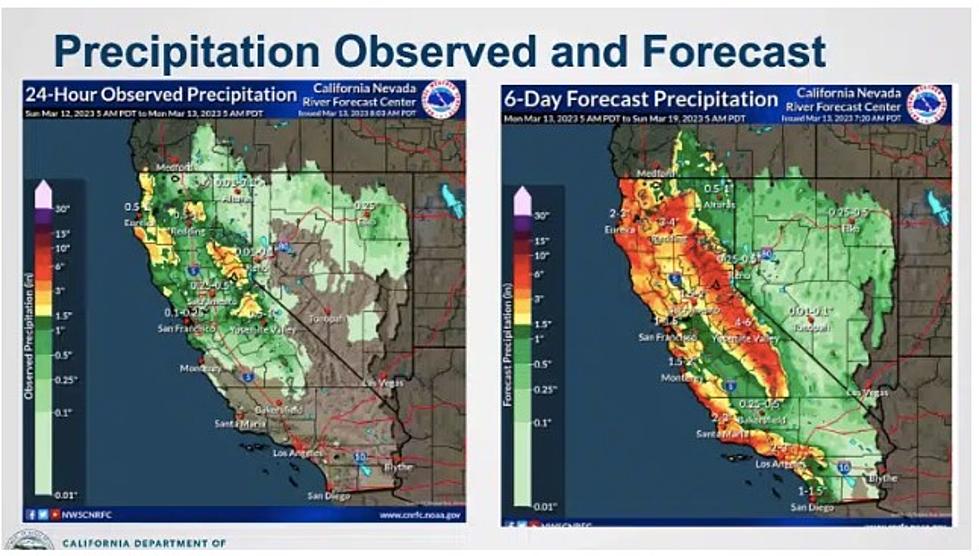 Waterlogged California battens down for more atmospheric rivers
A rainfall forecast released March 13 for California. (Department of Water Resources via Courthouse News)
Natalie Hanson
SACRAMENTO, Calif. (CN) — Another series of severe storms pushed many California counties to a state of emergency Monday, with experts warning areas are at high flood risk with more intense storms taking aim at the state.
State climatologist Michael Anderson said in a briefing Monday that another atmospheric river will kick off moderate to heavy rain on the north coast, to spread through the state into early Wednesday. He said to expect an intense, warm storm with heavy rainfall in a short period of time.
The National Weather Service Sacramento has issued a high wind warning from 5 a.m. to 11 p.m. Tuesday, with gusts of 45-55 miles per hour at some localized gusts clocking in at 60 mph.
Anderson said that some ranges like the Santa Barbara and San Bernardino mountains could see up to 10 inches of rain. But the magnitude, timing and placement of storms remain hard to predict, because "right now there isn't a lot of agreement," he said.
San Francisco Bay Area meteorologist Daniel Swain said the southern Sierra snowpack is the largest in recorded history, thanks to new high-elevation snow and absorption of rainwater by the snowpack at middle elevations.
Anderson said that although the state's next crucial snow survey is not until April 1, this year is looking very close to being like the "big flood year" of 1969.
The state's flood management division manager Jeremy Arrich said teams activated March 9 due to rainfall and snowmelt are watching 13 river locations expected to exceed the flood stage, and 32 likely exceeding the monitor stage. These areas include the Sacramento and San Joaquin valleys and the Sierra Nevada mountains. Some reservoirs, such as in the Tulare County area in the southern Central Valley, have encroached into the local flood pool, he said.
Arrich also reported the Monterey County disaster where the Pajaro River levee, operated by the county at the Santa Cruz County border, failed on March 10.
More than 8,500 people faced evacuation orders and warnings Saturday, including roughly 1,700 residents — many of them Latino farmworkers — from the unincorporated community of Pajaro. Officials said the Pajaro River's levee breach is about 100 feet (30.48 meters) wide. First responders and the California National Guard rescued more than 50 people overnight.
Many parts of Monterey County remain under evacuation orders as the incoming storm could raise the Salinas River and threaten nearby roads and communities.
All of this rainfall has had a strong impact on the state's major water reservoirs. The State Water Project's water operations manager Molly White said key reservoir Lake Oroville is at 116% of its historic average for this time of year, and 75% of its capacity. The agency began releasing water down its repaired emergency spillway into the Feather River last week.
Arrich said they do not expect a repeat of the 1997 floods, but some areas of the state are likely already seeing similar effects. He acknowledged some counties' levee systems are old and not ready for this much flowing water.
"If you're asked to evacuate, folks need to evacuate for their safety and their families," he said.
"This is a different item than 1997, where it was a very large flood over a confined period of time," Anderson added. "What we're seeing here is just an extended period of storm after storm after storm — and one of the all-time largest snowpacks."
On Sunday, Governor Gavin Newsom proclaimed a state of emergency to support storm response and relief efforts in six additional counties, on top of 34 already under a state of emergency. Last week President Joe Biden issued a presidential emergency declaration authorizing federal assistance to support state and local storm response efforts.
Newsom's proclamation supports affected residents by waiving fees to replace records such as marriage and birth certificates, with flexibility to help hospitals and care facilities in impacted areas provide services.
Another storm is expected between March 19 and March 22, Anderson said. In fact, meteorologists expect a long-term pattern shift in the coming weeks.
"I do not see this letting up anytime soon," he said.