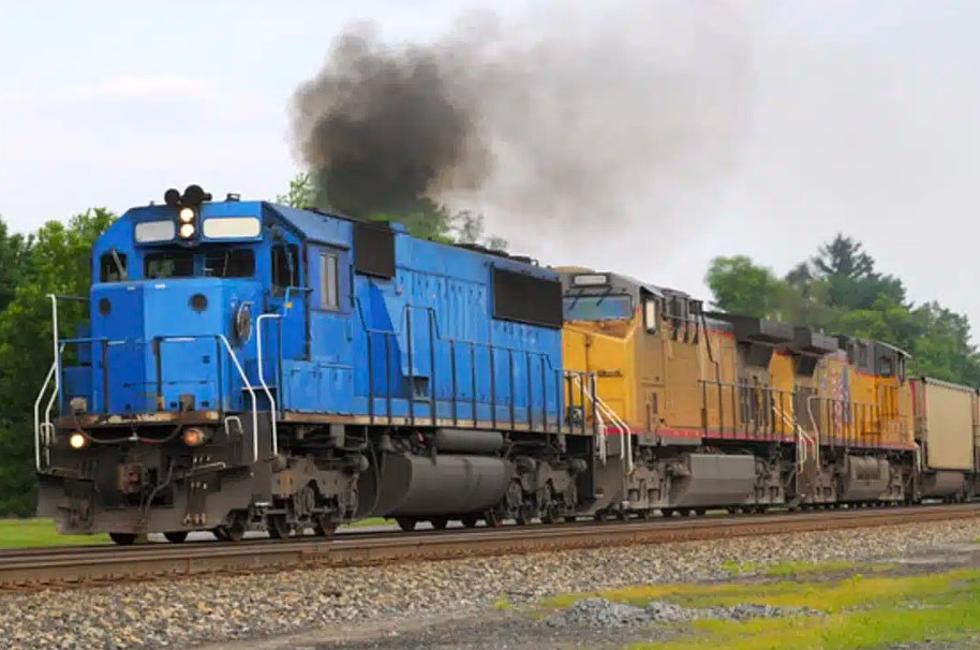 California pushes forward with landmark zero-emission mandate for trains and trucks
Diesel train (Source: California Air Resources Board)
Edvard Pettersson
LOS ANGELES (CN) — The California Air Resources Board has approved two new rules that will force freight movers to start phasing out the use of diesel trains and trucks and switch to zero-emission vehicles as part of the state's ambitious plans to slash greenhouse gas emissions.
Friday morning, the board unanimously passed what CARB chair Liane Randolph said was an "absolutely transformative rule" that will end the sale of medium and heavy-duty diesel trucks in the state by 2036.
"If not now, when," Randolph said before the vote, adding that the electric charging infrastructure to support zero-emission truck fleets won't be build unless the board moved forward with gradually eliminating the most polluting vehicles on California's roads.
The Advanced Clean Fleets Regulation also requires that, starting Jan. 1 of next year, only zero-emission trucks can be added to the registry for so-called drayage trucks that haul containers from the ports and take them to rail yards and distribution hubs inland. Thousands of trucks each day clog the freeways and streets surrounding the two biggest U.S. container ports in LA and Long Beach and have been a major source of air pollution for the surrounding cities and neighborhoods.
Although diesel trucks can continue to operate to the end of their useful life, by 2035 all trucks serving the ports will have to have zero-emission engines. The new regulation also set requirements for high-priority fleets, with more than 50 trucks, federal fleets, and state and local government fleets, to transition to zero-emission trucks.
More than a hundred people, many from low-income and minority communities around the ports and rail yards in Southern California, had come to Sacramento to speak at the hearing about the unrelenting air pollution they endure because of the diesel fumes from trains and trucks and that cause their children to suffer from asthma and other respiratory illnesses.
"It has been a long road," Diane Takvorian, the executive director of the Environmental Health Coalition and a member of the Air Resources Board, said at Friday's hearing. "When we're saying we can transition the entire heavy-duty truck fleet to zero-emission, that's pretty amazing."
California is investing about $3 billion between 2021 and 2025 in zero-emission trucks and infrastructure, according to CARB. The money is part of a $9 billion multiyear, multiagency zero-emissions vehicle package to transform the transportation sector state lawmakers agreed to in 2021.
The board on Thursday approved a requirement that, starting next year, will compel train operators in the state to fund their own trust account to upgrade their locomotives. The amount they will be required to put aside will depend on how polluting their current locomotives are, and they can tap into the fund to invest in zero-emission equipment.
"Locomotives are a key part of California's transportation network, and it's time that they are part of the solution to tackle pollution and clean our air," Randolph said. "With the new regulation, we are moving toward a future where all transportation operations in the state will be zero emissions."
Both regulations are intended to cut down the air pollution from heavy freight movement that particularly affects low-income communities. CARB projects that clean fleets regulation will save the state $26 billion in health costs from avoided premature mortality, emergency room visits, lost workdays, and hospitalizations. The zero-emission train regulation will save $32 billion in health costs, according to CARB.
Contrary to the belief that trains are cleaner than trucks, CARB data shows that exposure from the emissions of one train is worse than being exposed to the emissions of 400 trucks.
CARB projects that the In-Use Locomotive Regulation, which also limits the time trains can idle to only 30 minutes and will require the use of zero-emission engines for freight locomotives built in 2035 and later, will contribute the largest reduction in nitrogen oxide emissions toward meeting California air quality standards by the 2037 deadline.
The board formulates regulations to meet the goals set by California's lawmakers and Governor Gavin Newsom to transition away from the use of fossil fuels. Newsom's California Climate Commitment has pledged $54 billion to, among other targets, fight climate change and reduce greenhouse gas emissions 85% by 2045.
The new regulation of the trucking industry the board passed proved more complicated and controversial than the one for trains. A number of industry representatives spoke Thursday about the lack of electric charging infrastructure, the current unavailability of long-range electric trucks, and the added costs they face transitioning to zero-emission trucks that will require a long time charging.
One operator of a drayage trucking business told the board that CARB doesn't understand his business because, he said, drayage trucks don't only make the relatively short trips from the San Pedro Bay ports to the rail yards east of downtown LA, they also haul containers from the ports to more distant distribution hubs in places like Fresno in the Central Valley. The currently available electric trucks aren't able to make that trip, he said.
Another frequently mentioned worry for the trucking industry is the current lack of a public charging infrastructure for electric trucks, as a recent feasibility study by the Ports of LA and Long Beach showed.
CARB officials said at a media briefing Wednesday that about half of the drayage fleets have their own yards and will be able to put in their own charging stations. That will significantly reduce the need for a public charging infrastructure starting Jan. 1. The new CARB rule also allows for exemptions to accommodate for delays in deliveries of electric trucks and the construction of charging stations.
The board acknowledged the many challenges that the trucking industry will face transitioning to zero-emission fleets and that there was still a lot of work ahead to build out the infrastructure to support battery-electric trucks that some commenters said would require a "biblical" investment.
"This is a historic measure, but unfortunately the regulation is more aspirational than reality based", Matt Schrap, CEO of the Harbor Trucking Association, said in a statement Friday, noting that the state estimates that 157,000 medium and heavy-duty chargers are needed to support the deployment across California by 2030. This would amount to almost 400 new chargers needing to be installed and brought online each week to meet this target.
"There are plenty of providers out there trying to come up with solutions to help fleets transition, but no one can say with a straight face that we are ready for a mandate that begins in less than 8 months," Schrap said.
Those concerns, however, didn't outweigh the need to move forward on phasing out the heaviest polluters on California's roads.
"We can't keep delaying progress and maintaining the status quo," board member Davina Hurt said Friday. "Communities and families are striving to breath clean air."