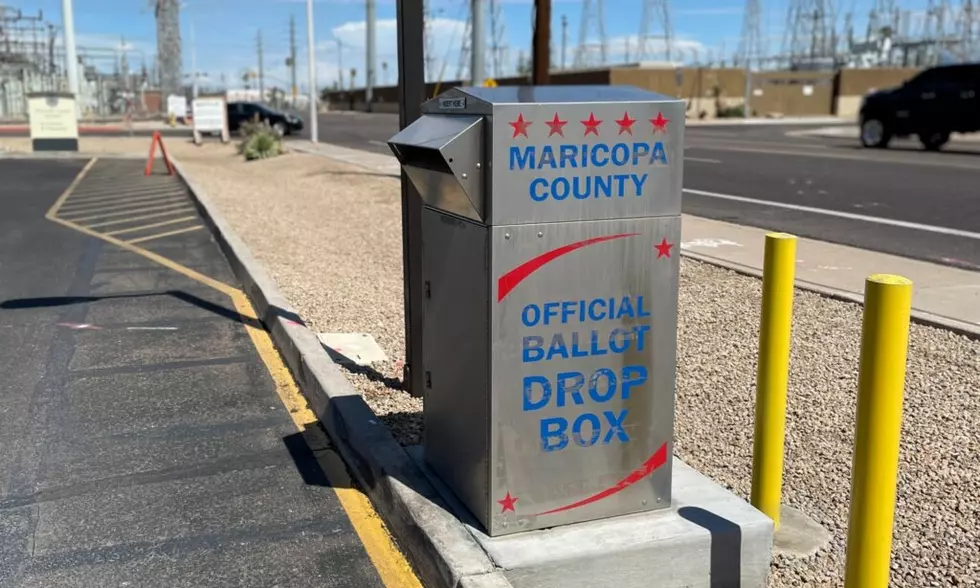 Club sues to ban unstaffed ballot drop boxes in Arizona
(States Newsroom photo)
Caitlin Sievers
(Arizona Mirror) A group dedicated to "taking on the establishment and the radical left" is trying to get unstaffed ballot drop boxes banned in Arizona.
The Arizona Free Enterprise Club, along with Yavapai County resident Mary Kay Ruwette, filed a suit in Superior Court on Oct. 19, challenging Secretary of State Adrian Fontes over the use of ballot drop boxes in elections across the state.
The club argues that there is no statute authorizing unstaffed ballot drop boxes in Arizona, and that Fontes' inclusion of rules for them in his proposed 2023 Elections Procedures Manual is illegal.
But Paul Smith-Leonard, spokesperson for the Arizona Secretary of State's Office, told the Arizona Mirror that state election law does allow for unstaffed drop boxes.
Smith-Leonard pointed to an excerpt from Arizona election law that reads, "[T]he secretary of state shall prescribe rules to achieve and maintain the maximum degree of correctness, impartiality, uniformity, and efficiency on the procedures for early voting and voting, and … collecting … ballots."
But the Free Enterprise Club — represented by Arizona attorney Tim La Sota, who has represented failed 2022 Republican candidate for attorney general Abe Hamadeh in his election challenge suits, as well as failed 2022 gubernatorial candidate Kari Lake — disagrees with Fontes' interpretation of the law.
In the suit, the club argues that Arizona law only allows voters to return their early ballots to be counted in specific ways: by delivering or mailing the ballot to the county recorder's office or the other officer in charge of elections or dropping it off at a staffed drop box or polling location. The club says any other method of returning an early ballot is unlawful.
"Because voting by means of unstaffed ballot drop-boxes has not been authorized by the Legislature, it is an illegal method of voting under Arizona law," La Sota wrote. "Defendant and his predecessor in office created and continue to maintain this unauthorized and illegal method of voting, which must be enjoined."
Thomas Olp, from the conservative nonprofit law firm Thomas More Society headquartered in Chicago, is also an attorney for the plaintiffs.
"What we have here is state officials adding to election rules that the Arizona Legislature has already calibrated through the legislative process," Olp said in a statement. "Voters and taxpayers should not accept this kind of manipulation. State officials should simply enforce the legislated election code, not modify, or add to it."
Voters in Arizona have been dropping off their early ballots for many years, at staffed polling locations since the state began to allow all Arizona voters to cast their ballots early in 1992 and at unstaffed boxes since before 2020, when the boxes became popular in many other states during the height of the COVID-19 pandemic.
The lawyers argue in the suit that the unstaffed boxes are less secure than United States Postal Service mailboxes that Arizona voters have been using to mail their ballots for decades.
"Unlike United States Postal Service mailboxes, these drop boxes lack crucial protections that federal law imposes on postal mail collection," Olp said in the statement. "The Secretary of State's Elections Procedures Manual offers no equivalent protections for drop boxes or deposited ballots."
Drop boxes don't have the same security requirements, the plaintiffs argue, and workers who pick up the ballots from them don't have to swear the same "oath of fidelity" as USPS workers.
Maricopa County Recorder Stephen Richer said that was untrue and that all temporary elections workers — including those picking up and transporting ballots —  must take an oath of office before beginning their work. Ballots, he pointed out, are picked up and handled by bipartisan teams.
Richer said he couldn't say if statutorily the club had a leg to stand on as he hadn't read the suit, but added that he didn't understand what the filers were attempting to accomplish, as he doesn't view the drop boxes as any different when it comes to safety and security than a USPS mailbox.
Unstaffed drop boxes are particularly popular in Yavapai County, where the suit was filed. Maricopa County only had two unstaffed boxes in the 2022 election, according to Richer, and both are monitored by surveillance cameras.
Elections administrators have seen backlash to the use of drop boxes, particularly from fans of the debunked "2000 Mules" film and among 2020 and 2022 election deniers, due to unproven claims of ballot box stuffing. Arizona lawmakers pushed for a measure banning unstaffed drop boxes earlier this year, but the bill never made it out of the Senate.
"I think there's an appetite to be seen as doing something on 'election stuff' and I think that could factor into the decision to file the suit," Richer told the Mirror.
In the complaint, the club asks the court to bar Fontes from allowing the use of unstaffed ballot boxes in Arizona, and to invalidate the portion of the Elections Procedures Manual that lays out regulations for them. The 2023 version of the manual has not yet been approved by the governor and attorney general.
The club points to the Wisconsin Supreme Court decision to ban the use of unstaffed drop boxes, saying that Wisconsin and Arizona election statutes regarding the return of early ballots are similar.
The club also pointed out that the manual does not lay out a formula for how many ballot drop boxes a county should have available to voters, with only one box in La Paz County and 16 in Coconino County. The lawyers in the case failed to mention that by land size, Coconino is more than four times larger than La Paz.
"These ballot receptacles are allowed to be unstaffed and may be placed in a variety of locations far and wide, including out of doors," Olp said in the statement. "This allows them to be unevenly distributed and placed in unsecured settings."
The Free Enterprise Club hopes to get unstaffed ballot boxes banned in Arizona before voting begins in the 2024 general election, the club posted on X, formerly known as Twitter.