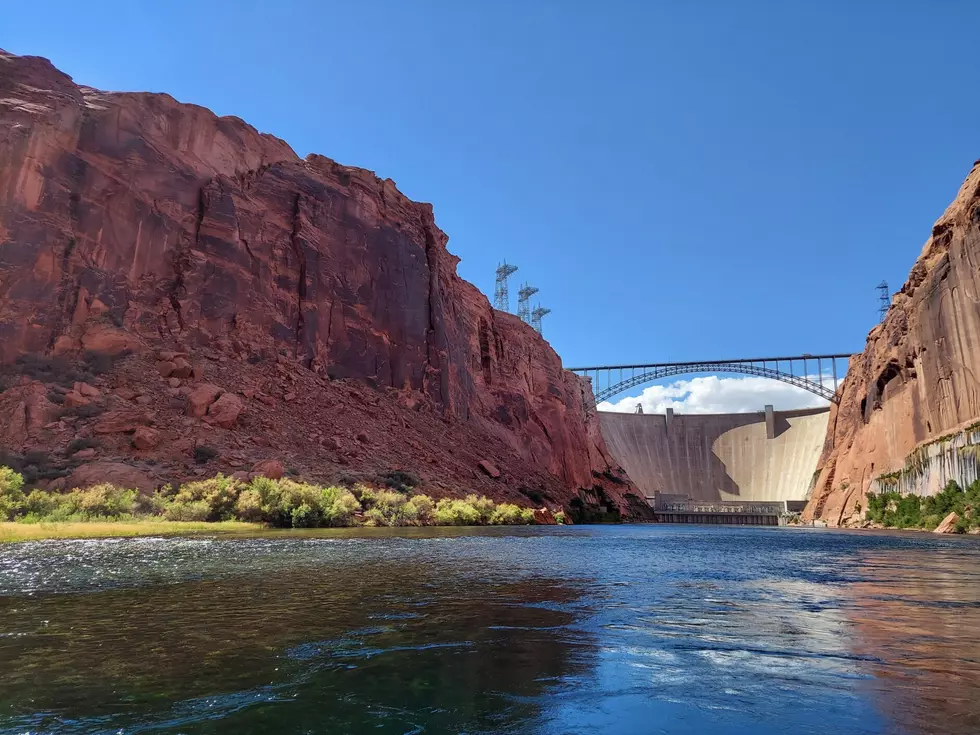 States come up with plan to save Colorado River water
Glen Canyon Dam holds back the waters of Lake Powell, a sprawling recreational reservoir that provides storage and power for residents along the Colorado River. (Brad Poole/Courthouse News)
Bob Leal
LAS VEGAS (CN) — Six of seven states in the Colorado River basin signed off on a consensus-based modeling alternative aimed at cutting water usage to stave off the dwindling water supply serving 40 million people and a $5 billion-a-year agricultural industry.
The states involved in the agreement include Colorado, Utah, New Mexico and Wyoming in the upper basin and Nevada and Arizona in the lower basin.
California, the largest consumer of Colorado River water, was the lone holdout. The Colorado River Board of California was contacted for a comment but a call to its main phone number went directly to voicemail. The river board did not immediately respond.
The agreement has been sent to the Department of the Interior and the Bureau of Reclamation.
California receives the most Colorado River water at 4.4 million acre-feet. Colorado is next (3.8 million acre-feet), followed by Arizona (2.8 million acre-feet), Utah (1.7 million acre-feet), Wyoming (1.04 million acre-feet), New Mexico (0.84 million acre-feet) and Nevada (0.30 million acre-feet). Mexico gets 1.5 million acre-feet and various Indian tribes also have rights to the water.
Of California's share, 3.1 million acre-feet heads to agriculture in the Imperial Valley, irrigating 475,000 acres of farmland.
Reclamation tasked the states to come up with a plan to save 2 to 4 million acre-feet. Two of the keys for the bureau is to manage the lake levels at the nation's two largest reservoirs so Glen Canyon Dam — Lake Powell in northern Arizona — and Hoover Dam, which creates Lake Mead in southern Nevada, can continue to produce hydroelectric power and ensure water deliveries.
The bureau will evaluate the alternative plan and incorporate it into its development of a Supplemental Environmental Impact Statement to revise current operating guidelines developed in 2007. A draft is coming in March with a final report in August, when the bureau usually announces how much water is available.
"This modeling proposal is a key step in the ongoing dialogue among the seven basin states as we continue to seek a collaborative solution to stabilize the Colorado River system," said Tom Buschatzke, director of the Arizona Department of Water Resources.
One of the factors that needed to be addressed involves water losses while holding and transporting Colorado River water, with around 1.5 million acre-feet lost annually. Because of the prolonged drought going on for over 20 years, the extra-dry ground soaks up melting snowpack like a sponge, taking water away from the system. Evaporation also adds to the problem.
"While our goal remains achieving a seven-state agreement, developing and submitting this consensus-based alternative is a positive step forward in a multi-phased environmental review process critical to protecting the Colorado River system." said John Entsminger, Southern Nevada Water Authority general manager.
The agreement is just the beginning. There is a lot more negotiating on the horizon.
"We must move on a path forward to lay the groundwork for finding durable long-term solutions," said Central Arizona Project General Manager Brenda Burman. "We have a lot more to do and this is a critical next step."
The states faced a deadline Tuesday for a consensus plan. The bureau said previously that if the states couldn't come up with a plan, it was poised to take steps it deemed necessary, according to David Palumbo, deputy commissioner of operations for the bureau.
"If it doesn't come voluntarily, as a consensus alternative, we're going to be prepared to take action. We have to," Palumbo said at a Colorado River Users Association meeting in Las Vegas in mid-December.
The consensus-based alternative includes the following for the bureau to consider and analyze:
Adjustments to lower basin contributions required under the Drought Contingency Plan;
Additional combined reductions of 250,000 acre-feet to Arizona, California and Nevada at Lake Mead elevation of 1,030 feet and below;
Additional combined reductions of 200,000 acre-feet to Arizona, California and Nevada at Lake Mead elevation of 1,020 feet and below, as well as additional reductions necessary to protect Lake Mead elevation at 1,000 feet;
Actions outlined within the upper basin's Drought Response Operations Agreement;
Additional voluntary conservation measures that take into account hydrologic shortage in the upper division states.
"The Consensus-Base Modeling Alternative is a vital step forward as (the bureau) considers new additional actions to operate the Colorado River system for the next few years," said Estevan Lopez, New Mexico Colorado River commissioner. "We recognize that the process to prepare a proposal in such a short timeframe was imperfect. We need to continue discussions among all seven basin states and to engage directly with tribal leaders and others as we prepare to move forward with the components of the CBMA across the upper and lower basin. We have much more to do, but the CBMA is a tremendous step in the right direction."