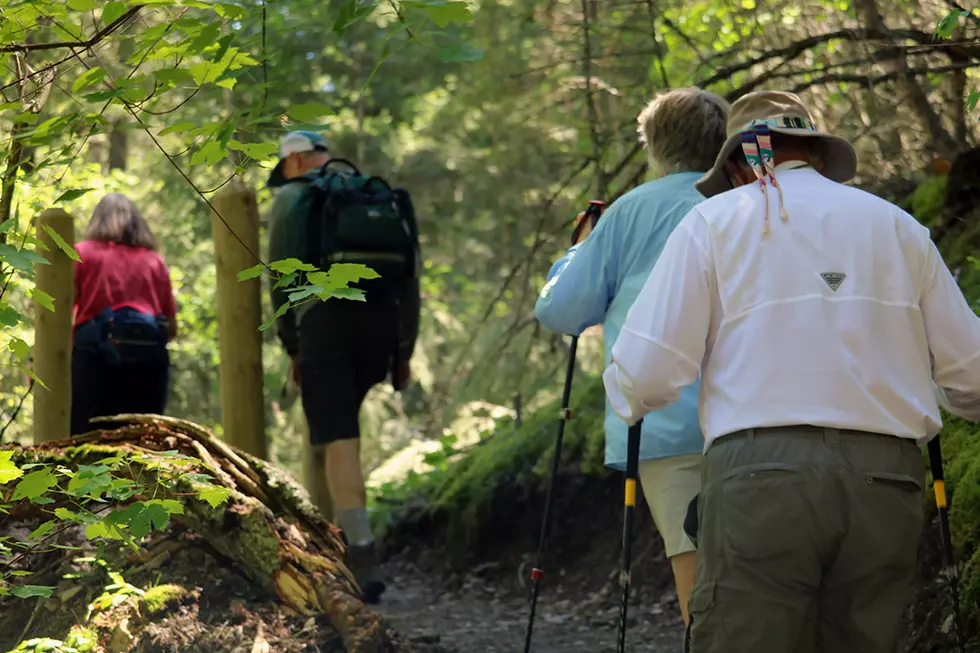 Conservation groups decry lack of marijuana money in public lands programs
Hikers set out on a new trail in Missoula in this file photo. Conservation groups were hoping to see revenue from the marijuana tax help fund state conservation programs. (Martin Kidston/Missoula Current)
One of the promises behind Montana's marijuana initiatives was the resulting tax money that would fund conservation programs. But none of it appears in the governor's newly proposed budget.
Last week, after Gov. Greg Gianforte published his budget proposal for the next biennium, a handful of conservation organizations drilled down through the numbers and found that none of the anticipated tax money from the sale of non-medical marijuana was added to conservation programs.
Noah Marion, Montana Wilderness Association state policy director, said his organization was pleased that the governor had included normal funding for conservation in his long-range planning, including Habitat Montana and access on Flathead Lake and the Yellowstone River.
But conservation groups were hoping to see revenue from the marijuana tax added to that funding.
"We were hoping that the ballot initiative language would be a road map for the budget, that they would respect the will of the voters," Marion said. "We voted for the initiative and where the revenue was going was highly publicized, particularly the conservation side. We would have been the first state in the nation that is directing marijuana revenue toward public lands."
In November, with about 57% of the vote, Montanans passed Constitutional Initiative 190, which legalized marijuana for adults but also tacked on a hefty tax. Under Initiative 190, all sales of non-medical marijuana would have a 20% tax, which was projected to generate $48 million annually within five years. Part of the justification was it could replace declining coal tax revenue.
Starting a year from now, the state's general fund would receive 10.5% of the tax money, and the rest was to be directed to accounts for conservation programs, substance abuse treatment, veterans' services, healthcare programs, and local governments.
About half was promised to public lands programs, which meant Montana's budget for public land access and management would see an estimated $18 million boost in the first year or two.
Of that, about 37% would be used for the Habitat Montana program, which uses state funding to purchase wildlife habitat. About 4% would be directed to other wildlife programs, to state parks and to trails and recreational facilities.
The Montana Conservation Voters, the Montana Wildlife Federation, Wild Montana Action Fund and the Trust for Public Land formed a coalition to back Initiative 190 specifically because of the conservation funding.
"Funding our public lands, owned by the state of Montana – places like this, these are the treasures of the Treasure State," said Aaron Murphy, former executive director of Montana Conservation Voters in early October. "These votes are votes for those public lands."
But the weed tax revenue shows up in only two places in Gianforte's budget: healthcare programs and a new substance abuse program called the "Healing and Ending Addiction through Recovery and Treatment," which is slated to receive more than $10 million.
The conservation groups acknowledge the worthiness of the two programs but point out that the initiative promised money to public land programs. Frank Szollosi, Montana Wildlife Federation executive director, appealed to Gianforte's promise of job creation.
"Ensuring this revenue goes where directed by voters will ensure long-term economic development, because public access and outdoor opportunities are critical to Montana maintaining its competitive advantage as an investment magnet.  Montana's outdoor economy is a larger share of our state's Gross Domestic Product than any other state in the continental U.S.," Szollosi said in a release.
"Our groups endorsed the legalization and conservation funding ballot measures which passed with broad, bipartisan, statewide support in November 2020. The will of the voters of Montana should be respected by all elected officials in our state."
At this point, it remains to be seen if the state government can develop a recreational marijuana program by October when businesses are supposed to start submitting applications to sell pot. On Thursday, the House Appropriations Committee rejected by a vote of 23-2 the Department of Revenue's request for $1.35 million to create the program.
There may still be time in the session to revive the program's budget. But there's a possibility that the Dept. of Revenue will be unable to get the program running in time, causing delays in collecting the promised taxes.
"We'll have a little bit better picture of that by the transmittal date," Marion said. "If nothing happens, it could be an unfunded mandate."
Contact reporter Laura Lundquist@missoulacurrent.com.