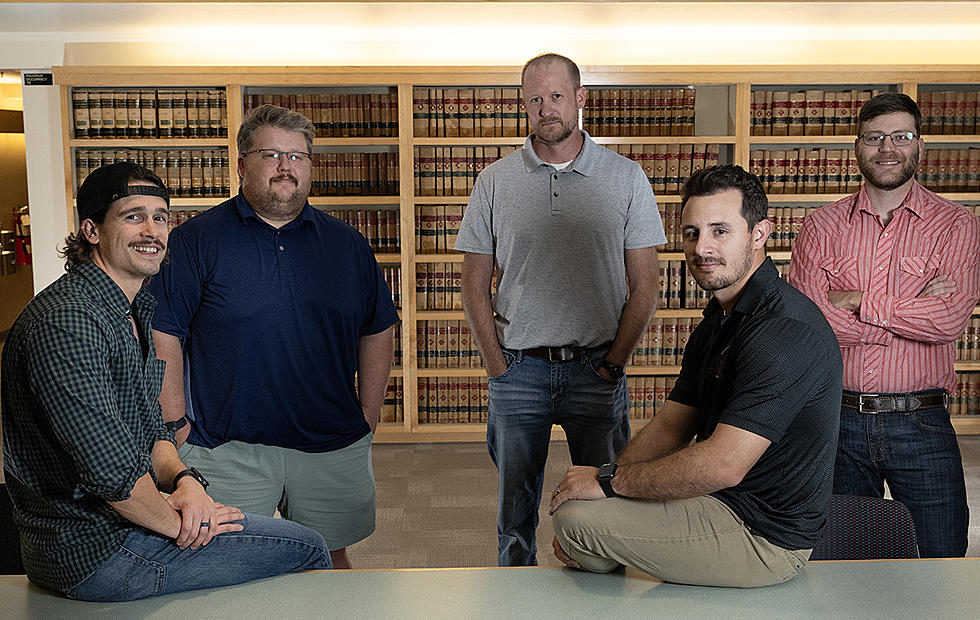 From cops to courts: Police officers earn UM law degree
UM law students (left to right) Adam Weinzapfel, Cameron Farrell, Travis Roush, Chance Maddock and Nolan Gibbs hope to use their studies and experience as police officers to help their communities. (Ryan Brennecke photo)
Phil Stempin
(UM News Service) University of Montana law students come from a wide variety of backgrounds, and it's these differences that make for robust classroom conversations and, ultimately, better lawyers.
Recent discussions have taken on a particularly novel bent with five former law enforcement officers attending Montana's Alexander Blewett School of Law. Each is lending their knowledge of the streets and providing valuable insights to those entering the legal system, while gaining the skills to impact the community as attorneys and advocates.
"Ultimately, I want to continue providing service to my community," said Nolan Gibbs, a former patrol deputy and coroner for the Judith Basin and Custer County sheriff departments. "Now I'll just be doing it in a courtroom as an attorney."
Gibbs, who grew up on a ranch near Jordan, enjoyed his time working in law enforcement but wanted to find more work-life balance with his career.
"There is so much you can do (with a law degree) to help people," said Gibbs. "I want to move into agriculture law to be an advocate and to help my friends and neighbors."
In the classroom, Gibbs is learning a lot about what happens once a patrol officer's work is done.
"I knew about what it took to charge someone and gather evidence," said Gibbs. "Now I am learning about what happens between when someone is booked and their sentencing."
Cameron Farrell spent eight years working nights as a patrol cop in Baker and Billings. Many of his family members were in law enforcement jobs. He followed this path until he also wanted a change in his career.
"You were dealing with people on their worst day," said Farrell. "Everyone I worked with had been involved with some difficult calls, very taxing stuff on you emotionally."
Farrell said he was particularly interested in UM's law school for the opportunities it presents for hands-on learning opportunities.
"I've already gotten to work in the Yellowstone County Attorney's Office for my internship," said Farrell. "I've made the right choice for me, absolutely. I'm happy."
Chance Maddock from Cokeville, Wyoming, said the inherent dangers around law enforcement were exciting at first, but his views changed after starting a family.
"I checked off a lot of ugly boxes early in my career," said Maddock, who received a medal of honor for heroic actions in the line of duty. "I wanted to get away from the danger and into something more secure."
Maddock enjoys his classes, especially criminal law with Professor Andrew King-Ries.
"I get to add a lot to the discussions," said Maddock, who is leaning toward criminal law as a specialty. "Gaining different perspectives is valuable in keeping the balance of justice within the legal system."
"We are always looking to bridge the gap between legal theory and practice," said King-Reis. "Having former law enforcement officers as students brings more depth to our discussions. They are a joy to have in the classroom."
Adam Weinzapfel spent the past five years as a county deputy in Indiana. Now in his first year as a law student, he is excited to be back in a classroom setting.
"I joined the police department right after graduating from college," said Weinzapfel. "It was a very rewarding career, but I knew it didn't really fit my personality."
Weinzapfel said his time as an officer was a great growth experience for him personally and is applicable to what he is learning in law school.
"I get to answer my classmates' questions," said Weinzapfel. "I always liked school, and I'm glad to be back in this type of setting."
Travis Roush was an elected sheriff.
"It was a huge honor to serve my community and make a difference," said Roush who served two terms as a county sheriff in Indiana. "I didn't really care for the politics side of things though."
Roush started law school wanting to go into criminal prosecution. After taking a few classes on federal Indian law, his perspective changed. Now he would like to work in underserved areas.
"I want to be a force for good in my community," said Roush. "No matter where I end up practicing."