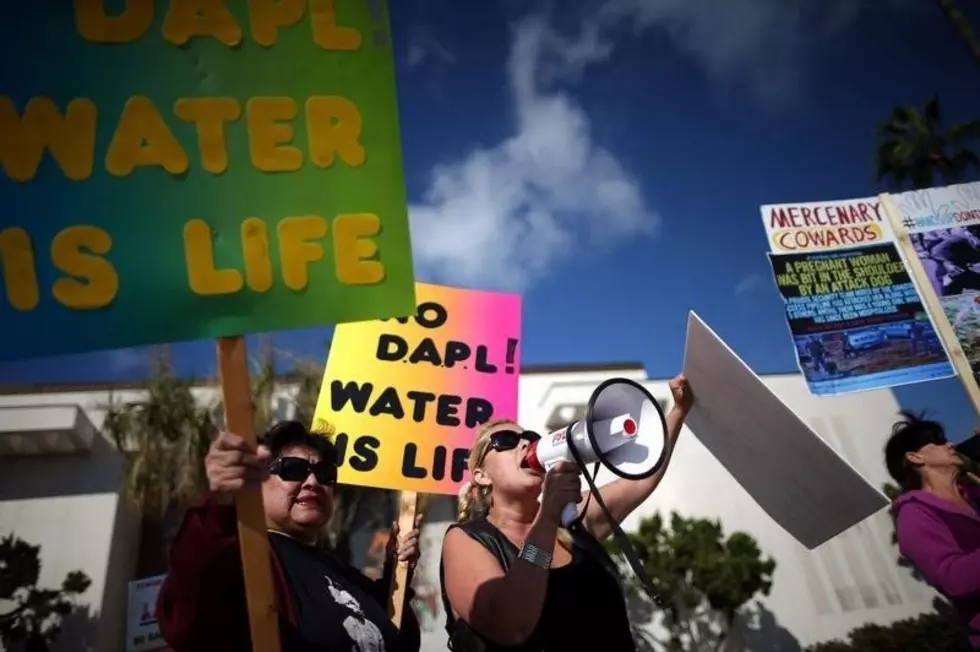 Company behind Dakota pipeline tops U.S. crude spill charts
Protesters demonstrate against the Energy Transfer Partners' Dakota Access oil pipeline near the Standing Rock Sioux reservation, in Los Angeles, California, September 13, 2016. REUTERS/Lucy Nicholson
By Liz Hampton
HOUSTON (Reuters) - Sunoco Logistics, the future operator of the oil pipeline delayed after Native American protests in North Dakota, spills crude more often than any of its competitors with more than 200 leaks since 2010, according to a Reuters analysis of government data.
The lands of the Standing Rock Sioux Tribe sit a half mile south of the proposed route of the Dakota Access pipeline. The tribe fears the line could destroy sacred sites during construction and that a future oil spill might pollute its drinking water.
A tribal protest over the $3.7 billion project drew broad support from other Native American tribes, domestic and international environmental groups and Hollywood celebrities.
In response to the tribe's objections, the U.S. government earlier this month called for a temporary halt to construction along a section of the 1,100 mile line in North Dakota near the Missouri River.
While environmental concerns are at the heart of the Standing Rock Sioux protest, there is no reference to the frequency of leaks by Sunoco or its parent Energy Transfer Partners in a legal complaint filed by the tribe, nor has Sunoco's spill record informed the public debate on the line.
Standing Rock Sioux Chairman Dave Archambault II told Reuters the tribe was aware of the safety record of Energy Transfer, but declined to elaborate.
Sunoco Logistics is one of the largest pipeline operators in the United States. Energy Transfer is constructing the Dakota Access pipeline to pump crude produced at North Dakota's Bakken shale fields to the U.S. Gulf Coast. Once completed, it will hand over the pipeline's operation to Sunoco.
Sunoco acknowledged the data and told Reuters it had taken measures to reduce its spill rate.
"Since the current leadership team took over in 2012, Sunoco Pipeline has enhanced and improved our integrity management program," Sunoco spokesman Jeffrey Shields told Reuters by email.
This significantly cut the amount of barrels lost during incidents, he said.
The U.S. Department of Justice did not make any reference to the company's spill rate when it decided to stall the project. It highlighted the need for reform in the way companies building infrastructure consult with Native American tribes.
Spokespeople for the Departments of Justice and the Interior, and the Army Corps declined to comment to Reuters on whether they were aware of Energy Transfer's leak statistics when they jointly decided to halt construction of the line.
HIGH SPILL RATE
Reuters analyzed data that companies are obliged to disclose to the Pipeline and Hazardous Materials Safety Administration (PHMSA) when they suffer spills and found that Sunoco leaked crude from onshore pipelines at least 203 times over the last six years.
PHMSA data became more detailed in 2010. In its examination, Reuters tallied leaks in the past six years along dedicated onshore crude oil lines and excluded systems that carry natural gas and refined products. The Sunoco data include two of its pipeline units, the West Texas Gulf and Mid-Valley Pipeline.
That made it the operator with the highest number of crude leak incidents, ahead of at least 190 recorded by Enterprise Products Partners and 167 by Plains All American Pipeline, according to the spill data reported to PHMSA, which is part of the U.S. Department of Transportation.
Enterprise said it has comprehensive safety and integrity programs in place and that many spills happened at its terminals.
Sunoco and Enterprise both said most leaks take place within company facilities and are therefore contained.
Plains All American did not respond to a request for comment.
Sunoco's spill rate shows protestors may have reason to be concerned about potential leaks.
The main option that was considered for routing the line away from the Standing Rock Sioux Tribe reservation was previously discarded because it would involve crossing more water-sensitive areas north of the capital Bismarck, according to the project's environmental assessment.
To be sure, most pipeline spills are small and pipelines are widely seen as a safer way to move fuel than alternatives such as rail.
Sunoco and its units leaked a total of 3,406 net barrels of crude in all the leaks over the last six years, only a fraction of the more than 3 million barrels lost in the largest spill in U.S. history, BP's well disaster in 2010.
Sunoco said it found that crude lines not in constant use were a significant source of leaks, so it had shut or repaired some of those arteries.
In 2015, 71 percent of pipeline incidents were contained within the operator's facility, according to a report by the Association of Oil Pipe Lines, a trade group.
While total pipeline incidents have increased by 31 percent in the last five years, large spills of 500 barrels or more are down by 32 percent over the same time, the report said.
Sunoco accounted for about 8 percent of the more than 2,600 reported liquids pipeline leaks in the past six years in the United States.
SAFETY OVERHAUL
The company has made previous efforts to improve safety, a former Sunoco employee who declined to be identified said. It overhauled safety culture after a spill in 2000, and did so again another in 2005 that dumped some 6,000 barrels of crude into the Kentucky River from its Mid-Valley Pipeline.
Sunoco acknowledged that some of its pipeline equipment dates back to the 1950s.
A 2014 corrective measure regulators issued for Sunoco's Mid-Valley Pipeline cited "some history of internal corrosion failures" as a potential factor in a leak that sent crude into a Louisiana bayou near an area used for drinking water.
Crude spills on Sunoco's lines in 2009 and 2011 drew a rebuke from the U.S. Environmental Protection Agency in a settlement announced this year.
The EPA said the settlement aimed to "improve the safety of Sunoco's practices and to enhance its oil spill preparedness and response."
In September, Sunoco received another corrective measure for its newly constructed Permian Express II line in Texas, which leaked 800 barrels of oil earlier this month. The company is already contesting a proposed $1.3 million fine from regulators for violations related to welding on that line.