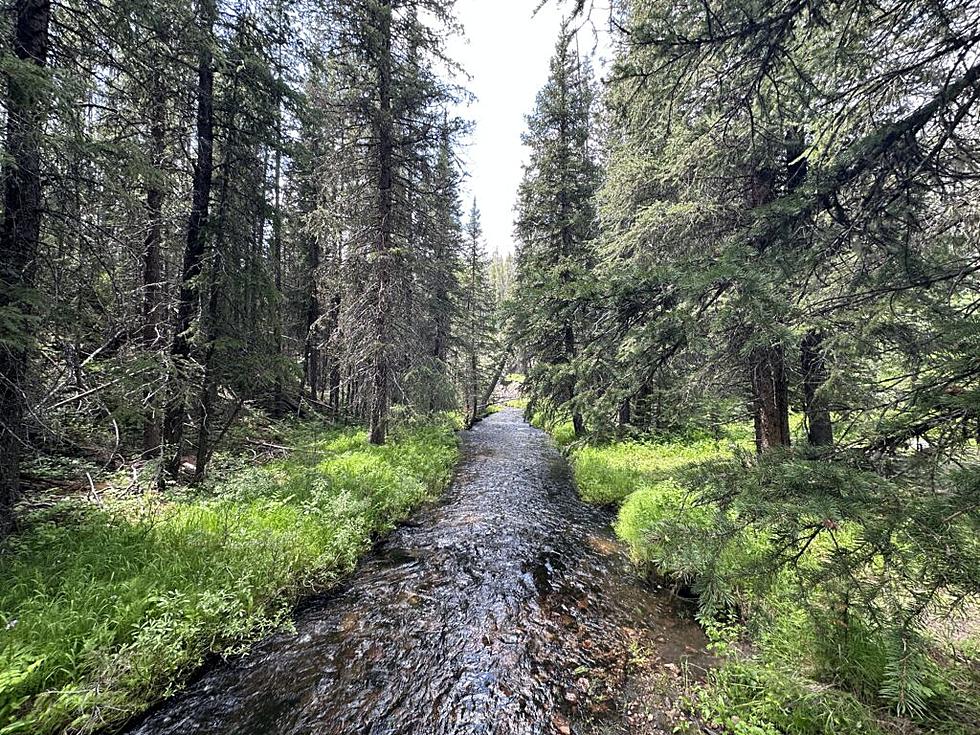 Officials say dry winter could mean deeper drought in northern Montana
The Little Blackfoot River south of Elliston on July 8, 2023. (Photo by Blair Miller, Daily Montanan)
Blair Miller
(Daily Montanan) Most of Montana is headed into the winter months with better drought conditions than this time last year, but a forecasted El Niño through the core winter months will likely put the state on a path toward wetter spring months which could mean another year without much moisture in northwest Montana, climatological officials and meteorologists said at a meeting Thursday.
The Governor's Drought and Water Supply Advisory Committee met Thursday morning to update current and seasonal drought, the forecast for the fall and winter, an El Niño forecast, what hurdles the state is facing in monitoring drought, and on the buildout of a soil moisture and weather monitoring network. Officials said that monitoring network will provide more pinpointed data in greater numbers so the government can better identify drought plans and local needs.
The meeting provided insight into how the state is monitoring water, snowpack, precipitation and drought amid a changing climate, drying rivers, and changes to those systems that are affecting Montana's wildlife and plants.
Drought conditions better than last year, but El Niño could mean dry winter
The drought that has persisted for more than a year in northwest Montana spread east across the Hi-Line this summer.
Troy Blandford, the water information system manager for the Montana State Library, explained the quick snowmelt during record warm weeks in May, combined with a wet June for much of the state, kept drought to a minimum for most of the state and spared most of Montana its typical fire season. By July, the state was seeing the least amount of drought it had since April 2020.
But northwest Montana was not as lucky. Thompson Falls, for instance, saw 5 inches less than its normal precipitation though June after the snowpack melted faster than any year on record in the area, and drought worsened there through much of the summer, leading to dozens of wildfires in July and August.
Most of the state warmed up on the back half of the summer. July was the 15th driest on record for the state, and the August-September period was the eight warmest on record – with many counties in eastern Montana seeing among their hottest-ever average temperatures for that time of year.
But for most of the southern part of the state, as well as northwest Montana, August and September were also among the wettest over the past 129 years, Blandford said.
Thompson Falls was just 0.5 inches below its normal precipitation for July into October, and streamflows in northwest Montana have improved since August, though they are still below normal.
He also showed how drought had expanded into north-central Montana. In Phillips and Valley counties, for instance, most of their rain fell between May 20 and June 10, and the area has seen little rain since.
This week's update from the U.S. Drought Monitor shows that extreme drought disappeared from Flathead County over the week; the full county is now in the severe drought category, while only northern Sanders and southern Lincoln counties continue to see extreme drought.
Severe drought continues to persist across much of the Hi-Line, as does moderate drought down to the Missouri River. But nearly all of southern Montana – 56% of the state – remains drought free. This time last year, just 10% of Montana was drought free.
That could be helpful for southern Montana, but might also spell problems for northern and northwestern Montana, based on the fall and winter outlooks, said Don Britton, the meteorologist in charge at the National Weather Service in Great Falls.
He said current forecasts show there is a 71% chance of El Niño peaking as a "strong" version through the winter months, which typically means warmer and drier winters for Montana since the polar jet stream stays further north – though the state will still see snaps of frigid air and heavy snow, he said.
Next week is expected to bring the first round of lower-elevation snow and below-freezing temperatures to most of the state, and the week after could warm back up slightly, Britton said.
But the National Oceanic and Atmospheric Administration outlooks for December, January and February predicts above-average temperatures and below-average precipitation.
The late winter months are forecast to bring above-average temperatures and below-average precipitation on the western side of the Continental Divide, while early spring looks to be about the same – which could mean bad news for northwestern Montana in particular.
"Unfortunately, it looks like precipitation will remain below normal right when we get our greatest amount of precipitation," Britton said. "So, it doesn't look like we're going to have a lot of moisture, from a climatological perspective, this coming season."
Challenges in pinpointing drought and moisture monitoring
Monitoring how much rain and snow falls, and how much is retained in snowpack, is crucial to analyzing what happens to streams, rivers and land across Montana, the officials said.
Michael Downey, the drought program coordinator at the Department of Natural Resources and Conservation, and Kelsey Jencso, the Montana State Climatologist, explained the challenges faced in analyzing drought and water in such a large state and the efforts underway to try to vastly increase weather and soil moisture monitoring to give Montanans a better understanding of drought in particular areas.
Downey often hears questions about why a storm dumps rain on one part of a county but misses another area nearby, or why an area is not considered to be experiencing drought when, on the ground, it's apparent. He said he was surprised at points this summer when parts of northern Montana would quickly go from moderate drought to extreme drought, but looking at soil moisture data showed dry zones underneath the surface that explained the quick onset.
Downey said farmers and ranchers in particular have been pointing out that drought conditions on their land might differ greatly from other land nearby based on geographic features or weather patterns, and that the state is trying to better utilize information it can collect to predict when areas might go into and come out of drought as climatological changes also change long-term weather patterns and force more extreme weather events.
"I think that's going to be a question mark as we move into next year, and we don't really have metrics to gauge that," Downey said.
But he said the data the state collects, including from the Montana Drought Impacts Reporter and dozens of monitoring stations, helps inform their work building out better datasets and drought forecasts that then go to the U.S. Drought Monitor to supplement their weekly analyses.
"There's a level of flexibility and ability to kind of be nimble and change resolution in terms of looking at data that most states don't have. I just think it's a really great strength of our process," he said.
$26 million to build out weather, soil monitoring stations in Upper Missouri basin
Both he and Jencso said that an ongoing expansion of weather and soil monitoring stations will be a major step forward in studying drought into the future, since Montana is home to the headwaters of the Missouri River, Columbia River, and Saskatchewan River – three major North American river basins.
"That volume of water that is stored in our soils and our near-surface soils forms the basis for recharge to our groundwater systems, surface water interactions, and ultimately streamflow," Jencso said. "But it's also that water that's available to plants during the growing season. It supports our agricultural productivity as well as tourism and recreation across the state."
He said though Montana already has several SNOTEL monitoring sites along and west of the Continental Divide and eight soil moisture monitoring stations on the plains, states are hoping to undertake more soil moisture monitoring to not only predict drought and daily streamflows, but also flooding like was seen in 2011 and last year on the Yellowstone River.
Since 2016, the Montana Climate Office has been building out the Montana Mesonet system, building out what is currently 130 soil moisture monitoring stations of various types through federal, state and private partnerships with landowners.
Soil moisture is measured on agricultural lands, and hydrological stations record soil moisture levels at five depths, along with snowpack levels, precipitation and other weather variables, Jencso said.
That network will be bolstered during the next four years, Jencso said, because of $26 million in funding from NOAA and the Infrastructure Investment and Jobs Act to expand soil moisture and snowpack monitoring sites in Montana, Wyoming, the Dakotas and Nebraska. The effort was supported by Sen. Jon Tester, D-Montana, and a bipartisan group of senators from the other states in response to flooding in the Upper Missouri River basin.
Montana, since it is the headwaters of three major river basins, will receive 205 of the 500 stations planned through 2027, Jencso said. He said many of those stations in Montana will be focused on the plains below 5,500 feet to better understand soil moisture levels between 2 inches and 40 inches down, and how that affects streamflows and drought. The data will be shared with NOAA, the Army Corps of Engineers and the public to improve forecasts.
The improved data should help all land and water users, he said, and also provide better insight about when agricultural users should be able to request drought relief money – more than $300 million of which has been paid out in Montana since 2014.
"So, these accurate monitoring assessments are critical to informing our daily and seasonal response to droughts," Jencso said. "And importantly, we've got to take advantage of those good years and know where water supply conditions are adequate, but also respond quickly for the same reasons that are taking a turn for the worst."
The Fish and Wildlife Commission also Tuesday adopted the 2024 fish regulations, which include further changes to when certain rivers can be fished and what types of lures can be used their – particularly in the Jefferson and Madison river basins that have seen fish populations decline and water temperatures warm significantly over the past decade.
The drought and water supply committee is set to meet again at the end of next month to discuss the state drought plan's development, launch and implementation. The plan is awaiting final review from the Bureau of Reclamation, and the DNRC expects to see the final version by the end of this month.