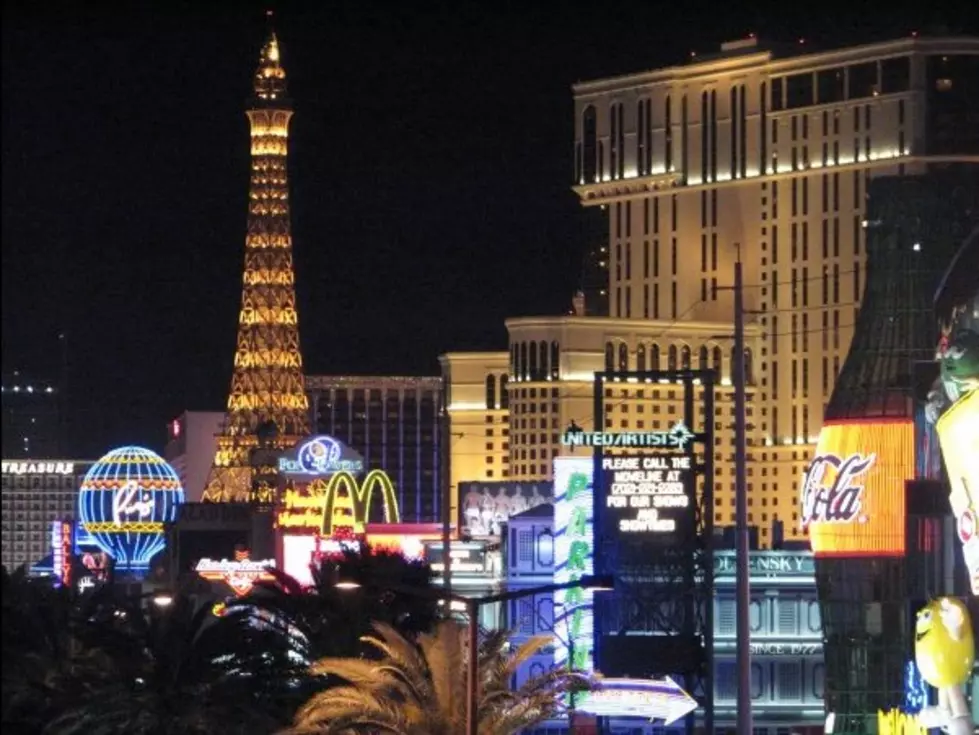 Expert calls lawsuit over room price-fixing at Vegas casinos frivolous
A nighttime view of the Las Vegas Strip. (Martin Kidston/Missoula Current)
LAS VEGAS (CN) — A University of Nevada, Las Vegas professor who specializes in the hospitality industry called a recent federal class action claiming collusion between major casinos regarding the price guests pay for hotel rooms on the Las Vegas Strip "frivolous."
"Based upon what I know about the Rainmaker revenue management system, because I'm a professor who teaches revenue management, and from what I know about the lawsuit, I do not necessarily believe that this has merit," said Amanda Bellarmino, an assistant professor at the William F. Harrah College of Hospitality at UNLV.
Bellarmino said software used by hotel-casinos produced by a third-party called Rainmaker searches hotel websites to find current rates.
"This is something hotels have done forever," Bellarmino said. "All it's doing is giving competitive information to hotels."
She added: "Just because you're all looking at the same information does not necessarily mean that it's collusion because you would have to be making those decisions together. There's nothing about a software system that would indicate collusion. (The hotels) are making their own decisions. They're not sitting here making the decisions together."
Las Vegas rebounded from Covid-19 in a big way, and it had record-high room rates. Around 39 million visitors came to Sin City in 2022, and overall hotel occupancy reached close to 80%, according to the Las Vegas Convention and Visitors Authority.
Weekend occupancy rates hit nearly 90%. Strong room rates continued throughout 2022 with the annual average daily rate reaching $171, 24.5% higher than 2021, and 29% ahead of 2019, according to the authority.
Plaintiffs Richard Gibson and Heriberto Valiente claim hotels on the Strip have dumped their independent pricing and supply decisions in favor of algorithms which they've shared with each other and which allow them to collect much higher rates from guests. But according to Bellarmino, room rates are more determined by supply and demand.
"I think that I really have a hard time with the idea that just because the room revenue was up at record rates last year means they colluded together," said Bellarmino. "Room revenue is determined by guests booking hotel rooms. If there isn't demand, room rates go down. If the room rates are too high, people won't be booking. Revenue management and pricing is very responsive to the demands of the market."
Bellarmino said having the Raiders in town without Covid-19 restrictions was a huge boon to the city. Strong holiday traffic, which previously was a dead time, bloomed.
"We've become a very big holiday destination for Thanksgiving and Christmas, which was unthinkable before the pandemic. Crowds were here at a time when it's usually dead. All of those things contributed to the record room revenue we saw," Bellarmino said.
"I would hesitate to say it's the software. I was a revenue manager. I worked with the software. It was not that good," she added.
She said if hotels all charged the same amount, that would look suspicious. Circus Circus and Excalibur — hotels on the lower end of the scale — don't come close to what the Bellagio charges, she said.
Gibson and Valiente claim some of the dominant players in the resort corridor, including MGM, Caesars, Wynn and Treasure Island are involved. In a statement, MGM called the claims "factually inaccurate, and we intend to defend ourselves vigorously against these meritless claims," Caesars declined to comment.
Attorney Matt Hoffmann of Battleborn Injury Lawyers in Las Vegas summed up the complaint.
"What (the plaintiffs) are saying is that the large corporations, the executives, can sit around in a smoke-filled room and laugh and smoke cigars and say, 'Hey, let's make sure nobody charges less than X,' whatever that price is," Hoffmann said, adding inflation and higher costs for everything from food to labor has led to record hotel room rates nationwide.
"Everyone had higher rates," Hoffman said.
Furthermore, the hotels on the Strip know what the others are charging with or without Rainmaker, Hoffmann said, noting the hotel-casinos are run by "incredibly sophisticated companies" with decades of data at their fingertips.
"They have people whose sole job is to know what everyone else is charging," said Hoffmann. "That's the free market. There's nothing illegal about that.
"I don't see a lot of victimhood in the case."