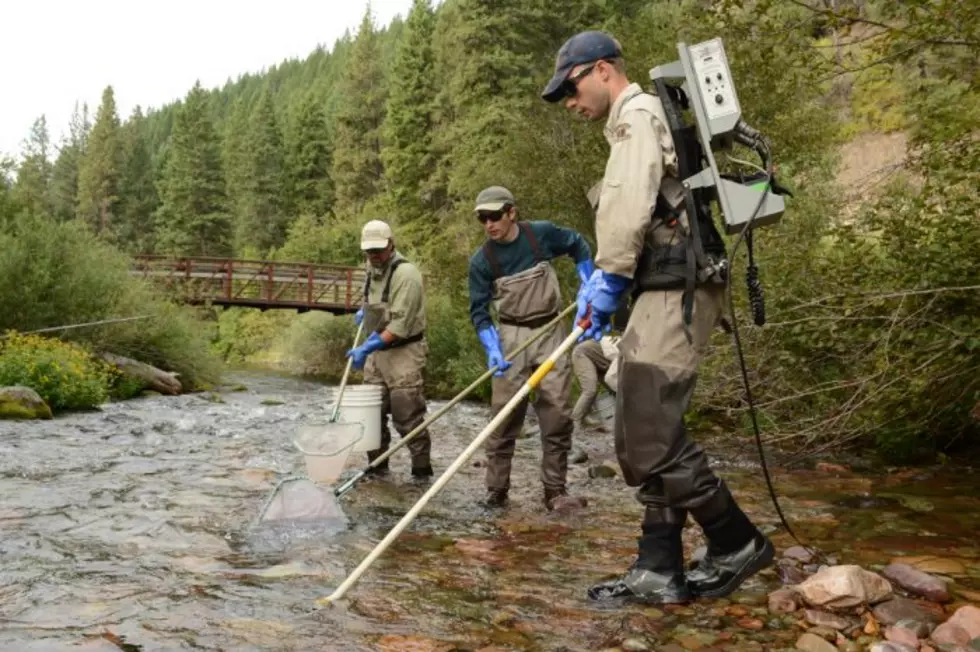 Federal infrastructure money funds fish passage for western Montana trout
Biologists on Rattlesnake Creek. (Laura Lundquist/Missoula Current file)
Western Montana's native trout face several threats, but they'll soon have a little more streamwater and fewer will die in irrigation ditches, thanks to federal infrastructure funding.
Two weeks ago, Interior Secretary Deb Haaland announced that $38 million of the funding allocated by the 2021 Bipartisan Infrastructure Law was awarded to 40 shovel-ready fish-passage projects in 23 states through the U.S. Fish and Wildlife Service's National Fish Passage Program.
"Across the country, millions of barriers block fish migration and put communities at higher risk of flooding," Haaland said in a statement. "President Biden's Bipartisan Infrastructure Law provides a once-in-a-generation opportunity to invest in our nation's rivers, streams and communities and help restore habitat connectivity for aquatic species around the country."
Notably, two Montana projects overseen by Montana Trout Unlimited and the Clark Fork Coalition received a total of $480,000 for fiscal year 2022.
The Upper Clark Fork Fish Passage for Bull Trout and Westslope Cutthroat project received $230,000 to deal with agricultural division dams and road crossings to improve connectivity for westslope cutthroat and threatened bull trout.
Clark Fork Coalition project manager Jed Whiteley was pleased to hear that his project on Lost Horse Creek, a bull trout stronghold, had received the majority - $200,000 – of that money. He's already completed other projects on the Bitterroot River tributary to improve bull trout survival, including a $500,000 project to allow water to flow down the Ward Irrigation District canal without affecting the flow in the creek.
But this project would install a fish screen across the yawning Brid Irrigation Diversion, where studies have found more than 1,300 fish are lost down the ditch each year.
"It's pretty exciting. It's the first actual money we've seen from that. We've been waiting and waiting, and it's finally trickling out," Whiteley said. "It could be one of the largest fish screens constructed in Montana. Preliminary price tag, we could be in the $800,000-plus category."
This year, engineers have started surveying and should have a design done this year. Whiteley hopes to have the screen installed by fall 2023. But with only about a quarter of the funding provided by the infrastructure bill and a few other donations, it might take until 2024, Whiteley said.
The remaining $30,000 goes toward three projects managed by Montana Trout Unlimited in the Upper Clark Fork River basin. Trout Unlimited workers will install fish screens in Warm Springs Creek and two of its tributaries, Twin Lakes and Storm Lake creeks near Anaconda.
In addition to improving connectivity, the projects will create stable diversions for local agriculture, buffering producers against potential crop loss due to drought caused by climate change.
"We've been working in Warm Springs Creek on bull trout passage for a good 5-plus years. This is one piece of that. It's a continuation of what we've been doing up there," said Montana Trout Unlimited project manager Rob Roberts.
The second project, Increasing Bull Trout and Arctic Grayling Fish Passage in Montana, received $250,000 and would open up about 20 miles of habitat in tributaries of the Blackfoot and Big Hole rivers for the two threatened species.
To improve habitat for bull trout in the Blackfoot watershed, the North Fork Blackfoot River project will use groundwater to restore streamflow to over a mile of the North Fork that can become dewatered. Workers will also replace a road culvert on Poorman Creek that was too small with a bridge, so native trout can move upstream once again.
To make things better for arctic grayling in the Big Hole watershed, step-pools will be built at two irrigation diversions along McVey Creek north of Wisdom and series of pools and riffles will be built at various sites to improve grayling passage.
Since 1999, the National Fish Passage Program has worked with over 2,000 local communities, Tribes, and private landowners to remove or bypass over 3,400 barriers to fish passage and reopen access to over 61,000 miles of upstream habitat for fish and other animals.
"Aquatic restoration projects funding by the Bipartisan Infrastructure Law are important examples of how nature-based projects can enable ecosystems and communities to be more resilient to climate change," said Martha Williams, USFWS director and former Montana Fish, Wildlife & Parks director. "In addition to providing benefits for fish and aquatic species, the National Fish Passage Program's work to restore degraded and fragmented aquatic habitats decreases public safety hazards, improves infrastructure resilience, and creates jobs, stimulating the local economy."
On Nov. 15, President Joe Biden signed the $1.2 trillion Bipartisan Infrastructure Law, $455 million of which was allocated to the U.S. Fish and Wildlife Service over five years. In addition to the National Fish Passage Program, USFWS funding goes toward other programs to improve climate change resiliency and ecosystem functioning, including the Sagebrush Ecosystem Team, Lake Tahoe Restoration in California, and the Klamath Basin Restoration Program in Oregon.
Contact reporter Laura Lundquist at lundquist@missoulacurrent.com.