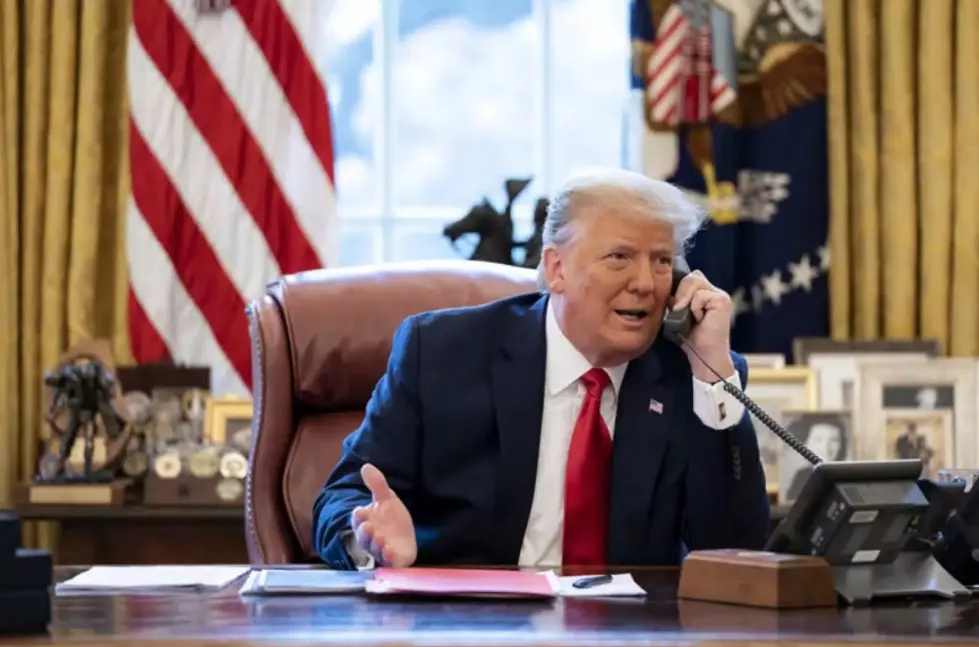 After Fox News ousts Tucker Carlson, GOP lawmakers circle the wagons
Former President Donald Trump talks on the phone to Vice President Mike Pence from the Oval Office of the White House on the morning of Jan. 6, 2021. (House Select Committee via Courthouse News)
Benjamin Weiss
WASHINGTON (CN) — The future of Fox News drew speculation from both sides of the aisle Monday in the hours after the network abruptly announced that it had parted ways with its most popular host.
Congresswoman Marjorie Taylor Greene, who has been a frequent guest over the years on "Tucker Carlson Tonight," promised via Twitter this afternoon to support Carlson wherever he ends up. Later she accused Fox of "caving to the woke mob."
"Americans no longer blindly watch the news like they did decades ago," the lawmaker tweeted, "they only watch the ones who have the courage to tell the truth. Americans are about to quit watching."
Fox announced the ouster Monday, saying that, effective immediately, Carlson would no longer be occupying the primetime air slot that he has dominated since 2016.
A rotating cast of anchors will fill in until a replacement is found, Fox said in news that apparently caught Carlson unaware.
On Friday, in what would be his last show, Carlson ate a sausage and pineapple pizza with a delivery man who had helped police catch a suspect.
"We'll be back on Monday," Carlson told his audience. "In the meantime, have the best weekend with the ones that you love."
Kari Lake, an unsuccessful Republican candidate in the 2022 election season, framed Carlson's departure as voluntary in a message of support Monday.
"The best decision I ever made was leaving Fox," tweeted Lake, who switched to politics a local news anchor job in Arizona where she was routinely accused of conservative bias. "Good for you, @TuckerCarlson. You're free & uncensored!"
Abby Grossberg, a former producer of Carlson's show who sued the network and its host last month for workplace discrimination, tweeted Monday that she sees Carlson's departure as "a step towards accountability for the election lies and baseless conspiracy theories spread by the network, something I witnessed firsthand there."
In addition to Grossberg's lawsuit in Delaware, Carlson was a prominent fixture in the defamation suit from Dominion Voting Systems that Fox settled last week to the tune of roughly $787 million. The LA Times reported that the order to fire Carlson came directly from Fox Corp. Chair Rupert Murdoch.
Former Illinois Republican Adam Kinzinger, who did not seek reelection in 2022, called Carlson's firing a fall from grace.
"Tucker used to be a deep thinking mainstream conservative with ideas," Kinzinger tweeted. "He became a monster pushing garbage and abusing the patriotism of his viewers.
"Good riddance."
Many Democrats reacted to the Carlson news with cheers and not a small bit of puzzlement, given the host's outsize presence with the network.
"The only thing that would be more earth-shattering would be the collapse of Fox News itself," Representative Ritchie Torres, a New York Democrat, tweeted.
Torres quipped that Fox News could give Carlson's slot to George Santos, a reference to the freshman Republican facing ethics investigations after fabricating much of his resume to get elected.
Pennsylvania Congressman Brendan Boyle joked that Carlson had achieved the "cable tv Triple Crown" by getting fired from all three major cable news networks: Fox, CNN and MSNBC.
Carlson's show on MSNBC was canceled in 2008, which the network blamed on low ratings. CNN used a similar line to can the presenter three years earlier.
At Fox, where he replaced Bill O'Reilly, Carlson has not only been the network's highest rated star but one who routinely captured more viewers than the combined audiences for CNN and MSNBC programming in the same time slot.
Colorado's Lauren Boebert called Carlson one of the most powerful voices in the conservative movement. "Wherever Tucker Carlson goes, America will follow," the congresswoman tweeted.
Carlson's firing wasn't the only jarring media development Monday. CNN anchor Don Lemon announced that he had also been fired, writing in what appeared to be the body of an email that he had been informed by his agent that the network had let him go.
"I am stunned," Lemon said. "After 17 years at CNN I would have thought that someone in management would have had the decency to tell me directly."
The host contended that he had not been given any warning from CNN that he was about to be fired. "It is clear that there are some larger issues at play," Lemon said.
CNN, through an official Twitter account, contested that interpretation. "Don Lemon's statement about this morning's events is inaccurate," the network said, contending that the anchor had been offered an opportunity to meet with management but had taken to Twitter instead.
A congressional Democrat became one of the first lawmakers to weigh in on the news with a curt reaction. "Wow," Tweeted New York Congressman Alexandria Ocasio-Cortez. The Democrat — who during her five-year tenure in Congress had repeatedly attracted Carlson's ire on his show Tucker Carlson Tonight — later followed up, reposting a clip from her Sunday interview with MSNBC in which she accused the former Fox host of inciting violence with his rhetoric.