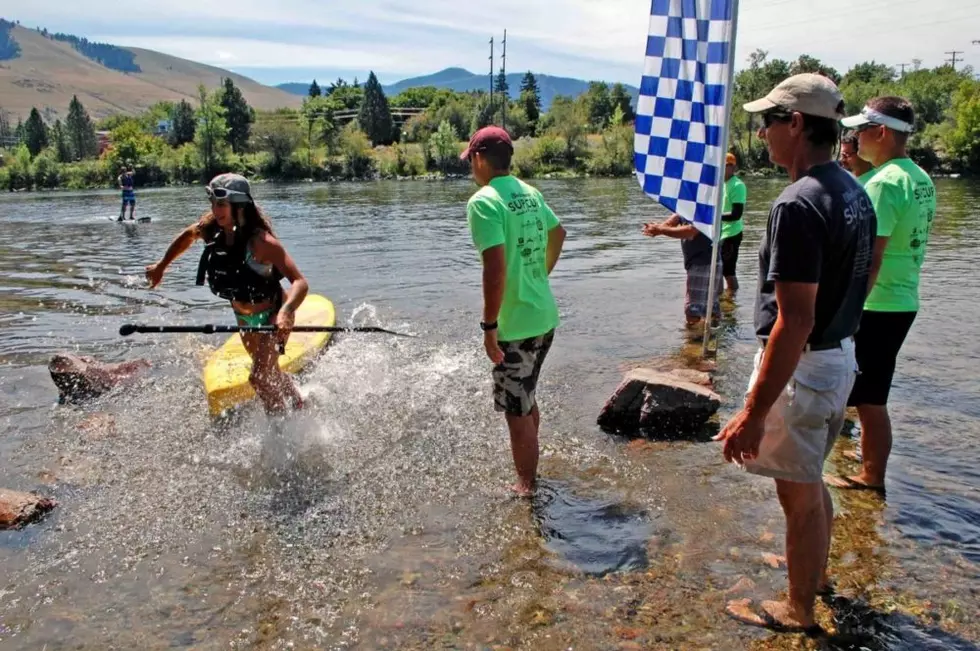 FWP, Missoula County hope interns can manage river users
Participants compete in the Missoula sup-cup in 2017. The county and FWP are working to hire students to serve as river rangers on the Clark Fork River. (Martin Kidston/Missoula Current file photo)
Along with inner tubes and six-packs, floaters also bring management issues to the Clark Fork River between Milltown State Park and Missoula. So this summer, Missoula County and Montana Fish, Wildlife & Parks plan on hiring an intern or two to keep an eye on river recreation.
FWP Region 2 Park Manager Loren Flynn said he'd applied to FWP headquarters for the authority to hire a summer intern to help manage the people using Milltown State Park and the Sha-Ron fishing access site downstream.
Sometimes, people could get a little out-of-hand last summer trying to find places to park before starting their float down the river, especially when the launch sites were crowded. Sheriff TJ McDermott said his office got overwhelmed at times, so it would be good to have more hands on deck.
But the FW internship could go further than managing the sites. Educating people ahead of time about where to go and how to conduct themselves would go a long way toward relieving problems.
Flynn wrote the job description to include coordinating volunteers and being a liaison with the University of Montana to develop new transportation options and do educational outreach there. FWP has posted the job, which is open to students enrolled in a university program.
"We have a limited number of interns statewide. It's not often that we request an intern and not get one," said FWP Region 2 supervisor Randy Arnold. "If we're successful internally, Loren's already identified a source of money for that. We should be able to get somebody on this spring."
Commissioner Josh Slotnick said he'd recently spoken with McDermott about the possibility of hiring a couple of university students for a similar role. The students could use it to further their recreation management or law enforcement careers.
"It would be a summer gig. They'd have a radio and the right color polo shirt and be armed with a lot of information and a general good-time demeanor," Slotnick said. "The idea would be that they're telling people where to go and where not to go, and being helpful, not enforcing anything. Just moving between these sites on bikes and if law enforcement's needed, they could call in on the radio."
Chet Crowser, Missoula County Community and Planning Services director, suggested that FWP, the county and the city get together to discuss possibilities of developing a program that incorporates a group of student river rangers.
"It's good to keep building capacity where we can," Crowser said. "This reminds me of our law enforcement coordination that we had on the Blackfoot. It was really helpful to all sit down and talk about what was going on. That was a huge part of why that effort was successful."
Regarding Milltown State Park, Flynn said he would have to reevaluate the plans for the new Bandmann Flats Trail in the park south of the Clark Fork River.
A consultant had produced a good design based on what the FWP staff initially requested. The project includes a parking area for 17 vehicles and a paved trailhead to a 10-foot-wide trail. It also includes a bathroom, an information kiosk, and an interpretive exhibit.
In late December, Missoula County decided to dedicate $79,000 to construction of the trail from the $44-million Parks and Trails Bond passed in 2014. But the cost estimate came in too high.
"We realized we probably asked for too much. The cost estimate was about twice what we had to spend," Flynn said.
Flynn said they've started paring down their request and expect a new cost estimate in the next several days. He hopes to have construction begin in late spring or early summer so the trail to the overlook, the trailhead and parking lot can be complete by July.
Contact reporter Laura Lundquist at lundquist@missoulacurrent.com