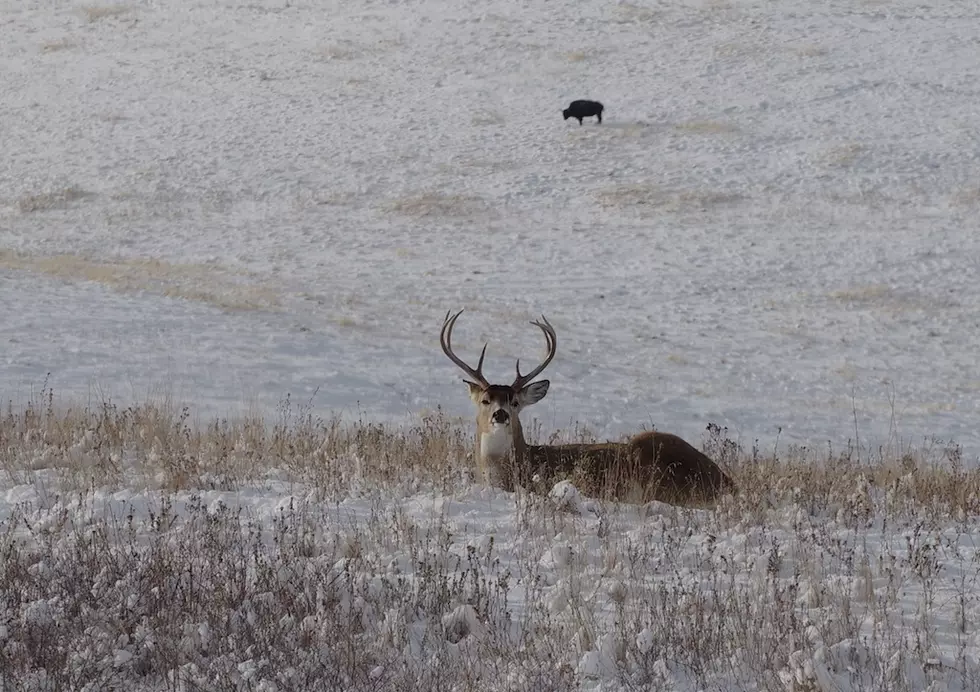 Missoula region FWP supervisor retires suddenly prior to elk season upheaval
A deer beds down on the National Bison Range north of Missoula. (William Munoz/Missoula Current)
With only about a month to go until Montana Fish, Wildlife & Parks makes potentially huge changes to the state's big game seasons, Missoula-based Region 2 finds itself without a wildlife supervisor.
As of Thursday, Mike Thompson is no longer the FWP Region 2 wildlife manager, according to FWP sources. Thompson's departure appears to be short-notice, leaving some in Region 2 a little stunned. A few are suspicious.
"I got a call yesterday (with the news)," said Anaconda Sportsmen member Chris Marchion. "I've told people for years that he'll die in that chair. So I know this isn't a planned retirement."
Thompson has been the Region 2 wildlife manager for about 15 years, but he's worked for FWP for more than 40 years. He began doing seasonal work in 1980 at the Mount Haggin Wildlife Management Area near Anaconda and the Yellowstone River. After earning his biology master's degree in 1981 from Montana State University, Thompson worked as a field assistant helping to develop the elk management plan for the Elkhorn Mountains south of Helena.
Thompson was hired full-time in 1987 as the biologist for the Blackfoot watershed in Region 2 and worked his way up from there. He's seen Montana's elk herds go from tiny to teeming over the past 35 years, due to careful management using translocation and limited licenses. Then for the past decade, he and his biologists have had to try to reduce large herds that wander onto certain private land where they're not wanted.
Region 2 Randy Arnold said he is going to miss Thompson's experience. Arnold had a few days heads-up before Thompson's departure but said he didn't know what prompted Thompson's decision to retire now.
"It's not necessarily surprising. But it's a tough decision for someone to make when to retire, and I certainly respect his decision. The calculus that goes into that is pretty complicated," Arnold said. "He's been one of my best managers for providing counsel and helping to guide what the region does for wildlife. He's just an amazing resource, and I very much appreciate his decision to retire."
Thompson's last act this fall was to oversee a huge change to elk management ordered by FWP director Hank Worsech. This summer, Worsech directed all FWP biologists to reduce the number of hunting districts and license types across the state in the name of simplicity. But some of the resulting districts and tags could have negative effects on mule deer populations or coveted hunting areas.
Thompson hosted the Oct. 5 online public meeting where biologists explained all the proposed changes to Region 2's big game districts, licenses and permits. During the meeting, Blackfoot watershed biologist Scott Eggeman said he was concerned that Worsech's requirement to combine districts based only on elk characteristics and to get rid of permits in favor of general tags left biologists with fewer tools to work with.
Eggeman also recently left FWP in December to be closer to family in Michigan, leaving Arnold with another position to fill. In November, Julie Golla was rehired as the Anaconda area biologist, Marchion said, although she's still on maternity leave.
On Dec. 14, the FWP commission gave initial approval to somewhat modified statewide changes in order to send them out for another round of public comment. Public comment has been extended until Jan. 21, and the commission will consider its final vote in February.
In the meantime, FWP is hosting a series of public meetings to explain the changes. The first few meetings in Region 2 were Tuesday night in Drummond and Wednesday night in Lincoln. But Thompson and Eggeman will no longer be the ones explaining the changes to hunters. Right now, Arnold has only regional biologists Liz Bradley and Rebecca Mowry to work with.
"Technically, we'll be a little shorter handed. But I've always participated in those meetings and I'll continue to play a role there," Arnold said. "Between the biologists and myself, we'll keep our commitments to those meetings."
Arnold said he's received approval to advertise for a new wildlife supervisor. He anticipates the position could be filled within the next two to three months, although he's worried about being able to attract people to the area with Missoula housing being so expensive.
That's part of the problem for Region 3 in Bozeman, which has been without a wildlife chief for almost a year since veteran Howard Burt left. The region has been cycling through acting wildlife chiefs and wildlife management tech Jeremiah Smith is currently carrying the responsibility.
"I've been working with the other regional supervisors. Similarly over in Billings, the fisheries manager and wildlife manager positions are intermittently open and they're working to hire those," Arnold said. "It's an interesting time."
However, some don't believe the cost of living is the only reason FWP is losing biologists or can't find people willing to take on wildlife supervisory positions. In just one year, FWP and the state of Montana have pushed through a lot of changes related to wildlife management, and few if any, are backed by science. In fact, FWP Chief of Staff Quentin Kujala said in May that Worsech has put an end to long-term research projects.
At the December commission meeting, Worsech also said that elk population objectives should be based only on human tolerance, not habitat considerations. That would basically eliminate biology from the question.
Hunters who have been talking to biologists about the season proposals say they can sense the frustration from biologists and even wardens in the field. Biologists are being told to do things that aren't necessarily good for the wildlife populations they manage, but if they don't, they could lose their jobs. So hunters who've seen how far the state has come worry that more good biologists will start leaving the state because of a lack of wise leadership.
Marchion will be attending FWP's public meeting in Anaconda on Jan. 12. One of the comments he wants to make is that FWP should not be making such big changes when its staff is coming apart at the seams.
"There is really a lack of the wildlife management skills to coordinate and communicate in this process. I'm not saying that's anybody's fault. But I think it's going to be really challenging to complete this in a satisfactory manner," Marchion said. "This region is really capable of doing so much more on a wildlife perspective than what it's doing."
Contact reporter Laura Lundquist at lundquist@missoulacurrent.com.