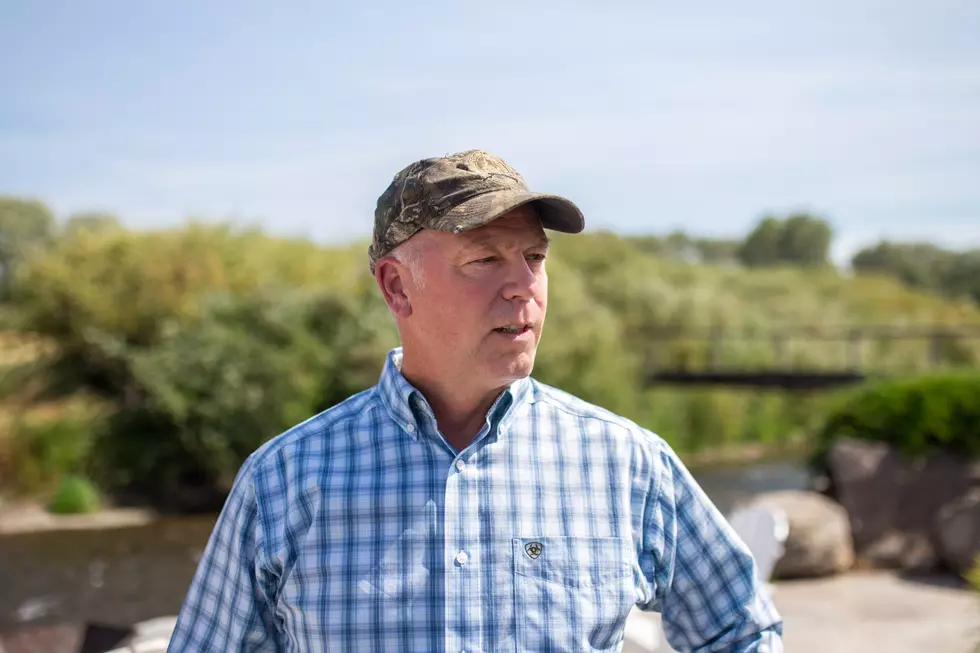 Gianforte's natural resource advisor is former D.C. pipeline lobbyist
Gov.-elect Greg Gianforte, photographed at his Bozeman-area home in September 2020. He has chosen a man that among other things was a Washington, D.C., lobbyist who has pushed for the Keystone XL pipeline as his new natural resource policy advisor. (Ray Lombardi, MTFP)
On Tuesday, a Gianforte press release announced the hiring of Michael T. Freeman as his natural resources policy advisor and Glenn Oppel as his policy director.
The release said "Freeman most recently served as Acting Deputy Solicitor for Water Resources at the U.S. Department of the Interior (DOI). Before that, he served as Deputy Assistant Secretary for Policy and Environmental Management at DOI."
It also said "Freeman has promoted policy development in a senior role at an advocacy and strategic communications firm in Washington, D.C., held natural resource policy positions in both the U.S. Senate and House of Representatives, and was a career attorney at the Federal Energy Regulatory Commission."
But the release glossed over some of Freeman's career details.
Freeman received his law degree from Virginia's Washington and Lee University in 2009, after a summer interning with Northwestern Energy. He then went to work for the Federal Energy Regulatory Commission for three years, where he provided legal counsel concerning the regulation of oil, natural gas and electricity.
Then, he quit in order to take a position as counsel for Utah Republican Sen. Mike Lee in October 2011 where he worked until January 2015. A proponent of extractive industries, Lee is an outspoken public lands opponent who has sponsored or co-sponsored more than 20 bills either selling or weakening federal protections for public land. Most recently, he opposed the Great American Outdoors Act.
After three years, Freeman moved over to be the legal counsel on energy and mining issues for the U.S. House of Representatives Natural Resources committee, which was chaired by Rep. Rob Bishop, R-Utah, between 2015 and 2018. Bishop is second only to Lee in his opposition to public lands.
The "advocacy and strategic communications firm" in the Gianforte press release is the D.C.-based Republican lobbying agency, CGCN Group. The firm is known for recruiting Republican staff from the Hill.
Freeman joined them in May 2017, a few months after President Donald Trump took office. Steve Clark, CGCN Group founder praised his new recruit in a press release.
"Mike brings a rare combination of legal and legislative experience that spans across the House, Senate, and regulatory space making him a standout amongst his peers. He's a triple threat," Clark said.
By July 2017, Freeman had joined forces with another CGCN lobbyist, Jay Cranford, former staffer for Rep. John Boehner, R-Ohio, and staff director of the Natural Resources subcommittee on Energy and Minerals. Together, they worked for TransCanada to lobby Congress to back the Keystone XL pipeline and to ease the regulatory and permitting process for cross-border pipelines and domestic natural gas pipelines. 
After that, it becomes more difficult to track Freeman's employment so it's not clear when he cycled back into federal employment as the Deputy Assistant Secretary for Policy and Environmental Management.
A November 2019 Federal Register entry announces his eligibility to serve on an Interior Department performance review board, so he was working by then. He was the deputy assistant secretary until May 2020, when he is cc'd in a DOI letter regarding natural resource damage assessments.
Meanwhile, the position of Deputy Solicitor for Water Resources has been vacant for at least a couple years. In October 2018, about a month before Ryan Zinke resigned as Interior Secretary, four out of the six deputy solicitor positions were unfilled.
Freeman moved over to work as the Acting Deputy Solicitor for Water Resources under Interior Department Solicitor Daniel Jorjani but may have been there only a few months. An Interior Department webpage created in May 2020 and updated on Nov. 1 lists Freeman in the position along with three other people serving as deputy solicitors in an acting capacity.
The Trump administration assigned many people to "acting" positions to avoid going through Senate confirmation or other vetting.
Now that the Trump administration is ending, Freeman might not have been able to keep his job as deputy solicitor. So he's packing up and moving to Montana.
With the Montana Department of Environmental Quality currently evaluating whether or not to issue the Keystone XL pipeline a Clean Water Act permit to tunnel through eastern Montana, Freeman's influence may favor TransCanada's request.
Contact Laura Lundquist at lundquist@missoulacurrent.com.